It would have been Justin Miller's 12th birthday today, if childhood cancer hadn't taken his life in January 2014. His sister Kelly reflected on the time she was with him, and without him, and shares the wisdom she wants to pass on to others going through tough times.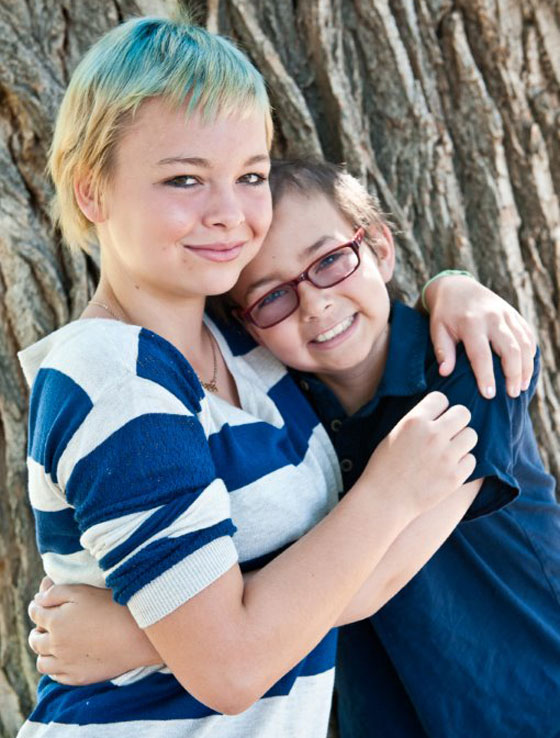 Kelly and her brother Justin. Justin fought neuroblastoma for seven and a half years.
The past 16 months have been rough. Actually, that is an understatement.
Some days are better than others, and for a while, my days weren't complete. I didn't want to cry — I was afraid that if I started I wouldn't stop. I kept everything in and that wasn't the best for anyone.
I wanted to stay strong for everyone, because Justin was our rock. He was the one who kept everyone together, so I felt it was my job to prove to everyone that I was strong.
I have learned that you do not need to be strong. My brother died — it is OK to be sad.
Being strong doesn't mean you aren't allowed to cry. It doesn't mean you are supposed to shut people out. It means knowing what you want and making a difference.
Justin taught me to live every day to the fullest, no matter what. Justin was always doing things no one would expect a child with cancer to do. When he was first diagnosed, people gave him balloons in the hospital. He pretended his hospital room was full of jellyfish and he couldn't touch the balloons — it was a game.
He made every day the best he could, even in the hospital. That stayed with me.
Through everything I tried so hard to annoy my brother, but he always saw the best in me. After he passed away, I saw it too. That affects everything I do today — looking for the best in everyone.
Justin made an impact on me and I impacted him. You impact everyone who sees you.
It's important to remember that everyone goes through something in their life and God only gives it to people that he knows can handle it.
Everyone is out here on this Earth for a reason. YOU are here for a reason.
For me, I hope that I'm an inspiration for kids. I want little girls and boys to need me the way I needed someone when I was going through it as a sibling.
I want to be the hope that they need to help them get through the tough times.
I want to be the proof that no matter what, everything will be OK. Different, but OK.
Make YOUR impact. Honor Justin on his birthday with a donation to childhood cancer research.
Donate

Read more about Justin and his family on the St. Baldrick's blog: