Tina and Carlos' childhood cancer journey didn't begin with their son Phineas' diagnosis in 2013. It began seven years earlier with their second child, Althea. On the 10th anniversary of Althea's death, Tina shares how she continues to honor her daughter's memory.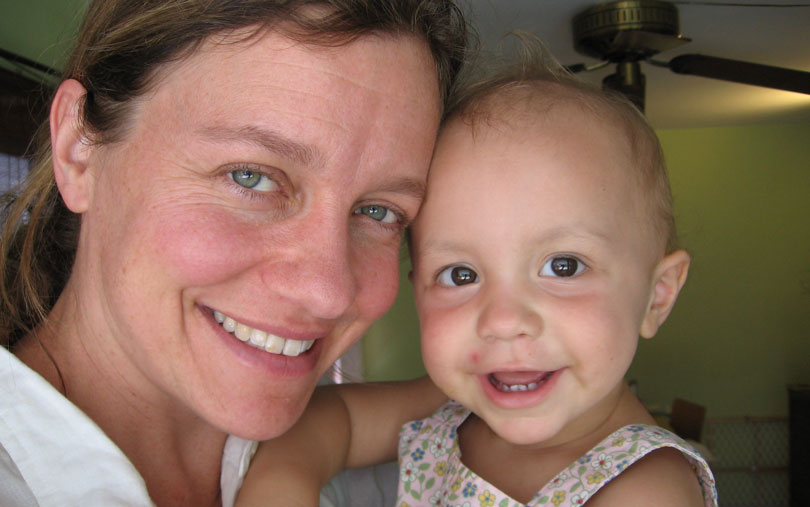 Althea and her mom.
December 1. I can feel it in my bones days before it arrives. Late fall, Thanksgiving leftovers gone, dead leaves, frost, Christmas coming, my daughter dying in my arms.
A fact of my life for 10 years now — my daughter Althea died of cancer when she was 2 years old.
We are proud and grateful for our son Phineas to serve as a 2016 St. Baldrick's Ambassador. Research funded by St. Baldrick's saved his life. We are thankful to help provide hope for other children and families affected by childhood cancer.
But our journey with childhood cancer did not start with our son Phineas. It started with our sweet Althea.
Althea and her dad, Carlos.
I want to share with you a journal entry I wrote the day after we lost her:
Althea has gone with the wind.
Friday was a gorgeous day — sunny, breezy and warm. Mid-afternoon, we loaded up the jogging stroller with an oxygen tank, carefully put Althea in and went for a long walk. It had been raining earlier in the day, so the smell of the woods was sweet. Althea was slipping in and out of consciousness.
At one point she tried to say something, and I crouched in front of her to try and understand. She reached up and took my sunglasses off and mumbled, "There, I took the glasses off." She wanted to see my eyes.
When we got home, we sat with her outside on the deck, holding her hand, crying and talking to her until it got too dark and the wind began to bring in the cold.
Meanwhile, Carlos's parents and brother Marco arrived. We took her inside and took turns laying on the couch beside her. Our friend Linda Alvarez and her daughter Phoebe arrived. Carlos made a fire in the fireplace and he and I gently moved our now comatose little girl.
We sat before the fire, with her in my lap and Carlos at my side while she took her last breaths. At 8:10 Friday night, Althea left her tired broken body. I held her and told her, "Good girl — I'm so glad."
I am so glad she doesn't have cancer anymore.
We are broken to have witnessed such a beautiful thing be destroyed. We are broken from 10 months of non-stop worry and anxiety and the horror of our child having cancer. We miss our sweet, smart wonderful baby girl Althea.
She will be cremated this morning and we will share memorial plans soon.
I don't like to think about December 1. I try and do my best to honor Althea's memory by living and enjoying life — because that's all she wanted to do.
Life is short and precious.
But today I have to feel the pain.
Every kid deserves to grow up cancer free.
Thanks to all of you who support St. Baldrick's.
Every kid deserves to grow up cancer free. Donate today to fund childhood cancer research.
Give
Read more about Althea and Phineas: