Four years ago, Nancy watched her 3-year-old son, Scott, go from a healthy boy to a child with cancer. This year, she watched him stand before Congress and deliver a speech on the importance of childhood cancer research and the STAR Act. She relives the experience below.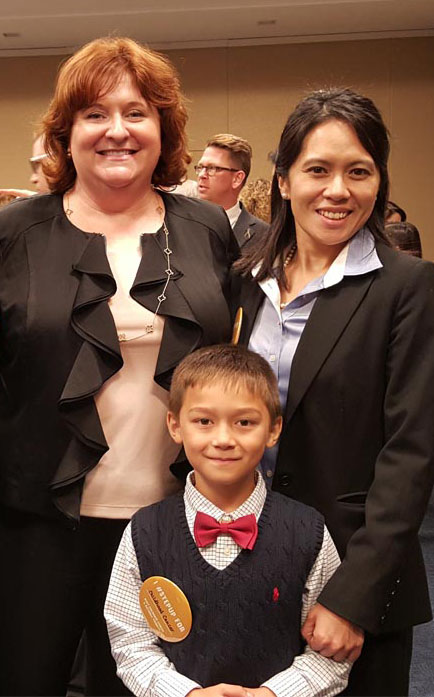 Nancy poses on Capitol Hill with her son, Scott, and St. Baldrick's CEO Kathleen Ruddy.
If someone had told me back when Scott was first diagnosed that he'd be able to complete three and a half years of treatment, overcome multiple side effects from chemo, and go on to become a happy, vibrant kid who would speak before Congress, I wouldn't have believed them. It was such a long road.
Scott finished treatment for acute lymphoblastic leukemia this spring. We were at the beach over Labor Day weekend when we got an unexpected call inviting Scott to provide the opening speech at the 6th Annual Childhood Cancer Summit on Capitol Hill on September 18.
BLOG: Scott's Childhood Cancer Story >
A million thoughts ran through my head, including, "Will he actually be able to deliver a speech in front of an audience of patients, families, NIH senior staff, pharmaceutical executives and Congressmen?"
During the days leading up to the Summit, Scott and I rehearsed his speech over and over again. He managed to memorize it after a few days and didn't seem at all nervous about what was to come. However, rehearsing a speech in front of your family is very different from speaking into a microphone in front of an audience of 150 people!
On the morning of the Summit, Scott was pumped with excitement as he waited to step onto the podium. I took out a sheet of paper that I had folded into a small rectangle and told him that he could put the tiny copy of his speech into his pocket in case he forgot anything.
He said, "Mom, I don't need it."
I reassured him that he was right, but that he should keep it with him just in case. He replied, "No, Mom. I've got this! Really, I don't need it."
With that, he stepped onto the podium and proceeded to recite the entire speech from memory. He received applause during various parts of his speech and somehow knew that he should pause until it died down before resuming his talking points.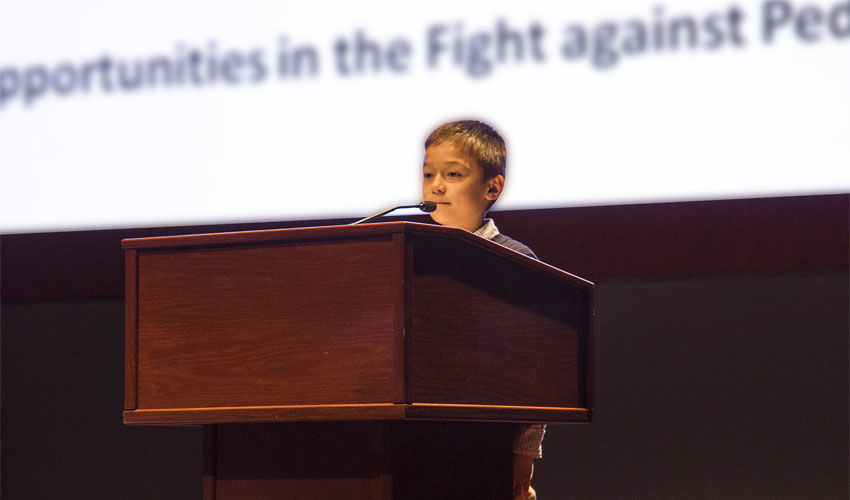 Scott speaking at the podium during the Childhood Cancer Summit.
I was stunned. How on earth was he able to execute the speech with such poise? It was a mystery to me because I felt nervous simply standing on stage near him.
At the end, he got a standing ovation.
Read Scott's moving speech here >
We finally had a chance to chat on our walk over to Union Station after the conclusion of the afternoon's activities. I asked him how he managed to maintain his composure.
He said, "Well, I kept calm and did the speech because I knew that I was speaking for all the other kids with cancer and the ones who died."
He knew he was there on a mission that extended well beyond just representing himself, and it seemed to empower him and quell any nerves he may have had otherwise.
Sometimes, as parents of kids with cancer, I don't think we give them enough credit for how much they really understand about their journey.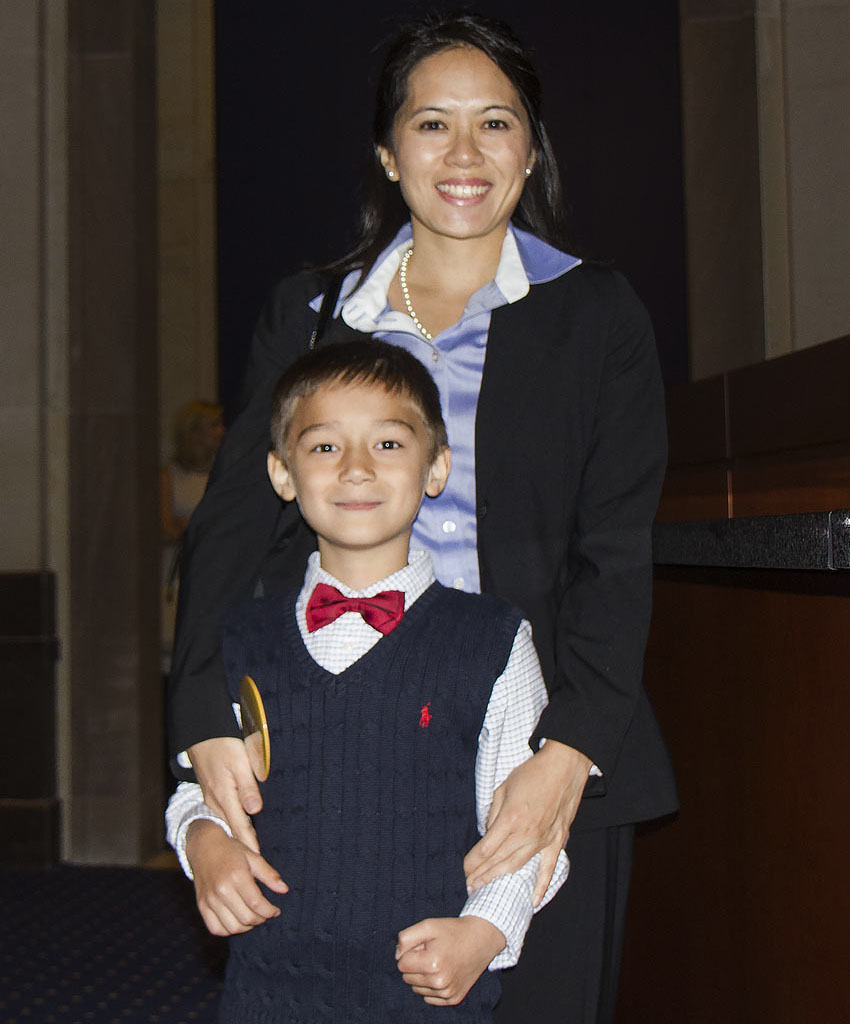 Nancy and Scott at the Childhood Cancer Summit.
It was amazing to be in the same room with key stakeholders from the childhood cancer community, and to see and hear about the exciting advancements that have been made in the treatment of childhood cancer.
However, there is still a long way to go, and the 4% of government-funded cancer research allocated for childhood cancer is not enough to accelerate the pace of new discoveries that would help so many kids.
This is where the Childhood Cancer STAR Act becomes critically important for all childhood cancer patients and survivors. What's exciting is that it has a favorable chance of being passed because it has the support of both parties in the House of Representatives and the Senate.
For those who live in states where representatives have not yet signed on as co-sponsors, let's spread awareness that the STAR Act is not a partisan issue, but rather a children's issue because childhood cancer is the number one cause of death by disease among children in the U.S.
Please take a moment to write to your representatives and ask them to support the STAR Act by sharing your story. This sweeping legislation has the potential to transform childhood cancer research and provide hope to many kids with cancer who have run out of treatment options.
Together, we can make our voices heard on the Hill!
Make your voice heard for kids with cancer. Use this simple form to email your congressional representatives and urge them to support the STAR Act.
Email your representatives

Read more on the St. Baldrick's blog: