Alex Penny is a physical therapist who recently completed a grueling Ironman triathlon. His inspiration? A former patient, Ambassador Caroline. "She gave me the courage to fight through every cramp and all the nausea and exhaustion of training this past year," Alex writes. Read on to see how Ambassador Caroline pushed Alex to keep going — and to raise over $4,000 for childhood cancer research along the way.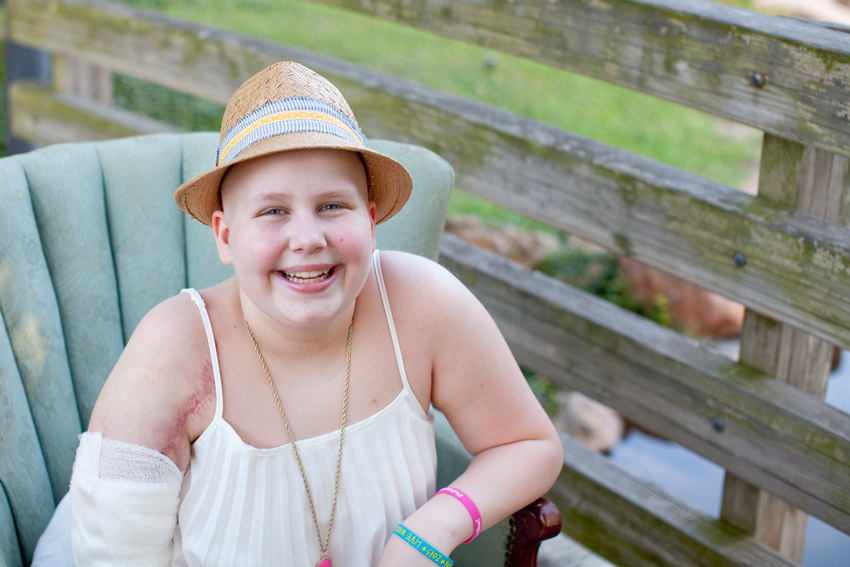 Caroline was diagnosed with osteosarcoma in January 2014 and spent much of that year in the hospital in Houston.
This past Labor Day wasn't about long weekends, trips to the lake or backyard BBQs. I was riding my bike 100 miles on Saturday, running 18 miles on Sunday and swimming 2 miles on Monday. A typical training weekend for me, over the last year anyway.
I am a physical therapist at a major cancer hospital in Texas. I specialize in the rehabilitation of pediatric bone tumor patients, most often following major orthopedic reconstructive surgeries. This is how I met Caroline Richards and her family.
Alex and Caroline goofing around in the hospital.
Every boy, girl, teenager or young adult I work with is so special, but sweet Caroline possessed this incredible inspirational strength I can't explain. After her surgery she had a challenging time walking again, but she pushed through some really difficult days — painful days — and she never gave up. She never said, "Not today, Alex." She was always strong and always smiling, sometimes through tears.
Despite the pain, she never stopped encouraging and motivating others around her.
One year ago in September, inspired by Caroline and Childhood Cancer Awareness Month, I registered for my first Ironman triathlon. It was time I gave something back to all the young patients that have been giving me so much inspiration and joy over the last few years. I started a fundraiser for the St. Baldrick's Foundation called "Racing for a Reason" to raise funds and awareness for childhood cancer research.
Donate to Alex's fundrasier here >
An Ironman consists of a 2.4-mile swim, 116-mile bike, and 26.2-mile run, back to back, so training is intense. And it wasn't fun, especially during a Texas summer where the days are long and especially hot. Every day I was fatigued and sore, and I knew I had to do it all over again the next day on dead legs. It also meant I was spending a lot of time away from my wonderful wife and 2-year-old daughter.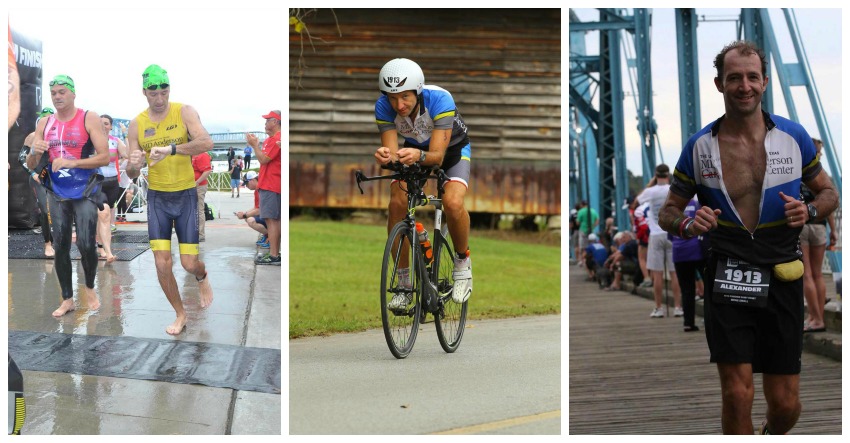 Alex had to train hard for a 2.4-mile swim, 116-mile bike, and 26.2-mile run.
But the challenges of training still don't come close to the challenges that young patients and families must endure with a childhood cancer diagnosis. Caroline Richards and her family fought through months of chemotherapy, radiation, several surgeries, physical and occupational therapy, and multiple hospital admissions, all while 200 miles away from family and friends.
Learn more about the challenges faced by kids with cancer and their families >
Despite all the pain and suffering, Caroline always put others first. She encouraged and inspired other kids and adults in the hospital to keep fighting and to stay strong. She did so smiling and spreading joy with her laughter, love, singing and, of course, dancing. Her first steps after a major operation were dance steps, not walking steps, while rocking out to one of her favorite songs.
Early on during her rehabilitation, Caroline gave me a gift of a Superman t-shirt. She said it represented the strength and motivation I gave her to push through her physical therapy treatments. In truth, Caroline is my superhero. She gave me the courage to fight through every cramp and all the nausea and exhaustion of training this past year.
September 27 was race day. As I prepared to jump into to the water, I raised my arm, looked at Caroline's "Stay Strong" hot pink bracelet, and tapped my chest a couple of times with my fist, thinking, "Caroline, you pushed me to the start, now get me to the finish."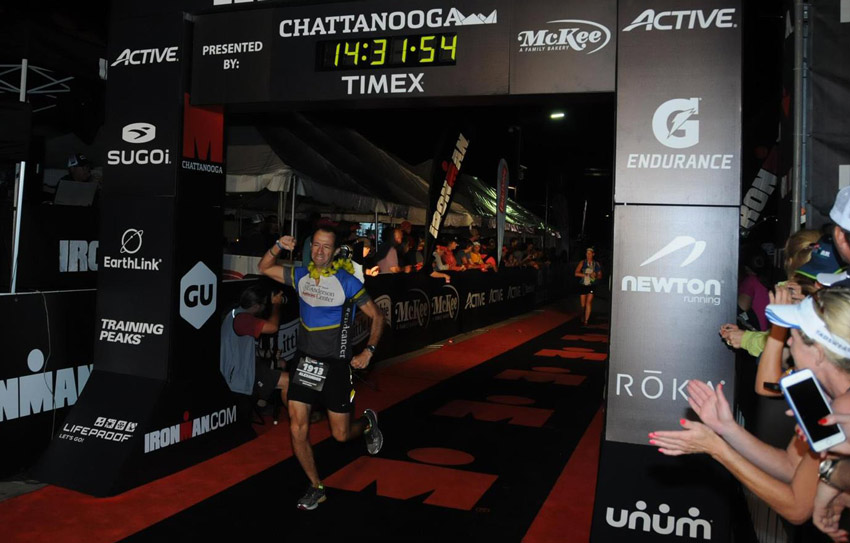 Alex celebrates as he crosses the finish line of his 14-hour race.
It was a long day, but a little over 14 hours later I did cross that finish line an Ironman.
I am certain I experienced every emotion that day. At times I had a hard time pressing on, but as soon as I was down I was back up jogging forward, thinking of how Caroline and so many more kids just like her keep on fighting and pushing hard every day to defeat a deadly disease.
My contributions feel small to me, but I know every bit counts and will make a difference in the lives of kids with cancer. I encourage everyone to do something big or small to increase awareness of the importance of childhood cancer research. Raise funds, shave your head, race a 5K or even a triathlon. And stay strong for Caroline.
You, too, can start a fundraiser and make a difference in the lives of children with cancer. Get moving today.
Start a Fundraiser
Read more on the St. Baldrick's blog: