For years, Rabbi Vered Harris and Imam Imad Enchassi have stood together in support of peace, love and respect. Now, they're working together to help kids with cancer. Last week, as Rabbi Harris fundraised ahead of her shave for St. Baldrick's, the imam had a surprise for her. Read on to find out more!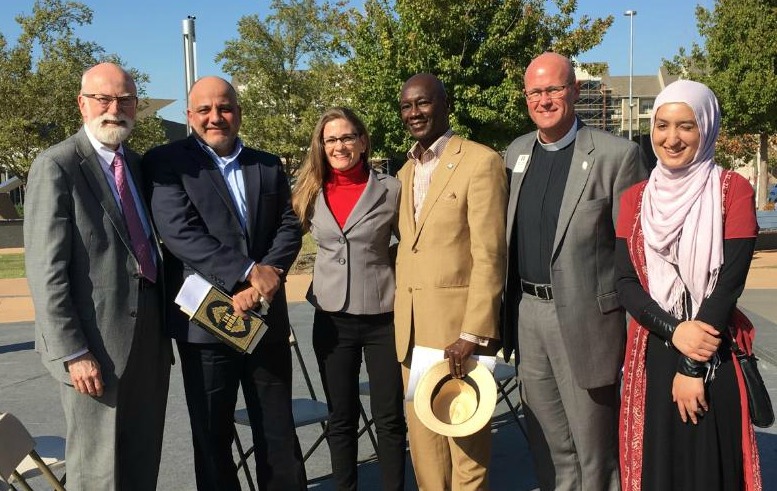 Imam Imad Enchassi, second from left, and Rabbi Vered Harris stand together with attendees at an interfaith prayer service for Syrian refugees.
Rabbi Vered Harris was dumbstruck as she read a text from Imam Imad Enchassi. She had expected the imam to donate to her shave for St. Baldrick's, but not like this.
Without telling her, Imam Enchassi had spread the word about her shave to members of the Muslim community of Oklahoma City. They rallied to the childhood cancer cause, raising $3,600 for the rabbi's shave in just a day and a half — filling her entire fundraising goal in one fell swoop.
"It just shows that there's so much more that we agree on than where are differences lie," said Rabbi Harris, who's the daughter of an Israeli and an American, while Imam Enchassi was born to Palestinian refugees in Lebanon. "We all agree that parents should not sit with their children receiving chemotherapy, because there should be no children with cancer."
Rabbi Harris had first heard about St. Baldrick's after Ambassador Sam Sommer, the son of fellow rabbis, was diagnosed with acute myeloid leukemia and then passed away. She was growing her hair to donate and decided to go all out — she accepted a friend's invitation to shave for St. Baldrick's this year with the 36 Rabbis shave event at the Union for Reform Judaism Biennial conference in Florida.
In this photo, Sam Sommer dances in the sunshine. Rabbi Harris had followed his story, and prayed for Sam and his family, throughout his illness.
Imam Enchassi didn't personally know the Sommer family, but he said children as young as 2 years old have been buried at their Muslim cemetery after fighting cancer.
"It's heartbreaking," he said. "It's heartbreaking to see an adult go through that, so imagine a young child."
The two faith leaders have a bond of trust and respect built on acts of kindness. Imam Enchassi recalled a freezing day in February one year when Rabbi Harris, with another female rabbi, escorted him from his car to the state capitol building, through a crowd of anti-Islamic protestors. Another time, when his mosque was targeted in hate crimes, Rabbi Harris stood out front and greeted worshippers as they left Friday prayers.
"Many of the people I went to were not hesitant to write a check for her." Imam Enchassi said. "This is something that transgressed religion and faith and creed to concentrate on a unique humanitarian perspective."
They both consider this story to be a beacon of hope in the midst of a stream of extreme voices and stories of violence coming from the Holy Land.
"If an imam, a rabbi and a preacher come together towards some type of good, towards human issues, which is dear in all Abrahamic traditions, then this world will be a better place," Imam Enchassi said.
With donations from the Muslim and Jewish communities, Rabbi Harris has now raised almost $8,500 for tomorrow's shave.
"This is an issue of humanity and it's an issue of hope. Children represent the hope of the future of humanity. Children represent a hope for what is good and possible in the world and that doesn't have anything to do with Judaism or Islam or Christianity or Hinduism or Buddhism or anything else," Rabbi Harris said. "It's about being human beings."
Inspired? Support Rabbi Harris and donate to her shave today.
Give
Read more on the St. Baldrick's blog: