Over the summer, Abby's dad shared some news with us: Abby was still cancer free, but her organs were failing. The doctors told her she had 48 hours to live. But Abby disagreed, and four months later, Abby's mom wants us to know that Abby is still here — and she's been busy!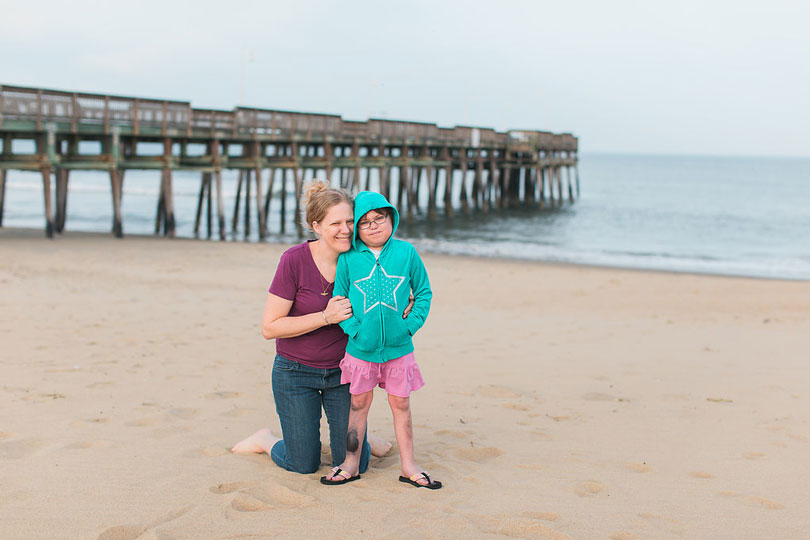 Abby and her mom on the beach in the spring. Abby underwent a bone marrow transplant for relapsed Ph+ acute lymphoblastic leukemia in January 2015 and has been battling complications ever since.
It's been four months since we brought Abby home.
We brought our baby home because the doctors truly believed that Abby was beyond saving and it was time for end-of-life care. All of the signs were there. To all of the health care professionals from many hospitals and specialties, Abby's body was failing and we were doing more to her than for her.
Signing the DNR and turning off the dialysis machine supporting her kidneys were the hardest things Joe and I did throughout these five and a half years of Abby's cancer journey. But it was time.
Preparing Abby's sisters, ages 5 and 12, for Abby's death was one of the most heart-wrenching things we've ever done. But those girls were so strong. They sat by her side, they visited with visitors, they hung pictures in the rooms.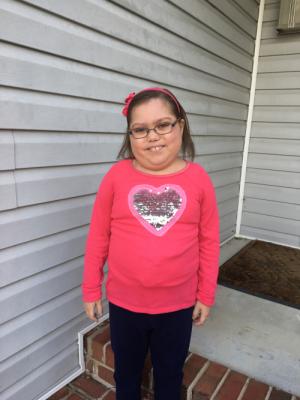 Abby on her first day of school.
And they were amazed, along with everyone else, as we watched Abby improve.
I am writing today with Abby sitting in the other room working with her tutor after going to school for two hours. Abby is alive, and doing "well."
I say "well" because for Abby, she is thriving; compared to others, yes, she still has issues. Despite these issues, Abby strives each day to be more and more like a 10-year-old girl. We are so happy.
Abby started school part time a few weeks ago, setting foot in a school building for the first time in two years! It was a HUGE day.
She even managed to walk down the aisle, unaided, as the flower girl in her friend Sarah's wedding. There wasn't a dry eye in the house.
So what happened? No one knows. No doctor has an explanation. One has even said that in his 25 years of experience, he has NEVER seen a turnaround like this one.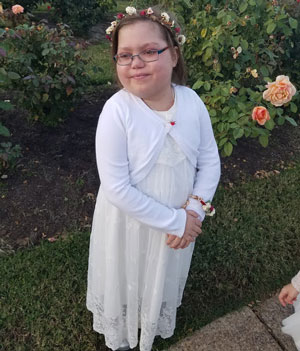 Abby in her flower girl dress at her friend Sarah's wedding.
Abby is our miracle. She truly is.
Abby is still technically on hospice care, but we will intervene if medical issues arise. She was weaned off of all pain drips used in end-of-life care, but she continues baseline pain medicine for her graft-versus-host disease (GVHD). She continues on IV steroids to prevent a flare-up of GVHD in her gut. She is on a few other necessary meds that have been added for other issues, like liver or gall bladder problems and seizures.
See where Abby was one year ago >
Where do we go next? We do not know. Abby does not have a path or a plan. Abby is constructing her own plan. Abby clearly told us four months ago, "I am not ready to pass because I'm too young and there are so many things I still wants to see, do, experience, and accomplish."
So we take each day as it comes. We have been enjoying not watching numbers, not worrying about the next infusion. We have been spending a lot of time out of the hospital. The Furco Five, together.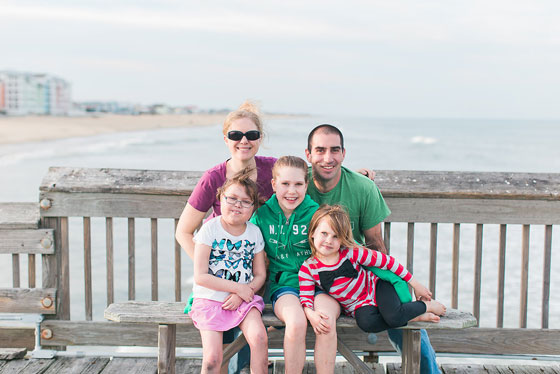 Abby and her family, "The Furco Five."
We are so, so, so very grateful.
Help kids like Abby get back to being kids. Fund childhood cancer research today.
Give
Read more about Abby: