It's not often that St. Baldrick's staff get to meet the faces behind the grants we fund. In a rare and special visit, St. Baldrick's staffers were invited to step into the labs of St. Baldrick's researchers Dr. Robert Seeger, Dr. Muller Fabbri and Dr. Chintan Parekh at Children's Hospital Los Angeles (CHLA). Join us on the tour!
St. Baldrick's Foundation staff pose in front of Children's Hospital Los Angeles.
First stop: Dr. Robert Seeger's lab
Dr. Seeger studies neuroblastoma and is the director of the cancer program at the Saban Research Institute at CHLA. He also happens to be a six-time shavee℠.
"I do this to honor kids who lose their hair," he said of his upcoming shave. "The least I can do is get shorn."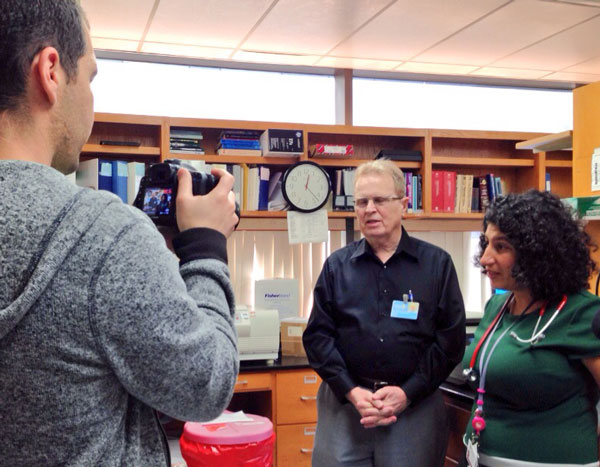 Dr. Seeger and his compatriot Dr. Araz Marachelian answer questions for our camera during our visit to CHLA.
Help Dr. Seeger reach his $1,000 goal! Donate on his shavee page >
With a boyish grin and a kind air about him, he quickly put us all at ease as he held open the door to his laboratory and gave us a tour.
Dr. Seeger's work has been funded by St. Baldrick's since 2009. He is the principal investigator for the New Approaches to Neuroblastoma Therapy (NANT) consortium, which is looking at different ways to fight neuroblastoma. One of those approaches involves immunotherapy, or harnessing the immune system to fight the cancer.
"The goal is to have more effective therapy with fewer side effects," he said.
Read more about immunotherapy >
After some photos and more handshakes, we left Dr. Seeger's lab and struck out for Dr. Fabbri's office. I can't tell you how we got there — the place is a maze — but we made it.
Dr. Muller Fabbri's lab
Dr. Fabbri is a St. Baldrick's Scholar and when we arrived, he was at his computer working on data for a publication supported by St. Baldrick's. Pretty cool, right?
He told us right off the bat that he's Italian, which explained his accent. (Plus there was the tell-tale espresso machine in his office.) He said St. Baldrick's has become a big deal in his native country, where his friends have a pizza party and raise money to help us fund childhood cancer research.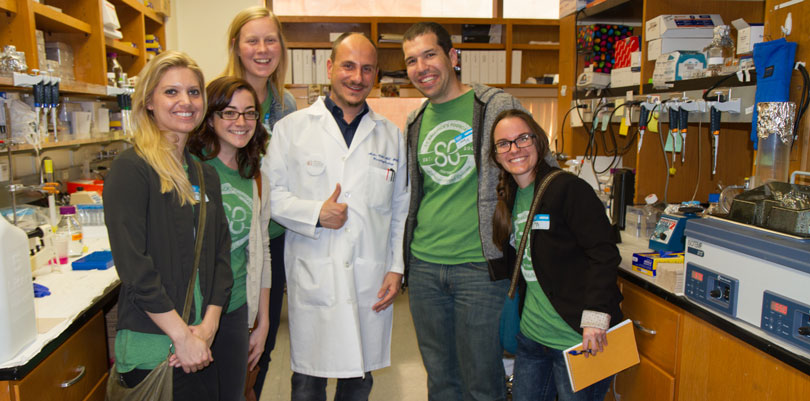 We all had a great time with Dr. Fabbri. Thumbs up to him!
Dr. Fabbri is generally a peppy guy, and he's super passionate about microenvironments — specifically the environment around a tumor cell and how it plays a role in cancer. In his research he's investigating how certain white blood cells, called macrophages, help neuroblastoma grow, and how to stop them.
Once inside Dr. Fabbri's lab, we met his team and he explained his work with a nifty slideshow.
"I feel blessed to be part of the family," Dr. Fabbri said of St. Baldrick's. "I really don't have enough words to thank you for that."
Dr. Fabbri gives us a biology lesson while explaining his research.
Dr. Chintan Parekh's lab

You could say that Dr. Chintan Parekh, a St. Baldrick's Scholar, has 'grown up' with St. Baldrick's.
St. Baldrick's funding has helped support Dr. Parekh for the past five years, essentially from the beginning of his career. Dr. Parekh studies how T cell acute lymphoblastic leukemia (ALL) develops and its relation to a certain gene mutation.
"Without that funding, I don't think that I would have had this career or been able to do what I do," he said.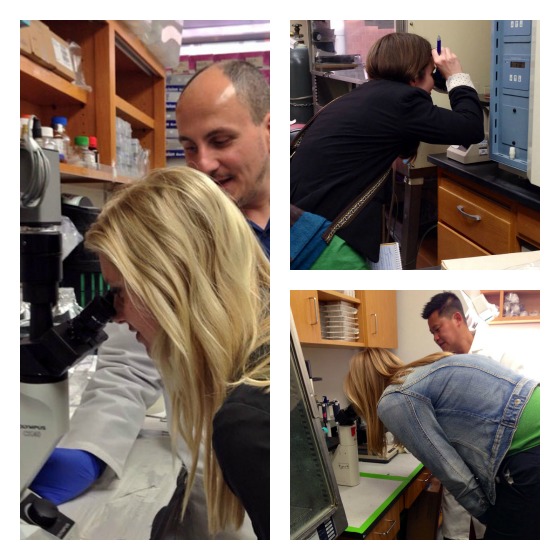 Microscope montage: We looked at different tumor cells through a variety of microscopes during our visit. The petri dish of neuroblastoma cells glowed bright green, while the ALL cells looked like bubbles in a can of soda.
Dr. Parekh just reached a major milestone — he now has his very own lab at CHLA. There are two rooms. The first has a nice window with a view of Sunset Boulevard. Looking beyond the microscopes and flasks on the counter, a line of palm trees extends into the sun-bleached distance. The second lab space has separate benches for different work, from dealing with DNA to viruses.
St. Baldrick's Fellow Anthony Hua got to work with Dr. Parekh on his exciting research! Read about Anthony's experience in the lab >
He was inspired to start his research when he met a young man with lymphoma during his residency.
Dr. Parekh remembered how the boy would drive a remote-controlled car around his hospital room. The kid's courage stood out to him.
"He knew that this wasn't going to cure him," the doctor said, adding that unfortunately the young man passed away. "This perked my interest to find something that would actually help these children."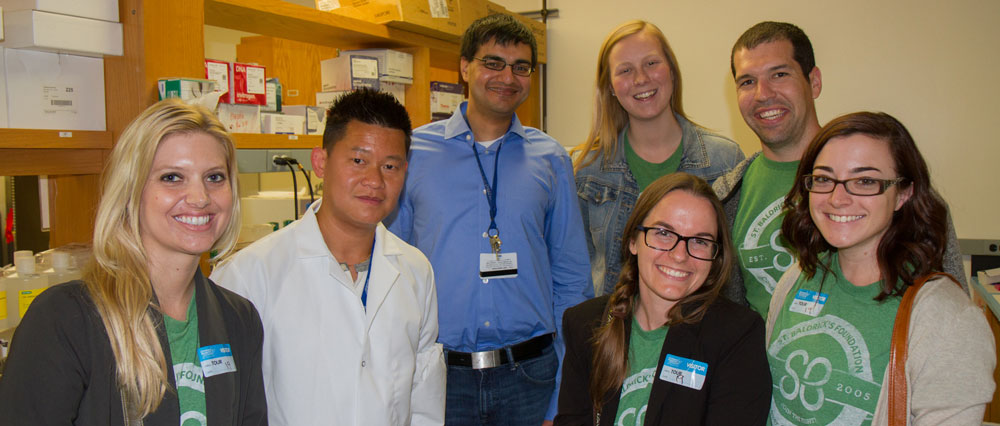 St. Baldrick's staffers pose in Dr. Parekh's lab.
---
Visiting CHLA was an incredible experience.
We met our heroes, who wear lab coats instead of capes. We got to peer through microscopes to look at childhood cancer cells (looking our enemy in the eyes, as Dr. Fabbri put it). Most of all, we got to see the amazing, innovative work these researchers are doing to conquer kids' cancer.
This lifesaving work is happening because of all of you — our donors, our shavees, our VEOs, and every last one of our family of supporters. During the tour, a lot of people told us 'thank you,' but really the gratitude should go where it belongs — to you.
CHLA is hosting their 6th annual St. Baldrick's event on March 28. Help them reach their $30,000 goal!
Donate
Read more on the St. Baldrick's blog: