After trying everything to cure her cancer, Emily was given three months to live. Then something amazing happened — her cancer went away. Read Emily's survival story and learn why she shaves her head to raise money for childhood cancer research. (You can be a shavee℠, too!)
Emily with two of her nurses in 2008.
I was given three months to live. That was 17 years ago.
At the age of 11, I was diagnosed with late-stage osteosarcoma of the spine and ribs. As is typical with bone cancers, I had been having pain for a couple of months. But it wasn't until I injured my knee rollerskating and went completely paralyzed from the waist down that doctors found a grapefruit-sized tumor that had grown into four ribs, around my spine, and into my lungs.
They found it with a simple x-ray.
My doctors gave me slim chances of either beating cancer or of regaining my ability walk. When given a choice of protocol, I decided to go with the big guns: chemotherapy, heavy radiation, a massive 24-hour surgery, and a randomized experimental therapeutic trial of a drug that was created by a veterinarian for use in animals.
In surgery, doctors took out four of my ribs, half of four vertebrae, the lower lobe of my left lung, put in two sets of titanium rods, fused my entire spine, did bone grafts, and implanted radiated seeds in a gortex mesh.
The surgery was a success, taking only 18 hours instead of the projected 24 hours. And I came out of it without becoming paralyzed once more.
Emily during treatment for osteosarcoma in 1997.
Life was going well. I was still reacting positively to chemotherapy and radiation, and we knew I was receiving the experimental drug and not a placebo due to my response. I was gaining strength through physical therapy and had learned to walk again with assistance of a walker and crutches.
And then it came. The call. The call where you end up in a windowless room with all your doctors and nurses and social workers.
It's bad when you relapse. It's worse when you relapse while still on chemo.
I'll never forget that moment — how sad my parents were, the shock on my brother's face. I still had options, but now the aim was to buy time, not for a cure.
I still had options, but now the aim was to buy time, not for a cure.
Once again, I had a choice: more chemo or stop all treatments? I emphatically declined further treatments. I was at peace due to my personal faith and the faith I had in my doctors. I knew we had tried everything.
I would take the three months they gave me and live. I would go to the top of Pike's Peak, see the Grand Canyon once more, celebrate my 21st birthday, go to prom, take one final vacation to Disney World, and spend my time with family and friends, watching as many sunrises and sunsets as I could along the way.
Then a miracle happened. The metastasis in my lung went away during those three months, and I became cancer free. I choose to believe that a large part of my survival is due to the experimental treatment and having a team like the one I have.
My miracle is the biggest reason I am such a supporter of the St. Baldrick's-Stand Up to Cancer Pediatric Cancer Dream Team* partnership. Kids need cures for cancer that don't ruin their bodies.
At 28 years old, I have diseases that are side effects of treatment that leave me unable to live a normal life. Due to these ongoing health issues, I've continually been treated in the oncology clinic at the Children's Hospital Colorado. It's meant that, for the past 17 years, I've become friends with more and more kids who are trying to beat cancer. And for 17 years, I've watched my friends struggle because no new treatments exist.
Neal was one of those "kids." I use quotes because I met him when I was 20 and he was 25. Neal had been recently diagnosed with Ewing sarcoma, another kind of childhood bone cancer.
There aren't many young adults at a children's hospital, and Neal and I became instant friends. We were quite the pair, and our shenanigans got us into a fair amount of trouble. He fought cancer with such grace, humor, and love. We all loved Neal, I especially.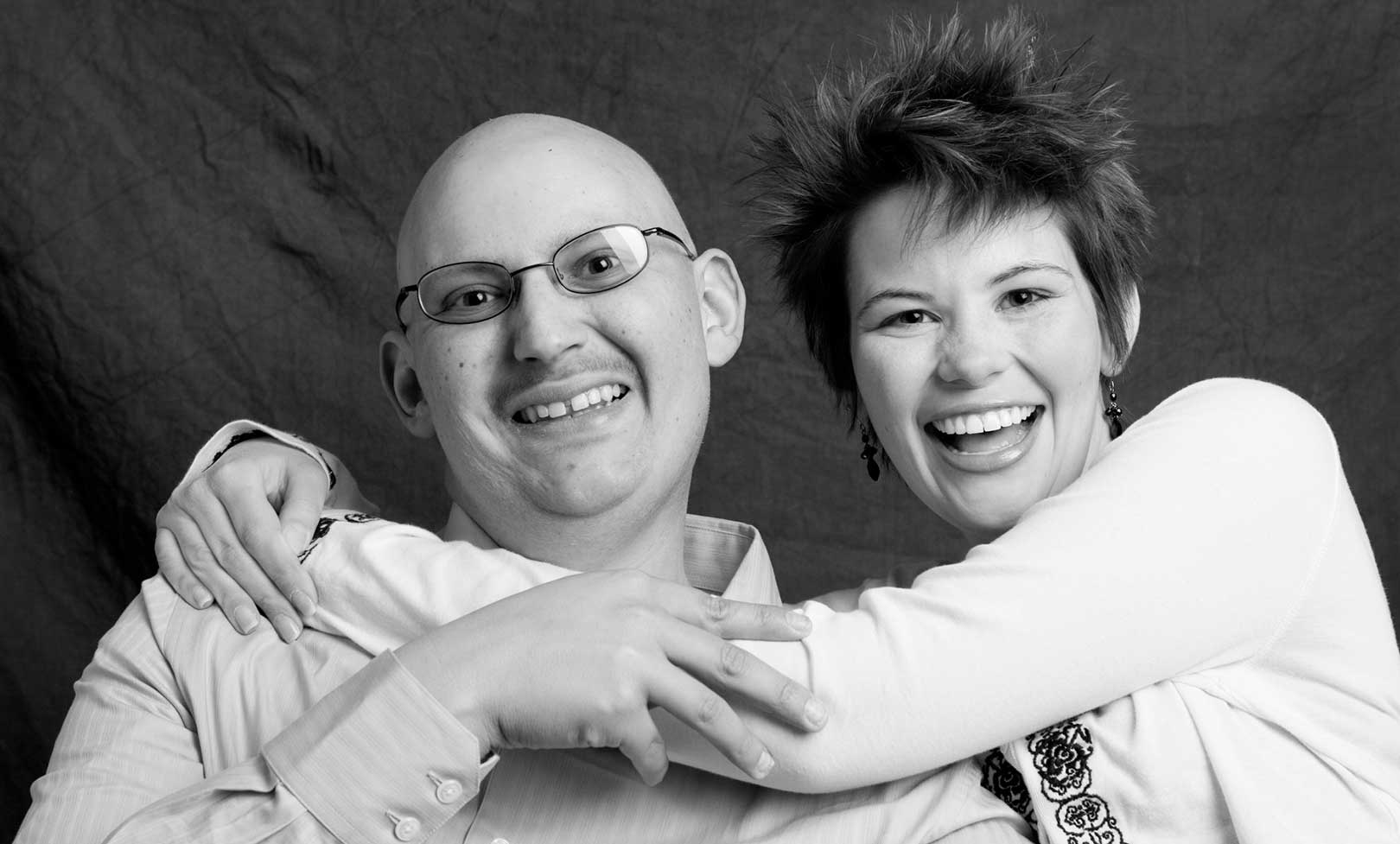 Emily with her friend Neal. The two met in the hospital after Neal was diagnosed with Ewing sarcoma as a young adult.
Neal fought hard, but his diagnosis came too late, and he passed away July 19, 2007.
Neal's death devastated me. I've seen so many friends pass from this horrible disease. Months later, I was still grieving and needed something to focus on. I needed to have fun and honor Neal and his legacy.
Emily and her friend Mike after they shaved their heads in 2008.
And so, I made a bet. I challenged my friend Mike to shave his head and raise money for St. Baldrick's. Together we raised thousands of dollars for childhood cancer research in just a few weeks.
Neal's family, his sister, stepdad, and friends created a team, Crusher's Crew, named for Neal's favorite "Star Trek" character. I joined them in honoring not only Neal but all my friends whose names are forever etched in my heart and soul.
Enough is enough. Cancer has become the number one cause of death by disease in children, and funding to treat and cure remains the same.
That is why I've shaved my head three times, and why I will shave again next year: With every head shaved, and every donation made, we are one step closer to better cancer treatments and finding cures for children like me, like Neal, and for all our friends.
Just like Emily, you can help move research forward for children with cancer. Get involved.
Get Involved
*Formerly known as the St. Baldrick's – Stand Up to Cancer Pediatric Cancer Dream Team, this team is now the St. Baldrick's EPICC Team (Empowering Pediatric Immunotherapies for Childhood Cancer).
More from the St. Baldrick's blog: