An avid nature photographer when he's not practicing medicine, Superman Sam's doctor is turning his talent for photography into vital dollars for childhood cancer research.

A collection of Dr. Plofsky's nature shots.
Superman Sam loved the Heller Nature Center in Highland Park, Illinois. He often walked its trails, searching for the perfect leaf. Sam's family physician, Dr. Matt Plofsky, shared a love of nature with the bright little boy.
When Sam passed away from acute myeloid leukemia last December, Dr. Plofsky knew the perfect way to honor him and raise money for childhood cancer research.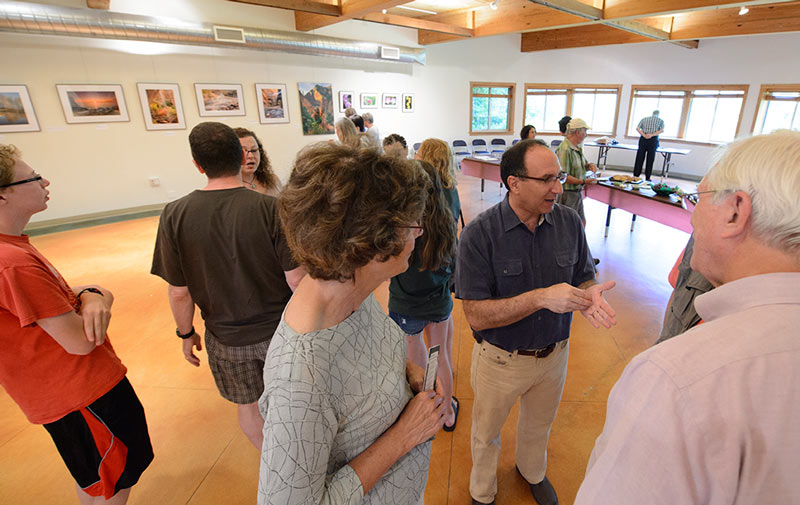 Dr. Matt Plofsky talks with visitors at his photo gallery opening at the Heller Nature Center. Photo by Jon Hillenbrand
A passionate nature photographer for the past seven years, Dr. Plofsky organized a photo gallery at Heller Nature Center, with proceeds from sales of his art going to the 36 Rabbis' campaign with the St. Baldrick's Foundation. (The 36 Rabbis Shave for the Brave campaign was started in part by Sam's mom, Phyllis.)
"I thought the mobilization of what they were doing was so amazing that I wanted to try to help out and do my part," he said.
With $80 from each sale going to St. Baldrick's, Dr. Plofsky has already raised almost $5,400 for childhood cancer research.
Want to buy one of Dr. Plofsky's photos and benefit childhood cancer research? Click here.
"The exhibit was very well received," Dr. Plofsky said. "I think people were just really inspired by the connection to his story. It really was very meaningful."
Give to research and get a gift at the same time. Purchase one of Dr. Plofsky's photographs.
Get a print
Read more about Sam and the 36 Rabbis: