Newlyweds Tamarra and Chris started their lives together by thinking of others. Have an idea for a fundraiser? Do What You Want and fund lifesaving research for kids with cancer.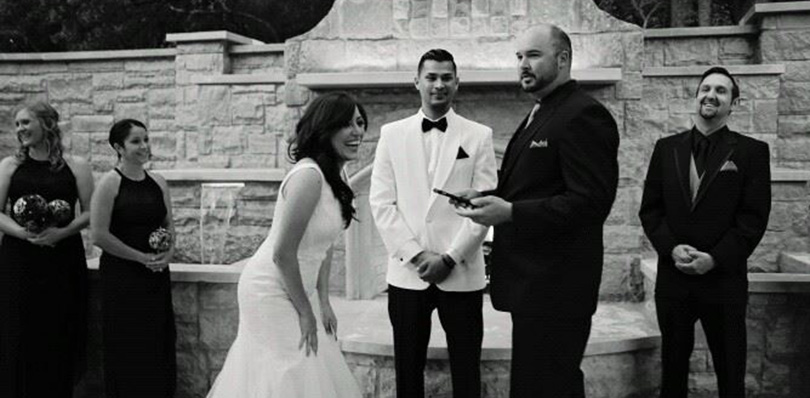 Tamarra and her new husband, Chris, raised almost $2,400 with their wedding fundraiser for St. Baldrick's.
Chris and I decided to do something big and out of the norm for our wedding.
Instead of gifts, we asked friends and family to donate to St. Baldrick's and spread the word!
The best part? Shortly after our wedding, I shaved my entire head! Here's the story.
A few years ago, some of my Facebook friends participated in a St. Baldrick's head-shaving event. I liked their passion, intensity, and support for the cause. It was something I never imagined doing — I love my hair!
Shortly after that, I read about a little boy named DJ. I couldn't make it through his story without choking up. Here was this boy, a few months younger than my son, diagnosed with cancer. His parents were from my hometown. It touched my motherly heart in a way that I still can't put into words.
With my birthday fast approaching, I asked all of my friends and family to donate to a fund for DJ's parents. But cancer still hadn't hit close to my home, my family, or my friends.
Then, a few months before our wedding, one of my close friends, Ashley, was diagnosed with breast cancer at 26. When I heard the news, I sat on my bathroom floor and wept. I told my husband, and we talked and talked about it. How would we handle news like this? What would we do?
My son joined a flag football team, and one of the coaches turned out to be DJ's dad, Rocky. I finally got to meet the legendary DJ himself, the kid whose cancer story had brought me to tears years earlier. I wanted to squeeze him and tell him how strong he was, but I just shook his hand like I wasn't starstruck.
DJ's dad told me about the things DJ might never be able to do because of his cancer. I learned about the treatments DJ went through and the risks he faced. It was hard to look at this small giggly child and think about everything he and his family had endured. Could my family be that strong? Would this happen to us?
That's when I remembered St. Baldrick's.
Tamarra braves the shave for St. Baldrick's, with her new husband as the barber.
I talked with my fiance about the idea of doing a charity fundraiser instead of asking for gifts. He was all for it. Instead of guests bringing gifts, they would donate to an amazing cause. It was an awesome feeling when we started to get the initial feedback of love and support.
I also decided to shave my head in support of childhood cancer research and for my dear friend going through chemo.
Donate to the happy couple's wedding fundraiser!
Cue wedding day. It was my day to shine. I was nervous, but ready.
I walked down to meet my husband. As I got closer to the guests, I caught a glimpse of Ashley standing with a huge smile on her face in the crowd of friends and family. She had come to support me on one of the biggest days of my life, even while being deep into her chemo treatments and trying to keep herself going. I knew in those few seconds of eye contact, I could support her, too.
We had the wedding of our dreams, and when I woke up the next morning next to my husband, I told him, "I'm shaving my head today." He kissed me, stroked my hair and said, "Whatever you want, babe."
So I did it.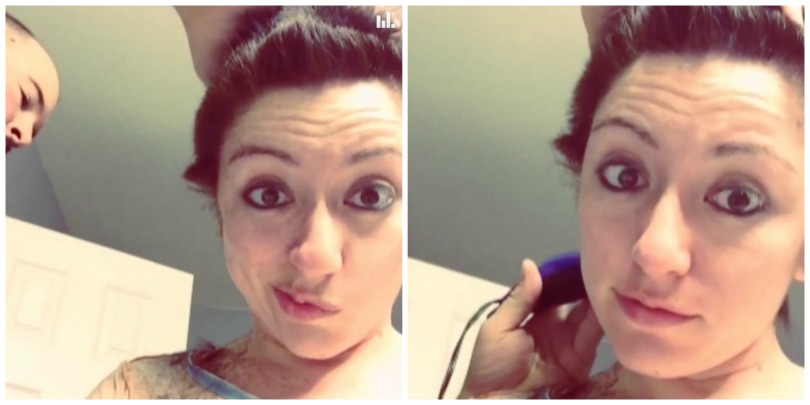 Tamarra shaves her head for St. Baldrick's after her wedding.
Chris and I received so much praise about how brave, selfless, and considerate we were to give up our wedding gifts and donate to charity. But all we did is support people we care about — people who have touched our lives.
St. Baldrick's raises money to help find a cure for children with cancer — kids like DJ. I learned that hair is just an accessory, and shaving my head didn't make me more or less of a woman. (And now I know from experience, you can still be hella cute without it!)
Inspired by Tamarra's story? Do What You Want and fund lifesaving childhood cancer research!
Do What You Want
Read more on the St. Baldrick's blog: