One of the institutions receiving an Infrastructure Grant this fall is Ochsner Children's Health Center in New Orleans, which houses the unique combined Adolescent and Young Adult Cancer and Survivorship Program. Read on for more about how this program is making a difference and what St. Baldrick's is doing to help.
The city of New Orleans, and its pediatric cancer care programs, were devastated in the aftermath of Hurricane Katrina.
But since the floodwaters receded, the city of New Orleans has made a comeback and so has cancer care in the area — including a new program that's one of only a few in the country.
Headed by Dr. Robert Vasquez, the Adolescent and Young Adult Cancer and Survivorship Program at Ochsner Children's Health Center in New Orleans brings together a multitude of specialists to care for patients and survivors between the ages of 15 and 39.
Essentially, the program is a one-stop shop for these adolescent and young adult (AYA) patients, Dr. Vasquez said.
"We always hear in pediatrics how great it is to have freestanding children's hospitals, and it is. For providing care to little kids that's a great environment to be in. However, for these older kids and for these young adult patients, you need access to both [adult and pediatric oncology]," he said.
"For the survivors, most of them are now in that age group where they need access to adult providers as well," he explained. "So the combined programs — the programs where you have both the pediatric facilities and the adult facilities in the same place — are phenomenal for providing this kind of care that can't be given at pediatric hospital alone."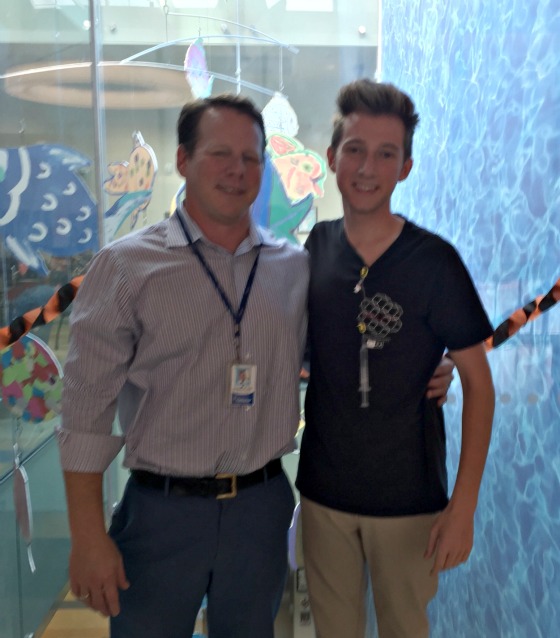 Dr. Vasquez stands with a young patient at the clinic.
Alongside the adult and pediatric oncologists, there are specialists who can help patients with fertility issues, a social worker who has counseling expertise in post-traumatic stress and anxiety disorders, a nutritionist, and exercise counselors.
With all the specialists they need in one place, patients don't have to go back and forth between different appointments, Dr. Vasquez said, making it easy for them to get the care that they need.
Making everything run smoothly for the patients is a big job. That's where St. Baldrick's comes in — the St. Baldrick's Infrastructure Grant will help support the salary of a dedicated coordinator for the clinic.
Besides meshing everyone's schedules, the coordinator also interviews each patient, spending up to an hour and a half on the phone going through an extensive questionnaire line by line. That interview then helps connect the patient with the specialists who can help them most.
"Then she needs to make sure all the providers know which patients are coming into the clinic, at which times, and we make sure everyone is here at those times, which is like herding cats at times," Dr. Vasquez said. "You can imagine, everyone's schedules are really quite chaotic."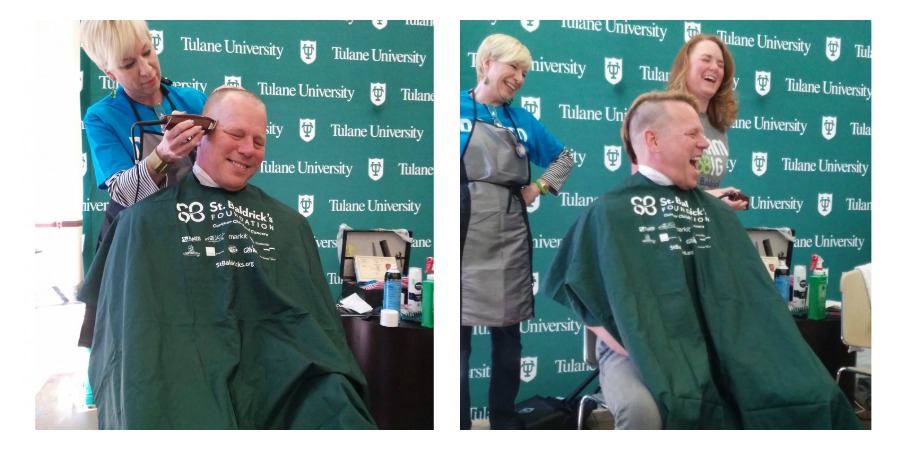 Dr. Vasquez shaved for St. Baldrick's this year and raised nearly $8,500 for childhood cancer research.
The grant will also support a clinical research assistant, who will enroll patients on appropriate clinical trials. The assistant will also keep an eye out for AYA-focused studies where the program could be involved to help further an area of research still in its infancy.
"The whole AYA movement in pediatric oncology is a growing one and a new one," Dr. Vasquez said. "We don't have a lot of well-orchestrated studies looking particularly at people in this age group, but they're starting."
Since opening in May, the program has seen about 60 patients and operates twice a month. Dr. Vasquez doesn't expect that schedule to last long. As more patients look to enroll in this unique program, the clinic will have to open more frequently.
"It seems to be growing. I think we're filling a need that needs to be met," he said.
Help programs like this continue to fill the needs of survivors and kids with cancer in their communities. Give today.
Give
Read more on the St. Baldrick's blog: