Chris Colton has no personal tie to childhood cancer. Yet for the last seven years, he and his son, Liam, have shaved their heads with St. Baldrick's. Read Chris' explanation of why funding childhood cancer research is so important, even if it doesn't affect you directly.
One of my favorite days of the year is "St. Baldrick's Day" — a day of bald heads, temporary tattoos of green shamrocks and fundraising for childhood cancer research.
This year marks the seventh year that my 8-year-old son, Liam, and I have shaved our heads at our local head-shaving event in Libertyville, Illinois.
Our family hasn't had to face the difficulties that come with childhood cancer. My wife, Arian, and I are blessed to have four healthy, happy, amazing children. But I know that not all families are as fortunate. Though our immediate family and close friends don't have children with cancer, I know that there are families everywhere that need a cure.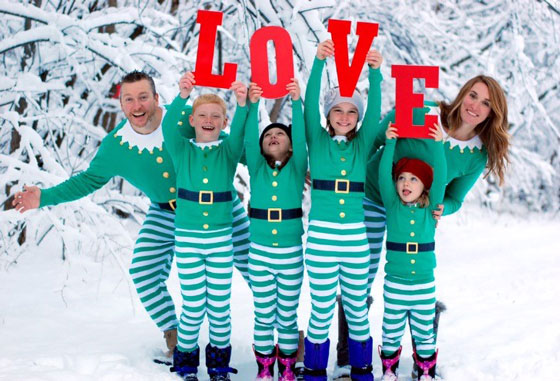 The Colton Family poses for a snowy winter photo in 2015.
I learned about St. Baldrick's in March 2010. I love St. Patrick's Day, so I was looking into what festive activities were in the area. I looked up my favorite local bar, Mickey Finn's, and learned about this crazy head-shaving event to raise money for childhood cancer research.
Learn more about why we exist >
Seeing that event struck a chord with me.
I thought about the kids fighting for a cure, and it made me want to do more than drink green beer on that St. Paddy's Day.
I put myself in another parent's nightmare for a moment, thinking about the magnitude and difficulty of dealing with childhood cancer as a father.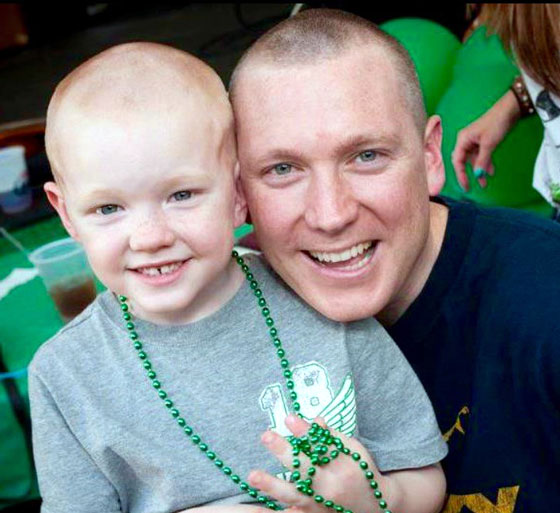 Chris and Liam in 2012.
I couldn't stop thinking about how stressful it must be — the massive medical bills, dozens of trips to hospitals, visits with oncologists and specialists, constant scans and tests, hundreds of needle pricks, sleepless nights. I imagined the missed soccer games, the tee-ball seasons that didn't happen, and the kids missing picture day at school to have blood work done at the hospital.
Growing up should be fun. Kids should be thinking about playing and sports and school and being carefree — not surgery or visiting cancer hospitals.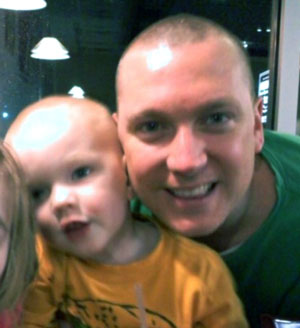 Chris and Liam shaved their heads for the first time in 2010.
It made sense to get involved in any way I could.
With only three days before the big event, I signed Liam and myself up to be shavees℠. I had never been bald before, so I was a bit nervous about what I would look like. But I was more excited about raising money and helping to make a difference.
That first year was so exciting! I rallied my friends, neighbors and coworkers together to chip in for childhood cancer research, and they have supported Liam and me every year since then. I love knowing that friends support us and look forward to donating to such a worthy cause.
It felt awesome to shave my head. It was empowering to know that I was doing this in solidarity with kids with cancer. If shaving my head each year will raise awareness and give strength to children fighting cancer, then I will gladly do it. No kid should have to fight cancer alone.
In these seven years, Liam and I will have raised over $20,000 towards finding cures and treatments for kids with cancer.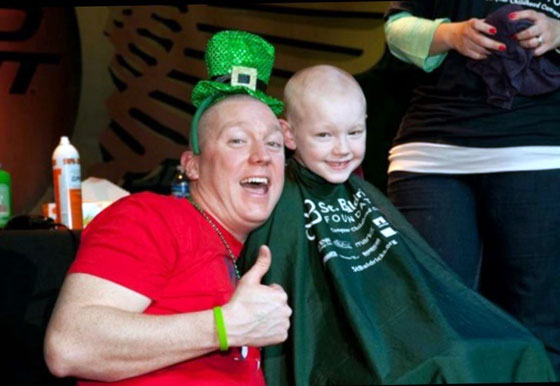 The Coltons rocked their bald heads in 2013.
Our annual St. Baldrick's head shaving event symbolizes hope and strength. We get to hear families share their childhood cancer stories. It's heartbreaking and uplifting all at once. Kids with cancer and survivors come and participate. Classmates join together as a team to fundraise and shave their heads as a group. The room is buzzing with excitement and anticipation.
As a father of four, I can imagine how hard it must be for parents of kids with cancer. Now that I've met many of these parents, I see how much they appreciate getting the support from our community. We really are all in it together.
Cancer doesn't win — people win!
You don't need to have a personal connection to childhood cancer to lend your support. Get involved and make an impact for kids with cancer everywhere.
Get Involved
Read more on the St. Baldrick's blog: