When Luke was fighting childhood cancer for the second time, the chemo weakened his immune system so much that he contracted bacterial meningitis. "That was the start of the most painful five months of our lives," his dad, Ryan, writes. Luke's still in the hospital, but he's getting stronger every day. Ryan tells his story.
Luke at 6, just after being diagnosed with acute lymphoblastic leukemia.
What the word "cancer" represents to a family, especially the words "
childhood cancer
," is impossible to fully describe. There is panic, shock, fear and anger all rolled into one big mess of emotion.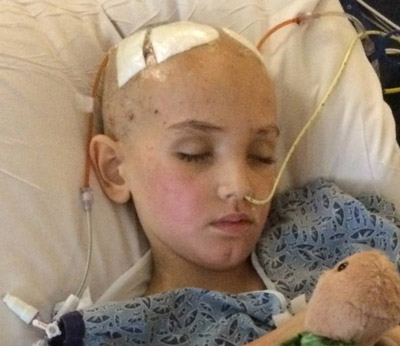 Luke sleeps while receiving chemotherapy in the hospital.
I remember sitting in the waiting area of the emergency room. A feeling like a cloud, gray and hazy, had descended in the room.
I couldn't sit still, pacing back and forth, then sitting down, fidgeting in my chair, then pacing back and forth again.
I knew. In my heart I knew what it was.
I can still see the bruises on his legs, on his back. The faint look in his eyes. The energy it took just to get up.
God, why didn't I take him in earlier? How could I not have known that a child shouldn't struggle this hard to do simple everyday tasks? How did we miss it for weeks at a time? Would that cost him a favorable prognosis?
God, I can't think this way anymore!
That was pretty much the intensity of the first 48 hours. And those were the opening lines of my journal.
My son Luke was diagnosed with acute lymphoblastic leukemia (ALL) in February 2011. I thought our family would never go through something so difficult again, until this April 2015 when Luke relapsed and was sent to Boston's Dana Farber for a trial medication.
While the clinical trial proved successful in getting Luke into remission again, he unfortunately contracted bacterial meningitis, which made its way in through mouth sores and flooded his already deficient immune system with infection. Then it went rampant in his spinal fluid.
That was the start of the most painful five months of our lives, for all of us — Luke's brothers, Caleb and Eli; my wife, Nikki; and for me, his dad.
Childhood cancer affects the whole family. Learn more in this short video >
Luke spent six weeks in the ICU, mostly under heavy sedation and unconscious. After multiple seizures (one of them two hours long), two brain surgeries and heavy antibiotics, the meningitis was finally under control. He was down to 50 pounds and could barely talk, and had little function in either his arms of legs.
Luke recovers in the hospital after a bout of bacterial meningitis that landed him in the ICU for six weeks.
Rehab was to be a long process, but in the meantime we needed to see if his remission for the leukemia held fast over the last two months. Luke had only received the first initial month of chemo when the meningitis hit, and now a couple months had gone by untreated.
We had so many questions. Would his remission tests come back good? Would he even be able to physically handle the chemo needed if he was still in remission? Would he walk again? Was there brain damage that would keep him from reentering school?
Each day seemed so intense with concern, we had to fight to remain positive and faith-filled. But there is something else to know about Luke — he is a warrior!
Five months into this ordeal and Luke is walking with a walker, playing Wii, doing math and reading in preparation for his 6th grade tutor, and still cancer and meningitis free! His mind is sharp and his body is gaining every day.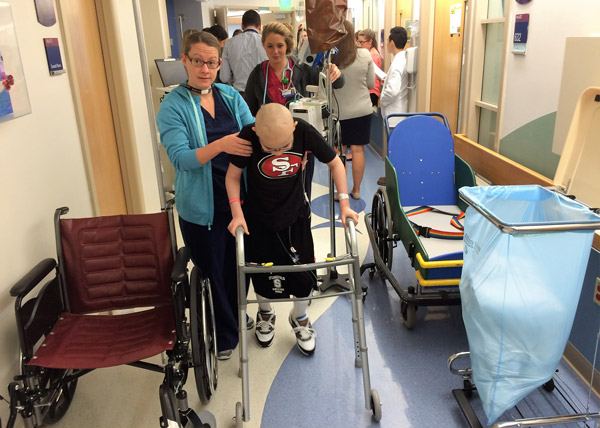 Luke walks the hospital halls with the aid of a walker and two nurses.
He is, I believe, a miracle. And I have heard a couple doctors refer to him that way too.
Five months is a long time to be in the hospital, and we still have just over two more months to go before Luke can finally come home. As a family we have overcome together through a tremendous faith and belief in miracles, an amazing medical staff in Boston, and the love and support of family and friends.
To all of them, thank you so much. The journey isn't over, but we are in full stride! Miracles happen.
Childhood Cancer Awareness Month is almost over, but kids like Luke still need your help. It's not too late to get involved — check out these six ways you can help.
6 Ways You Can Help Kids With Cancer
Read more on the St. Baldrick's blog: