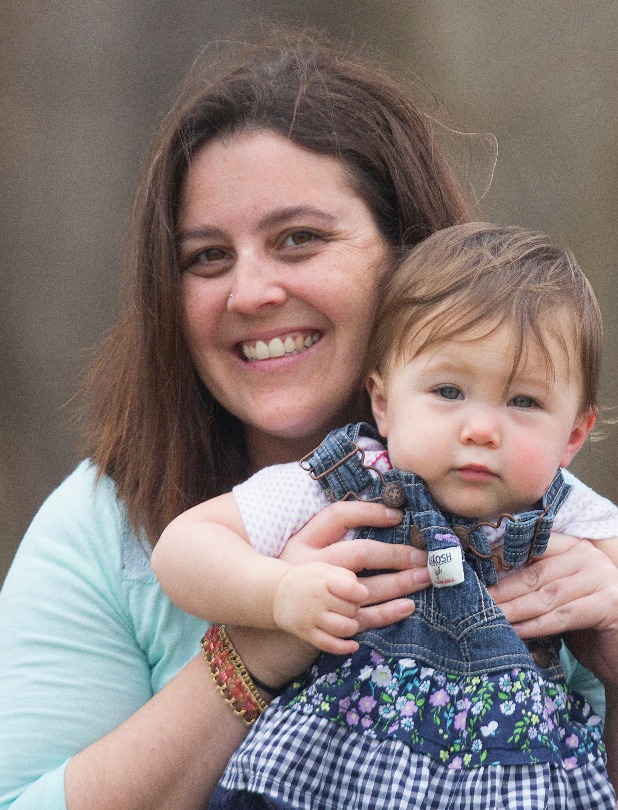 Rebecca smiles with her 2-year-old daughter, Sophie.
Childhood cancer had already taken so many things from Rebecca Morrow. During treatment, her hair dropped out twice. She missed her entire seventh-grade year. Her social life evaporated. The treatment devastated her developing body. Sometimes when treatment got really tough, her drive to survive crumbled.
So, when the doctors told a teenage Rebecca that she'd likely never have children of her own, she shrugged it off.
Rebecca had already lost so much to childhood cancer. What was one more thing?
"They basically said, 'I don't think it's going to happen, because you were going through chemo when you were going through puberty. That can cause issues,'" she recalled. "I was kind of like, 'Alright, I don't want to be a parent anyway.' It was just my way of being OK with it."
---
Give childhood cancer survivors like Rebecca the chance to live long, healthy lives — fund the most promising research today.
Donate >
---
Rebecca was 12 years old when she was diagnosed with childhood cancer, specifically acute lymphoblastic leukemia. She'd never known any kid with cancer, though she had seen adults with it. Usually, the stories didn't have happy endings.
"I knew what cancer meant and I pretty much figured I wasn't going to make it because I didn't know anybody else who had cancer and had lived," she said.
Treatment lasted a brutal two and a half years. She received chemotherapy, cranial radiation, and countless spinal taps. The nausea was debilitating and she was terrified of the spinal taps – so much so that she had to be sedated for them. It was so brutal, that she told her mom that she wanted to die. But her mom wouldn't let her give up.
Thanks to her mom's strength and encouragement, Rebecca survived. Fifteen years later, Rebecca still deals with long-term effects from the harsh treatment she endured as a kid. She has back pain from the many spinal taps she received and attributes her memory issues to the cranial radiation. She has a lot of anxiety and fear that she's still working through. She worries about her risk for secondary cancers.
Cancer free doesn't mean freedom from cancer treatment's long-term effects … here are the 2 biggest threats to survivors like Rebecca >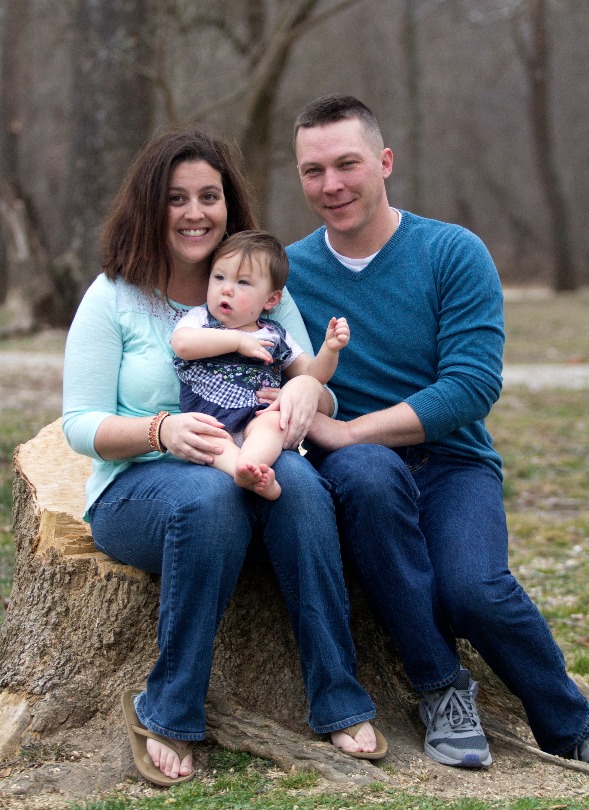 Rebecca with her husband, Benjamin, and their daughter, Sophie.
And after getting married to her husband, Benjamin, she tried not to think about what the doctors had said all those years ago. She may have shrugged it off as a teenager, but the distinct possibility of never having a child bothered her.
"I had just put it out of my mind as something that just couldn't happen for me. And I was really sad because my husband really wanted kids and I thought that was something I couldn't give him," Rebecca said.
BLOG: From Cancer Treatment to Parenthood: The Impact of Childhood Cancer on Fertility >
But then, something unexpected happened – a surprise named Sophie.
To her proud mom, Sophie is the happiest of happy accidents. She is her miracle baby. Sophie is 2 years old. She is smart and sweet. ("I don't say this because she's mine, but she's probably the smartest 2-year-old that I know," Rebecca said.) She knows all her colors and her letters and is even learning a little Japanese. She is such a good little girl that her grandma calls her a "trick baby" – the baby that makes you want to have more babies.
She is, in a word, "amazing," according to her proud mama.
"I am so very glad the doctors got it wrong and that I have been given the opportunity to raise this little beautiful human," Rebecca said.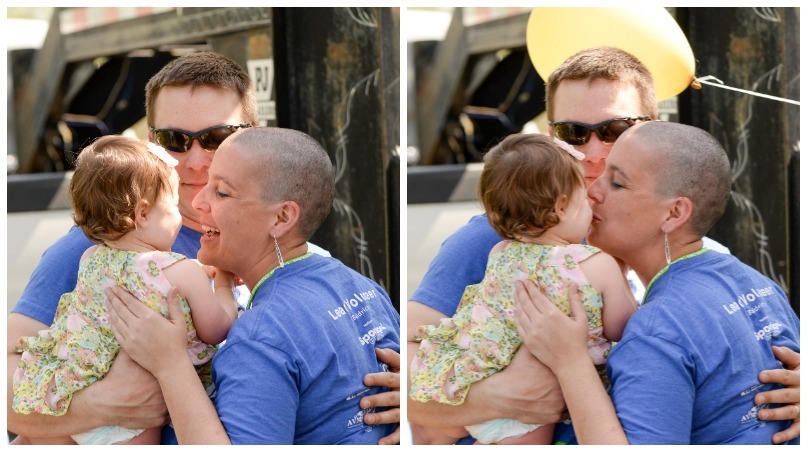 Rebecca kisses her daughter, Sophie, after shaving her head with St. Baldrick's.
Now the mom of a little girl she adores, Rebecca has a new perspective when it comes to childhood cancer and being a survivor. She knows the realities better than most and she's scared. When she was pregnant, her anxiety overwhelmed her. Would her little girl be healthy? Would she have cancer?  Even now, Rebecca worries about herself and the risks associated with survivorship, and about her daughter.
"I still worry about what the future holds and hope she never has to go through what I and so many other kids had to go through," she said. "But I find comfort in knowing that there are organizations like St. Baldrick's if she does."
Rebecca has been involved with St. Baldrick's for eight years. She has shaved her head and organized a head-shaving event in St. Robert, Missouri. She gives back because she knows that research is the key to progress in a disease where treatments haven't changed much since she was in the hospital. She knows that we can do better for kids with cancer – and their parents, so moms and dads don't wake up at night worrying about their babies.
"It just puts a different spin on why I'm doing this," she said of being a mother and fundraising for St. Baldrick's. "It's all kind of for the same reasons, but it's also for parents who have kids going through this. Before I was doing it more for the kids and now, I'm doing it for the parents. I understand what they're going through."
The effects of childhood cancer are lifelong — but they don't have to be. Fund the best research today and give childhood cancer survivors the chance to live full, healthy lives.
Donate >
Read more on the St. Baldrick's blog: