Meet the newest winner of the Robert J. Arceci Innovation Award — Dr. Kim Stegmaier. Dr. Stegmaier always loved kids but never thought she'd work in a lab trying to help them. Never say never! Read on to learn more about Dr. Stegmaier, her pioneering work in kids' cancer research and her memorable meeting with Dr. Arceci himself.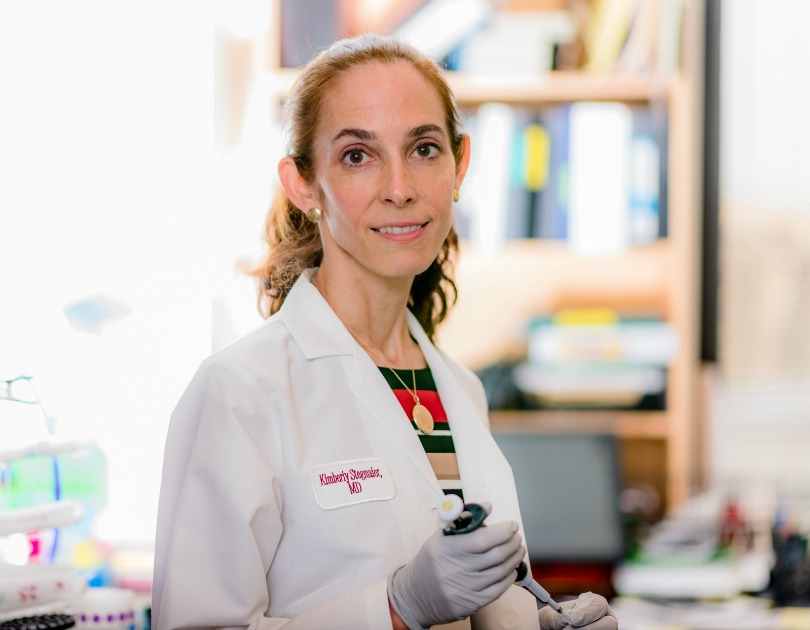 Dr. Kim Stegmaier is the Vice Chair of Pediatric Oncology Research at the Dana-Farber Cancer Institute and the co-director of the Pediatric Hematologic Malignancy Program at Boston Children's Hospital and Dana-Farber. Photo by Samuel Ogden
In her fifth year of medical school, Dr. Kimberly Stegmaier fell in love.
No, she didn't fall in love with a cute fellow student. And no, she wasn't pining for a lab tech either.
She fell in love with the work. She fell in love with the laboratory. And years later as a physician-scientist with her own lab, she's still very much in love.
"It was the most transformative year of my career," she said, recalling how exciting the work was. "I just fell in love with the science."
And now the pediatric oncologist can follow her love of the science wherever it takes her, thanks to the Robert J. Arceci Innovation Award.
"This award is amazing. It gives me the freedom to go where science takes me, to use innovative technology, and to take more risks – which, in my opinion – gives higher rewards," she explained. "There aren't many opportunities like it, and I'm so glad I can honor Dr. Arceci's memory in this way."
Watch a video about this year's Robert J. Arceci Innovation Award >

Unlike traditional grants which come with restrictions and are specific and constrained in their scope, this three-year, $250,000 grant will give Dr. Stegmaier the resources and the latitude to follow her passion for kids' cancer research, her curiosity and her innovative spirit, wherever it may lead.
"It's amazing — amazing," she said. "There aren't many opportunities like this."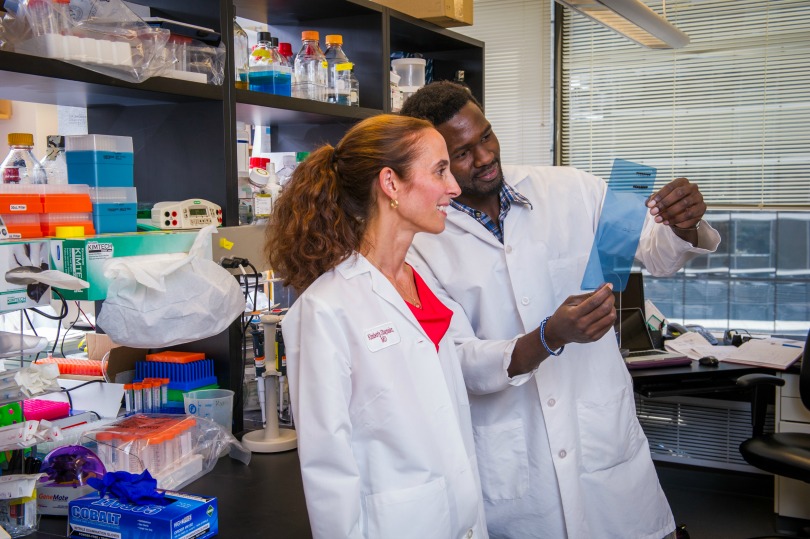 Dr. Stegmaier works in the lab with her colleague Samuel Kitara. Photo by Samuel Ogden
The Research
In her innovative work, Dr. Stegmaier is combing through all the genes contained in the genomes of a hundred cell lines from different types of children's cancer, including Ewing sarcoma and neuroblastoma.
Then, using a new kind of technology, she's methodically snipping away genes, one by one. After that, she sits back and watches what happens.
Why? To identify what she calls "dependencies" — genes the cancer relies on to grow or survive. Knock out a dependency and the cancer might stop growing, grow more slowly, mature into a normal, healthy cell or even die.
But that's not all Dr. Stegmaier is testing.
She's also screening those genes for promising new targets for brand-new drugs. Plus, she's searching the cell lines for vulnerabilities to existing drugs that are either already FDA approved or in early clinical testing.
Learn about how St. Baldrick's helped in the development of an FDA-approved drug for kids with cancer >
To Dr. Stegmaier, that discovery — that an existing drug works against a new target — would be like a miner hitting gold.
Eureka.
"That's your dream, right? As a scientist, that you find something in the lab that can immediately go to a clinical trial and if it works, that's it. You're on cloud nine," she said. "I think that's the most tangible output and that would be the home run — that you find an interesting target in one of these cancers that leads to a trial, because there's already a drug in existence and the drug works."
Dr. Stegmaier's fervent hope is that her work in the lab helps kids with cancer.
"I would love if there were a target that comes out of this, and of course the more the better, that leads to a trial that ultimately leads to a molecule that's active in these children's cancers," she said. "That would be my ultimate dream — that an output of this project leads to a drug that has an impact in children. That, to me, would be the best thing ever."
Meeting Dr. Arceci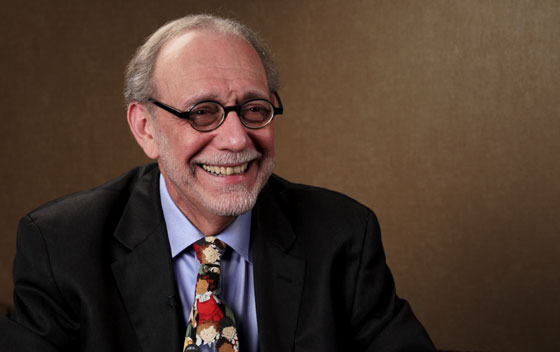 Dr. Arceci was all about collaboration and Dr. Stegmaier knows that he'd love the collaborative nature of her research, which involves screening a hundred kids' cancer cell lines, some of which come from other labs around the world. "I think it's important to know — and this, to me, is very much in the spirit of Dr. Arceci — that the project is incredibly collaborative. No one lab could do this," she said.
To Dr. Stegmaier, the award she received perfectly encapsulates the man it was named for — Dr. Bob Arceci, who died in 2015. It's innovative, it's bold, it's different and it's dedicated to making a difference.
When Dr. Stegmaier met Dr. Arceci for the first time, she was just transitioning to running her own lab. She had been asked to give a presentation at a meeting — for the first time on her own — and Dr. Arceci was there.
Afterward, there was a party with dancing. It turns out that Dr. Arceci liked to dance. Dr. Stegmaier likes to dance too. In fact, she used to do ballet.
So that's exactly what they did. They danced until the party ended, then they crashed another party, just so they could dance some more.
She smiles when she thinks of that memorable meeting.
"He was a phenomenal doctor, a phenomenal scientist, but he also knew how to live," she said. "And was really a model for all of us, particularly those of us whose careers were getting off the ground, about how the clinical work and the science are important, but enjoying life and enjoying being with colleagues — that that was a wonderful thing too."
Inspired by Dr. Arceci? Give to his St. Baldrick's memorial fund and help support the research he loved >
For Dr. Stegmaier, receiving the Arceci Innovation Award was a dream come true. In fact, when Dr. Stegmaier got the news over the phone, she's pretty sure she screamed and freaked out a brand-new lab associate who was in the next room.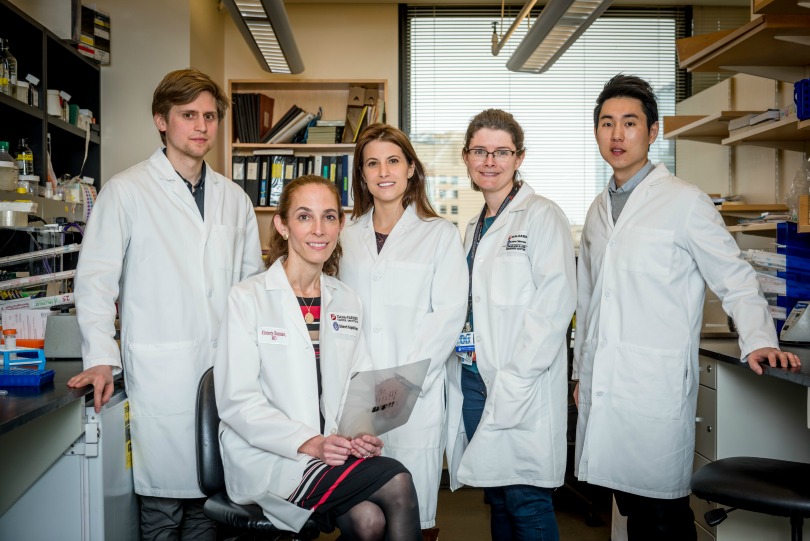 Dr. Stegmaier with (from left to right) Bjoern Stolte, Amanda Balboni, PhD, Dr. Lilian Guenther and Bo Kyung Seong, PhD. Photo by Samuel Ogden
Her 11-year-old son, who is a competitive gymnast, asked if she was going to get a big trophy.
"That was the first thing he wanted to know, because to him, when you win something you get a big trophy," she said, giggling. "He was so funny."
But for Dr. Stegmaier, the reward is in the work itself. Getting out of bed and going to work is like the biggest, shiniest trophy her son could ever imagine winning.
"At the end of the day, I feel like I can't imagine another career," she said. "The privilege of taking care of these children that we care for and working with their families, and then coming back to the lab to really try to make things better for the future — to me, that's like nothing else. It's really an amazing thing. "
You can help researchers like Dr. Stegmaier make the future better for all kids with cancer. Fund lifesaving childhood cancer research today.
Give
Read more on the St. Baldrick's blog: