It's Brain Tumor Awareness Month, but it's more than just a month on a calendar. For kids like Max, it's what they live with every day.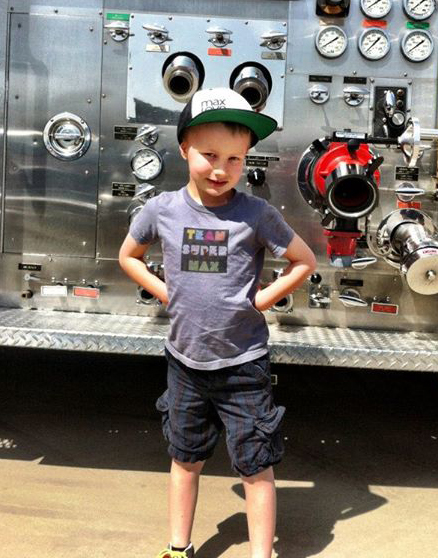 Max is fighting a brain tumor and raising money for children's cancer research.
Meet Max.  He's 7 years old. He loves Star Wars and chasing his little sister. He's fighting a deadly brain tumor, and he's shaving his head for St. Baldrick's tomorrow. He's our hero.
Did you catch that? He's shaving his head. That's big news.
For a kid who has had five brain surgeries, a year and a half of chemotherapy, and who just finished 30 rounds of radiation on April 30 — all while on a highly restrictive ketogenic diet as complementary therapy — that's big news.
His hair was just growing back. It was just beginning to cover up the scars — the scars that shout to the world, "I have a brain tumor."
So why is he doing it? Because he witnessed true courage in the faces of his friends, Cade and Ayden.
Earlier this month,
Saddleback College hosted a head-shaving event
in Max's honor.  He stood in awe next to his mom, Audra, as his friends, Cade and Ayden, both fighting brain tumors themselves, bravely stepped up to the barber chairs and had their heads shaved.
For kids with brain tumors, this is so much more than hair loss. It's exposing their scars for all the world to see.
Max watched wide-eyed and said, "Mommy, I can do that, too."
Max is shaving his head at Arroyo Elementary School tomorrow.  He says he wants to raise $500 to help kids like him beat cancer, but we want to surprise him and help him raise so much more than $500.
Will you help?
Make Brain Tumor Awareness Month mean more than just a month on the calendar. Donate on Max's page by clicking here.
Give by June 30, and your dollars will be included in the research grants we're giving out this July. These are the grants that make such a huge difference for kids like Max.
Donate on Max's page
Read more about Max: