As we get ready to welcome our new Ambassadors, we checked in one last time with our 2015 Ambassadors to reflect on the past year and how much the St. Baldrick's community means to them.
Chase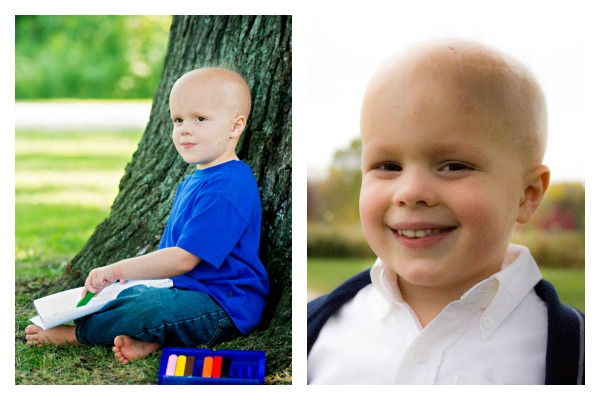 Left: Chase in July 2014. Right: A recent photo of Chase by Tracey Rees.
Chase was diagnosed with with atypical teratoid rhabdoid tumor, or ATRT, in July 2012 at the age of 2. In recent years, advances in childhood cancer research have improved ATRT survival from 10% to up to 60% for children with this type of brain cancer.
When doctors noticed tiny growths on Chase's scans last September, they didn't know whether it was cancer or side effects from treatment. Thankfully, his disease has remained stable as he's continued to go in for scans every few months.
Chase, what would you like to say to St. Baldrick's researchers?
I love my doctors. Thank you for giving love and sharing what you know to help kids.
Caroline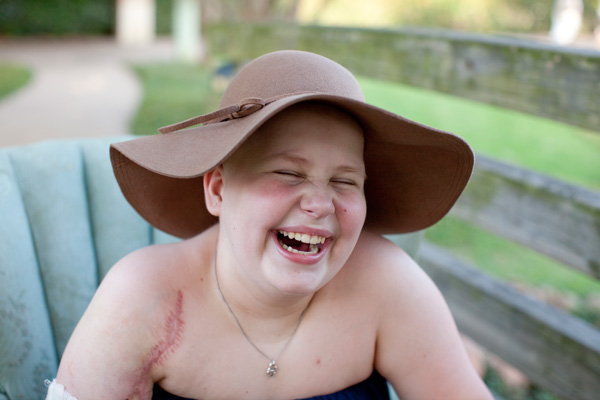 Caroline in July 2014.
Diagnosed with osteosarcoma in her right arm at age 11, Caroline spent most of 2014 in the hospital in Houston. Her persistence and unwavering positivity inspired everyone who encountered her — it even motivated her physical therapist to compete in an Ironman triathlon as a fundraiser for St. Baldrick's.
Despite the treatment, Caroline's disease continued to progress. She died on January 9, 2015, just nine days after being named a St. Baldrick's Ambassador.
Lauren and Mark, what would you like to say to St. Baldrick's supporters?
Thank you. Your love and encouragement has meant so much to us over these past few years. We look at St. Baldrick's as part of our extended family — our "cancer family," if that makes sense.
People who are members of this family have a deep understanding of one another without even knowing each other. That is a bond that brings strength and encouragement. It's hard to put into words.
The funding raised via the Sweet Caroline Fund has also brought us so much satisfaction knowing that Caroline's legacy is being honored and SHE is making a difference in pediatric cancer research. She understood there was no cure for her disease but she told us that she hoped all the research would cure other kids like her in the future. I know she is proud of the work we have all done and we are so thankful we are fulfilling one of her wishes.
Daisy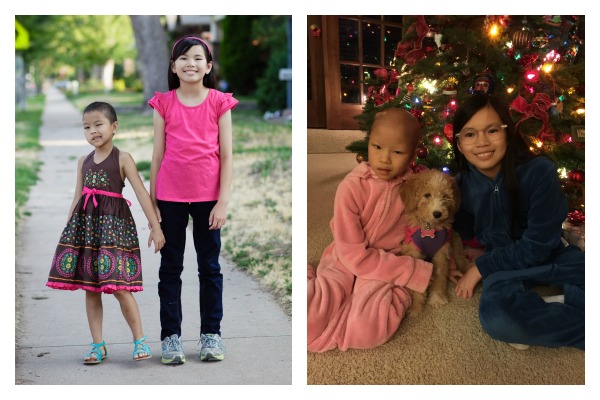 Left: Daisy with her sister, Isabella, in July 2014. Right: Daisy with her sister and her new puppy, Cupcake, in December.
After finishing treatment for medulloblastoma in March 2014, the beginning of 2015 was all about overcoming obstacles for Daisy. She got back on her roller skates, competed in her first tae kwon do tournament, and even went to two sleepaway camps.
Then, in September, her cancer came back.
She immediately began treatment to shrink the tumors. Thankfully, after a month of chemo and radiation, the tumors were gone.
Daisy will continue chemo for another year, but there's nothing that can keep this girl down. "She is a beam of love and light," her mom, Natalie, says. "And cancer, for a single moment, has never taken the joy that radiates within her."
Daisy, what would you like to say to other kids with cancer?
I would tell other kids with cancer to never, ever give up. Be happy, brave and strong and do lots of fun things with your family and friends. And get a dog so you laugh a lot.
Sam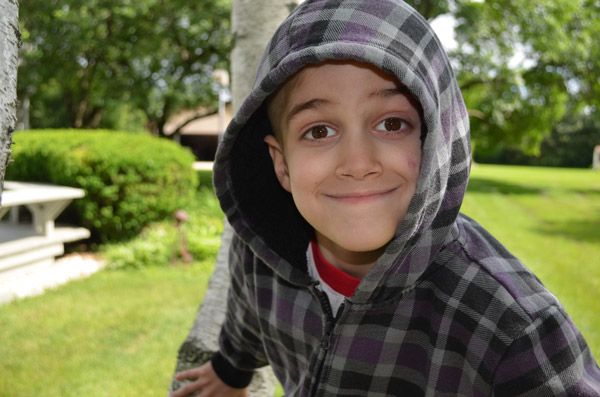 Sam in June 2013.
Sam was 6 when he was diagnosed with acute myeloid leukemia in June 2012. He spent much of the next year and a half in the hospital, trying to make the best of it by reading books, doing yoga, playing with his siblings when they came to visit, and even shaving his own head before the chemo could make it fall out.
Sam went into remission and relapsed twice. The second time, the doctors told his parents there was nothing more they could do. He was 8 when he died on December 14, 2013.
Phyllis and Michael, what has being an Ambassador Family meant to you?
We think about Sam every day. As often as we think of our other children, we think of Sam. As often as we turn to look at them and focus on their needs, that's how often we think of our sweet boy that isn't here physically with us.
We know that we have a large community, filled with so many people who knew our Sammy (and even those who did not!) and miss him too. There are a lot of people in the world who say his name, who see his face, who remember him. But we also know that there are so many people in this world who didn't have the chance to know him.
Eight years … what is it? Not a lot. Not enough to make a name for yourself, not enough to make a difference in the world. And yet, being a St. Baldrick's Ambassador has given us the chance to help Sam make a name for himself and to help make a difference in the world. To have his name put forth on a regular basis, his photographs viewed by thousands, to give us the chance to tell his story on a national platform … it has meant so much to us.
Sam is a part of us, yes. And now he is also a part of something larger, something that will help to change the world for so many kids and families. For that we are very grateful.
Aaron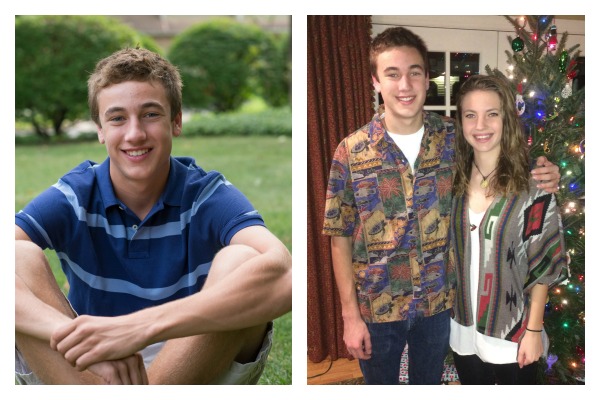 Left: Aaron in August 2014. Right: Aaron and his sister, Rita, in December.
Having been a St. Baldrick's shavee since he was 11, Aaron was no stranger to childhood cancer. Still, it came as a shock when the high school freshman was diagnosed with Burkitt lymphoma.
Aaron has been in remission for three years now. In 2015, he graduated high school, left for college 300 miles from home, and recently completed his first semester. Aaron says, "Because of the amazing lifesaving research made possible by funding from organizations like St. Baldrick's, I can focus all of my attention on my schoolwork."
Aaron, what's your New Year's resolution?
My New Year's resolution is to work extra hard in the spring semester and improve my GPA.
---
No kids should have to worry about cancer. Help us fund research to find cures for their cancers.
Give
Read more about our 2015 Ambassadors: