Ambassador Isaac finished treatment for medulloblastoma almost four years ago. But today, on the five-year anniversary of his diagnosis, the effects of childhood cancer are still evident in his everyday life. Read what his mom, April, has to say about what survivorship looks like for Isaac.
People often say to me, "Move on. Let it go. He's cancer free. We're sick of hearing about it."
Yes, it has been some time since Isaac finished treatment for medulloblastoma on August 24, 2012. He has made tremendous strides, and let's face it — he's still here and cancer free.
So why don't I forget it? Why do I seem forever trapped in this cancer nightmare?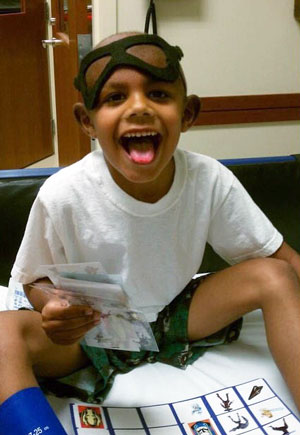 Isaac plays with stickers during his brain tumor treatment.
Every morning Isaac is the first one up and ready to snuggle at approximately 5:15 a.m. His sleep, or lack thereof, is one of our daily reminders of the effects that have stayed around long after cancer treatment ended.
If that was the only thing he had to deal with, you would never hear me complain. But his daily life is forever impacted by the difficult hand he was dealt at the ripe, young age of 5.
After Isaac finished treatment, simple things — Isaac's eyeglasses, backpack, lunch box, iPod — were constantly lost and being hunted for. So now, everything in our house has a designated place to help with Isaac's short-term memory loss.
Learn five facts about childhood cancer survivors >
Isaac also tends to move at a slower pace, both physically and cognitively. Isaac is lucky if he consumes three bites in the time it takes the rest of our family to eat our entire meal and clean up the kitchen. Tying shoes, getting out of the car, getting out of school — all of these activities happen at very slow speeds. These simple tasks can be very frustrating to Isaac.
When Isaac was younger, learning came so easily to him. But now when Isaac is in class, he feels flustered and overwhelmed. He's still struggling with his fine motor skills, and since he can't write as quickly as the other kids, he uses a computer to help him take notes and pictures of the board. Every day before he leaves, his teacher checks his planner to make sure it's filled out with enough detail for him to remember what the assignments are.
These modifications help, but they make Isaac feel different and embarrassed.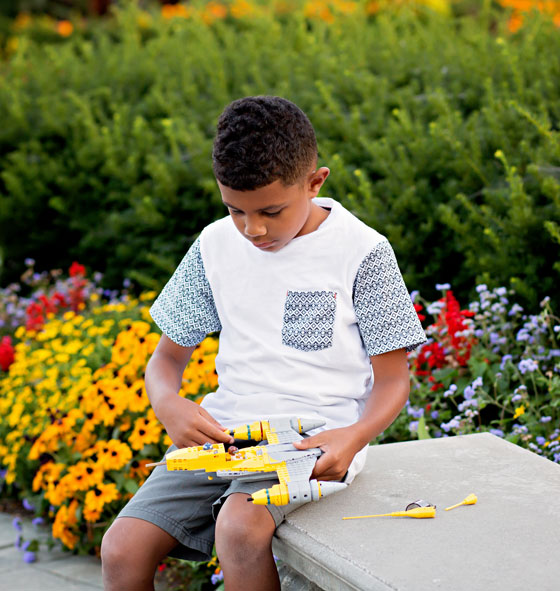 Isaac puts together his Star Wars Lego model.
And when it comes to recess, he doesn't feel socially accepted. He can't keep up with the rest of the kids on the playground, either. He says that he spends the majority of recess alone.
Can you imagine spending seven hours every day in this type of turmoil?
Luckily he gets to come home to relax, right? Not a chance.
BLOG: The Fight's Never Over: Two Biggest Threats Facing Childhood Cancer Survivors >
He only gets to be frustrated some more while he spends hours doing homework. Even though he has fewer assignments than his classmates, we still find ourselves sitting at the kitchen table working long after dinner should have been made and served.
And test weeks are next to impossible. The amount that needs to be read, understood, and remembered is way too much for a tender brain that has felt the effects of radiation.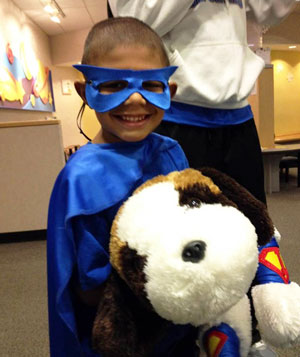 Isaac is ready to fight with his sidekick Ruge.
Before we know it, the day is over and it's bedtime — but not before he takes his nightly growth hormone shot. Brain and spinal radiation has closed the growth plates in Isaac's spine and left him growth hormone deficient. Before cancer he was projected to be over 6 feet tall. With the nightly shots, we're hoping he'll break the 5-foot mark.
Finally, he lies in bed trying to deal with tinnitus — a persistent ringing in his ears, another side effect of chemo — before he oils himself up in lavender, hoping for at least a few solid hours of sleep before he begins the day all over again.
I have joy in waking up and knowing that I've been able to cuddle with my "snuggle bud" for the last five years since our lives were forever changed by childhood cancer. But right there with that happiness I can't help but feel sadness.
I often wonder what Isaac would've been like if cancer never entered his world. Would he be a basketball player like his daddy? Would he be a track star like his momma? Would he be invited to countless birthday parties and playdates? Would I be the parent posting on Facebook about his straight A's?
I hate that once you're in the world of childhood cancer, it is forever lurking around, never giving you a chance to breathe with ease. It's a hard way to live — in constant fear. I wish I knew how to rise above it and take back control of our lives.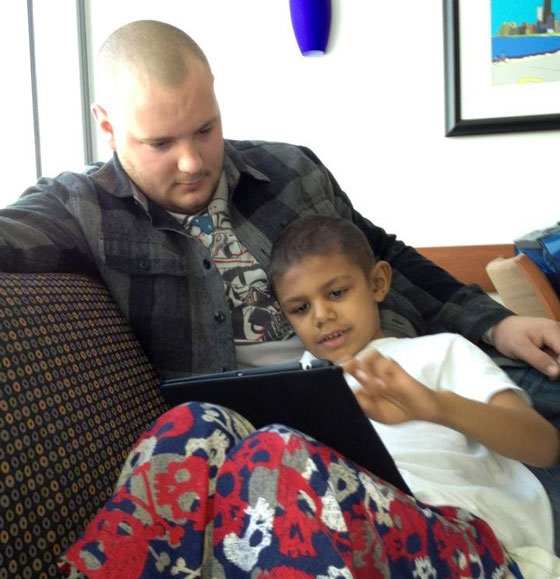 Isaac and his stepdad, Patrick, play with their iPad to pass the time at the hospital.
This world we live in feels nothing like what the word "survivor" implies.
And just as quickly as all those thoughts enter my brain, survivor guilt kicks in. We ARE so blessed and lucky. I have my pumpkin when so many other parents don't.
But everyday life is what keeps me from moving on and putting cancer in our past.
It's not in our past. It is ever-present and a daily force to be reckoned with.
Every day, kids like Isaac feel the effects of childhood cancer. Help fund research so kids with cancer — and survivors — can get the most out of life.
Give

Read more on the St. Baldrick's blog: