This is part two of a two-part series where Ted Sibley, a 33-year-old childhood cancer survivor, tells his cancer story and how it has shaped who he is today. Read part one >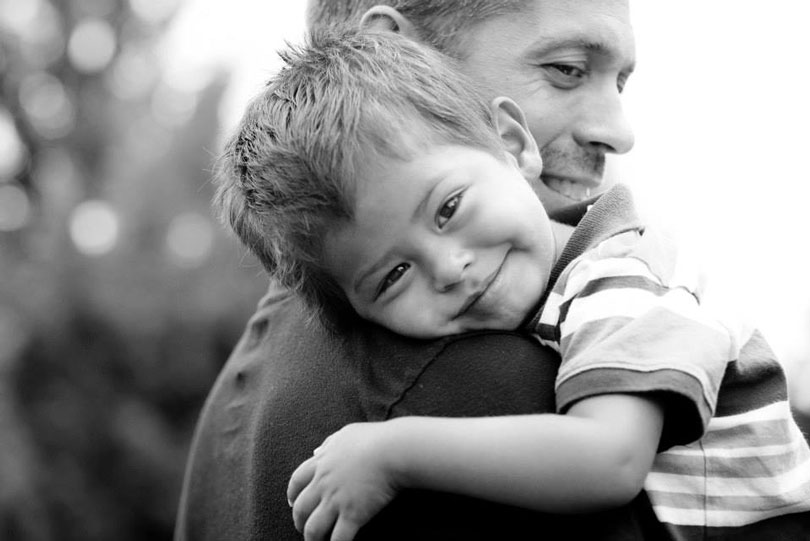 Ted holding his son Sam. Ted is now 20 years beyond his diagnosis of childhood cancer.
At 25, Ted is two years into medical school and happily married to his college sweetheart, Erin. After several unsuccessful attempts to get pregnant, Ted goes to see a urologist, where he learns that the childhood cancer he thought he'd left in the past was still very much a part of his present.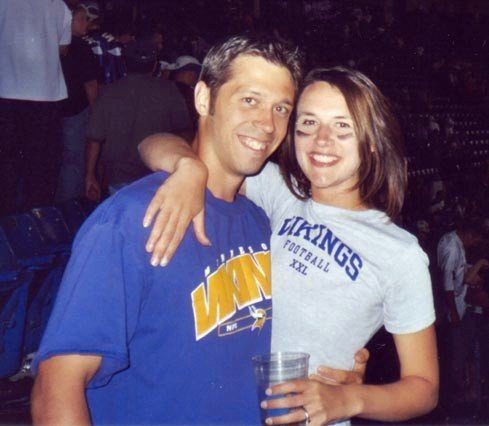 Ted with his wife, Erin, at a football game not long after they were married.
I remember the urologist giving me some statistics about fertility among post-cancer patients. I don't recall the details of what he said because, in my opinion, cancer was in my past. He ordered lab tests, and I was to return in two weeks for the results.
The next week, I came home from 30 hours on call delivering babies at the hospital and crashed in my bed. I woke in the afternoon and went to get the mail. Inside was an envelope from the urology department and I quickly opened it.
I expected a reminder about my follow-up appointment, but instead it was a laboratory data sheet.
I saw my name at the top. Circled below in the graph were big black letters written in marker: "No Sperm Identified."
No other words were written on the paper.
I rubbed my eyes. I was delirious from the overnight shift. But no matter how long I looked at that paper, the words never changed.
I felt numb. I had beaten cancer. How could this be true? And how could the news come to me in such an impersonal way — written in Sharpie?
This was a punch in the gut, just like when I was 13.
A week later, I followed up with the urologist, and there had been no mistake. I was infertile.
When I came back from the appointment, I found my wife sitting on the couch reading a book. She looked up at me, "Well, how did it go?" All I could do was shake my head and tears started flowing.
"I'm so sorry," I eventually managed to say, showing her the test results.
We sat on the couch and cried.
Cancer was my disease. I could deal with taking daily medications for kidney function and hypertension. I could deal with hearing loss and nerve damage. But never in my life had my cancer affected someone else.
The next couple of months were some of the most difficult in our relationship. The disease I had beaten and put behind me was now staring me in the face again.
But this time, I couldn't fight it with surgery and chemotherapy. My wife and I had to look inside ourselves, at our relationship, and to our strength in God. We had to determine if we were going to let infertility bring us down or make us stronger.
Twice now, I had felt the blow of cancer in my life — both times unexpectedly. I couldn't put cancer in a box and place it on the shelf to look at occasionally. I had to learn to live with it.
---
I am now a practicing emergency medicine physician, and my wife and I are now parents of four adopted children. I have become involved in international medical work and am the medical director for a team that provides care to the indigenous people of the Amazon River.
I would be doing none of this if it were not for my history of cancer.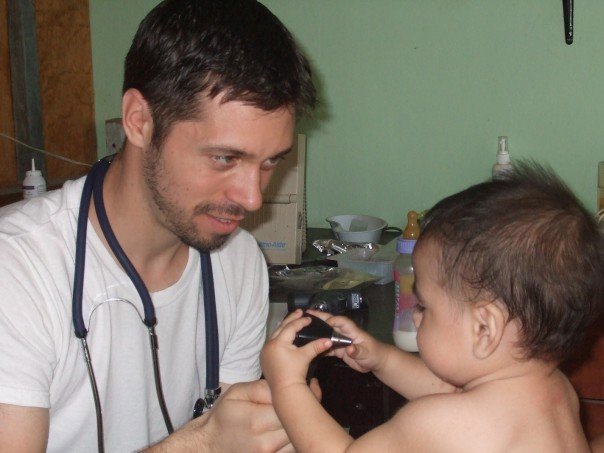 Ted with a young patient in Honduras.
Currently there are more than 350,000 children, teens, and adults living in the United States who are survivors of childhood cancer, and each of us has a story to tell.
Learn more facts about childhood cancer survivors >
We can tell you about life before, and after, cancer. Some of us have made it into adulthood, and we can tell you how cancer is something we carry with us.
Sometimes I worry that my past will come back again and strike when I least expect it. On more than one occasion, I have taken myself in for a CT scan — just to make sure. Because germ cell cancer secretes the same hormone as a pregnant woman, I will occasionally purchase a pregnancy test at the store and test my own urine.
With every mundane cough, body ache, or pain that I experience, the thought of a recurrence remains in the back of my mind.
Sometimes I wonder what type of person I would have been without cancer. Would I have become a physician? Would I have adopted children and become involved in international medical work?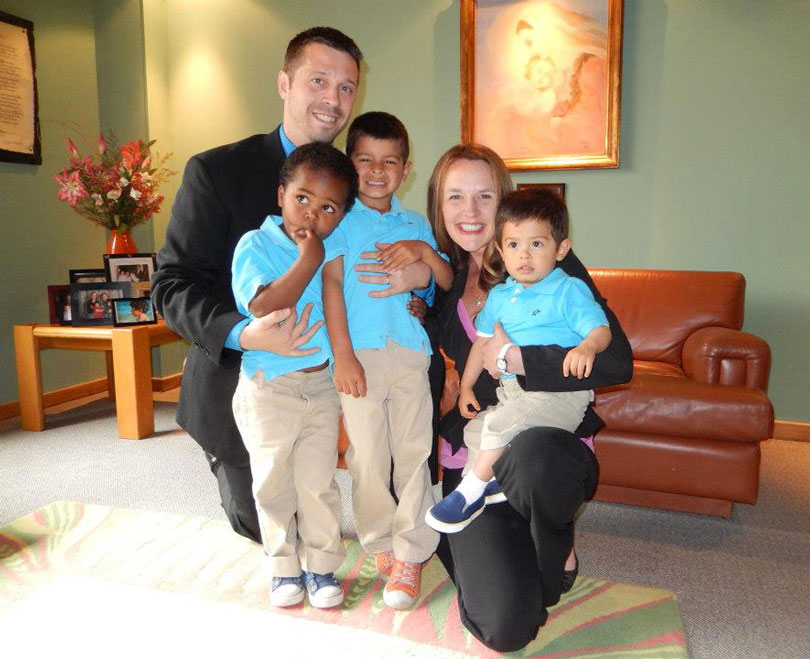 Ted and Erin with three of their children. They recently adopted a fourth child.
What type of people would my parents and siblings have been if they had not been there to experience that long journey? What type of person would my wife have been if I had not had the emotional and physical scars from my treatment?
I believe that cancer has changed me, and those around me, forever.
I am a different person today because my cancer diagnosis. I am proud to be called a cancer survivor.
June 7 is National Cancer Survivor Day. Honor Ted and all survivors by helping fund better, less toxic treatments for pediatric cancers.

Read more on the St. Baldrick's blog: