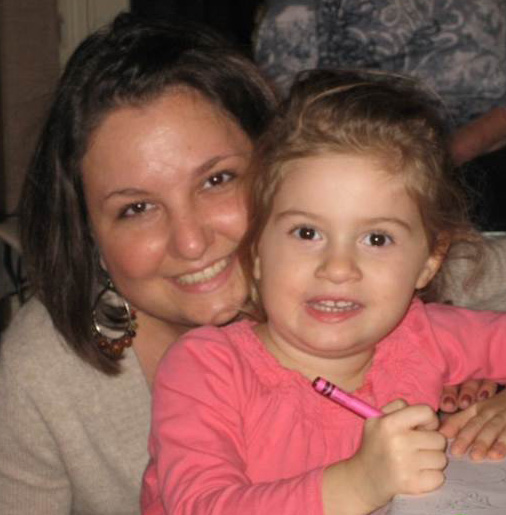 Amy, left, with her niece, Lilly. Amy was diagnosed with biphenotypic leukemia at age 10. Now 32, Amy is battling breast cancer, her third cancer diagnosis in 22 years.
It's funny how you remember exactly what you were doing when famous events in history took place, or where you were or what you may have been wearing. It's the exact same thing when a doctor tells you, "You have cancer."
I remember exactly where I was sitting and where the doctor was standing when he told my mom and me that I had leukemia. I remember it like it was yesterday.
I was diagnosed when I was 10 years old, in fifth grade. When the doctor told us the news, we were sitting on this little blue padded bench. I remember we were the only people in the clinic; we had waited all day for the results of my bone marrow test.
I had both ALL and AML — biphenotypic leukemia.
The doctor was standing over us, and what I remember most was not so much the cancer diagnosis, but the fact that I couldn't go home that night. Little did I know, I would be spending the next three months in the hospital.
At 10 years old, I had no idea how serious the disease actually was; it never crossed my mind that it could potentially take my life. Now, 22 years later, I am still learning about conversations my parents and doctors had while I was on treatment, like when they found the infection my leg and wanted to amputate, or when the doctors told my parents that radiation will help cure my leukemia now, but may cause medical problems in the future.
Amy during treatment for childhood cancer.
It's hard to believe that the treatment that cures cancer can cause so many problems.
I had to learn to walk again. I had to enter middle school with no hair. Perhaps my biggest issue was getting all my hormones back on track and trying to feel like a normal teenaged female.
Dating brought challenges. I never knew when to tell guys about my cancer story. And if it got serious, when was I supposed to tell them I most likely couldn't have kids?
The biggest complications came in 2009 when a baseball-sized tumor was found on the outer layer of my brain. Was it just bad luck, or was this a side effect from radiation?  Nobody seemed to know. Then, later that June, I tested positive for thyroid cancer. Still, the doctors couldn't give me a definite answer about the cause of my health issues.
Last June, I again heard the words, "You have cancer." Breast cancer. I couldn't believe it, and neither could my family. Once again, we all gathered together. Once again, we chose a date for surgery. And once again, I heard my mom telling me over and over, "You will get through this."
I think about what I've been through daily. But right now, things are good. I just take life one day at a time.
When you're in your late 20s and you are diagnosed with a brain tumor, then thyroid cancer, and breast cancer after that, you start to question what your future holds for you. At 10, I had to stay home from school, but now as an adult, everything gets put on hold: my job, seeing friends, dating.
This past August, I had my last surgery. At 32, opting for a double mastectomy was extremely difficult, but I just wanted it all gone. Thankfully, because the cancer was found early, I didn't need chemo. Let's hope that it really is gone, for good this time.
I think about what I've been through daily. I see all the scars when I shower and get dressed in the morning. But right now things are going really well. I have met an amazing guy who couldn't care less about the cancer and the scars, and enjoys being with me for the person I am. Things are good. I just take life one day at a time.
And fingers crossed, I will never again have to hear those words, "You have cancer."
Get involved and help fund childhood cancer research for safer, more effective treatments for childhood cancer.

Get Involved