Over a series of four blogs — read the first blog here — we are tracing the path of Kymriah, a recent immunotherapy and gene therapy breakthrough for kids with high-risk leukemia, like Honored Kid Austin. This 9-year-old pioneer was one of the first patients to receive this revolutionary type of CAR T cell therapy, which was made possible because of the hard work of the St. Baldrick's – Stand Up To Cancer Dream Team*.
---
Continuing from Part One, Austin's bone marrow transplant has failed and we find his parents at a dead end in terms of treatment options — until a ray of light appears.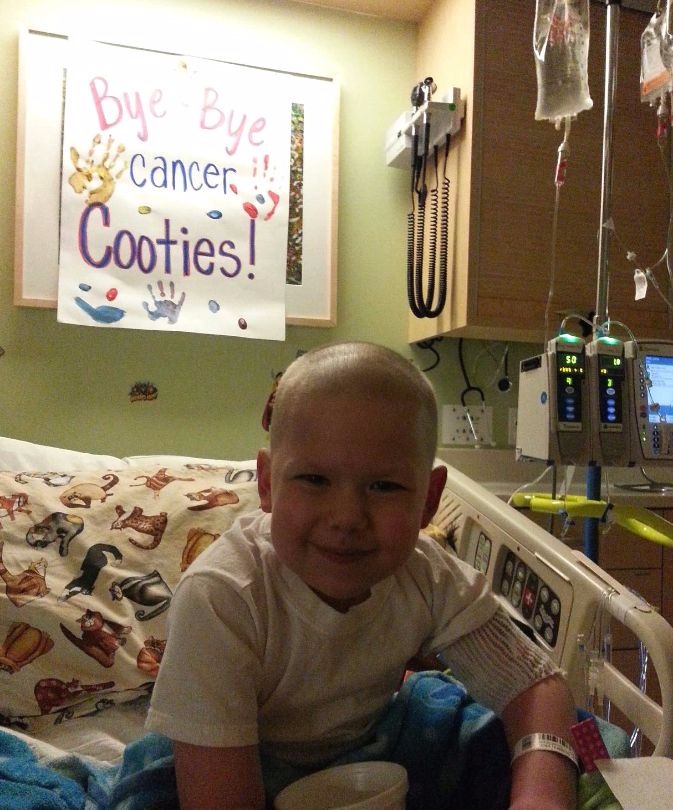 During his treatment, Austin always just wanted to be a kid. After finishing a chemotherapy and radiation treatment, he'd often joyfully run out to his backyard to play on the swings.
The options were few and the stakes were huge, but the choice was clear for Austin's parents. With their 4-year-old son months away from death, they had to choose hope – hope in the form of a clinical trial testing a promising gene therapy called Kymriah.
With his parents' blessing and the support of his medical team, Austin was enrolled on the Phase 1 clinical trial at the Children's Hospital of Philadelphia (CHOP). One of Kim's coworkers extracted his T cells, which are a special type of white blood cell that help the immune system fight infection. These cells were then sent to a lab at CHOP to be engineered into cancer fighters called CAR T cells — eventually becoming the therapy now called Kymriah.
After weeks of waiting and worrying, Kim and Austin flew from their home in Wisconsin to Philadelphia in October 2013 for the procedure, which was administered by St. Baldrick's – Stand Up To Cancer Dream Team* member Dr. Stephan Grupp.
Learn about immunotherapy from the pioneering expert in the field — Dr. Stephan Grupp >
In five minutes, the injection of the engineered CAR T cells was done. After an hour of observation, Austin was on his way out of the hospital to explore his favorite city. He felt good.
On the fifth day post-infusion, Austin started tiring and showing signs of a side effect doctors expected to see – a cytokine storm. This intense immune response can be fatal in severe cases. Austin ran a low-grade fever and experienced headaches so unbearable that he needed to be admitted to the hospital. Cancer cells had been seen earlier in his brain and spinal fluid, so Kim was hopeful that these headaches were a sign that the engineered T cells were going after his cancer.
"The cells grew within him, from millions to billions basically, and allowed him to have the numbers to go after the billions of leukemia cells in his body," Dr. Capitini said.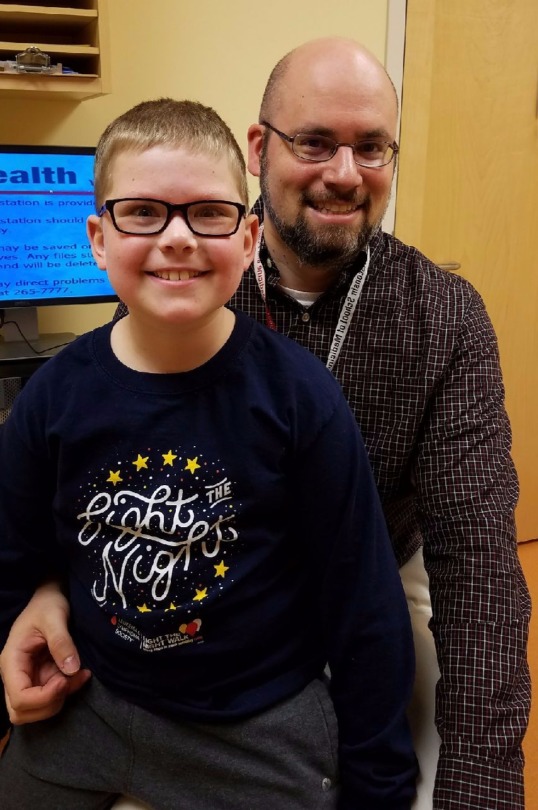 Austin and his transplant doctor, Dr. Capitini, pose for a photo together. Based at the University of Wisconsin School of Medicine and Public Health, Dr. Capitini is a member of the St. Baldrick's – Stand Up To Cancer Dream Team*, which is a unique blend of researchers from the fields of immunology and genomics who are working together to find better treatments and cures for kids with cancer.
The Best Birthday Present
Eventually, Austin recovered and was released. He had a bone marrow biopsy and lumbar puncture scheduled for late October, so his family decided to go trick-or-treating in a Philadelphia suburb for Halloween, which is also Kim's birthday. Austin dressed up as a member of the Ghostbusters and happily ran from door to door as his mom, dad and grandma followed.
Suddenly, Kim's phone rang. It was Dr. Shannon Maude, a St. Baldrick's Scholar and immunotherapy specialist with CHOP.
Austin's tests were clean. There was no more cancer.
"My mom was standing right next to me and my husband was at the door with Austin and I just started yelling," Kim said. "I started crying, and I said, 'Oh my God, oh my god! It worked. It worked. He has no more cancer!' My mom started crying."
Hearing the good news, the woman at the door started crying too and offered Kim a beer. Austin was oblivious to the commotion. He just wanted to keep trick-or-treating.
"The goal of Phase 1 trials is to study toxicity. You just want your child to go through, hopefully not have any adverse outcomes, and maybe contribute information to help other kids down the road with this medication," Dr. Capitini said. "But for him, what was really unprecedented was that this type of drug had a very high efficacy for a Phase 1 study."
The day after Halloween, they flew home. The news that Austin was cancer free was the best birthday present Kim has ever received – and it's a gift that keeps on giving.
"For something like this to not only put him in remission, but now four years later he's still in remission, is really remarkable," Dr. Capitini said.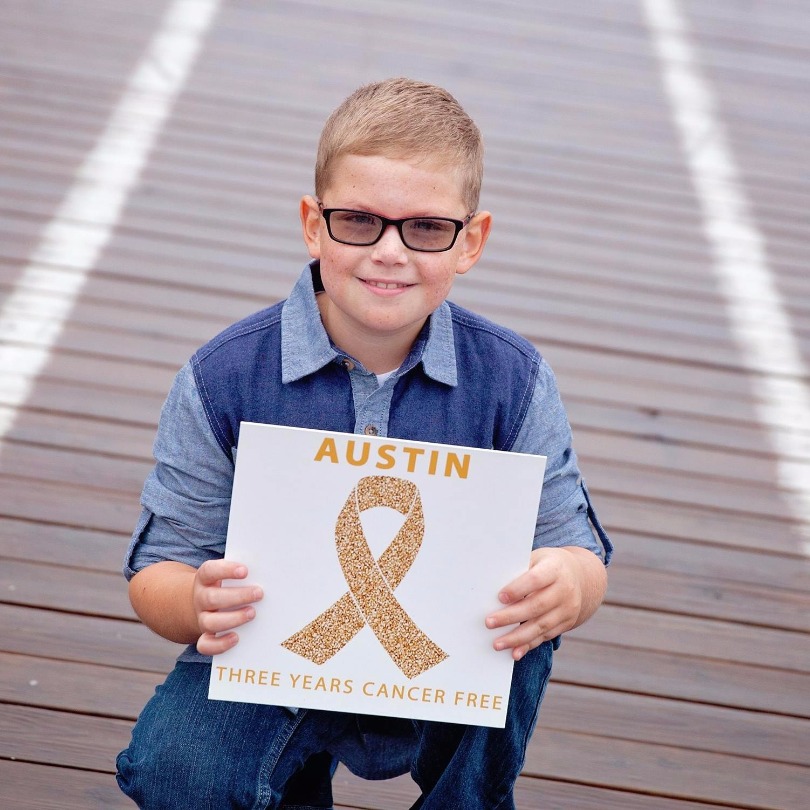 After being treated with Kymriah in 2013, Honored Kid Austin has been cancer free ever since.
A Pioneer
Austin is now 9 years old – four years out of treatment – and still cancer free. The same is true for some other kids who participated in that first trial of Kymriah.
The results were unprecedented.
"For the Phase 1 trial he participated in, 90% of kids went into complete remission in the first month after receiving the cells. That's a rate that we hadn't seen before for other therapies – for something to work that quickly and that potently," Dr. Capitini said.
Six months after kids received the cells, the overall survival rate hovered around 78%. This was double and even triple the survival rate of previous therapies, including other immunotherapies, he added.
"I've gotten to talk to a lot of families who are going to go through this or who are starting. I understand the position that they're in, when the doctor says, 'There's not much else we can do, but we can try this,'" Kim said. "It's exciting. I tell Austin that he's my little pioneer."
Her pioneer is a genuinely good kid. He still loves to cuddle and unabashedly declare his love for his mom. Austin is social and at ease around adults and kids.
A month ago, his school held parent-teacher conferences. Kim beamed with pride when Austin's teacher told her what a kindhearted, motivated student he was. And while parent-teacher conferences aren't generally considered emotional events, Kim cried.
"I cry every single time at these parent-teacher conferences because we weren't necessarily guaranteed future parent-teacher conferences," she said.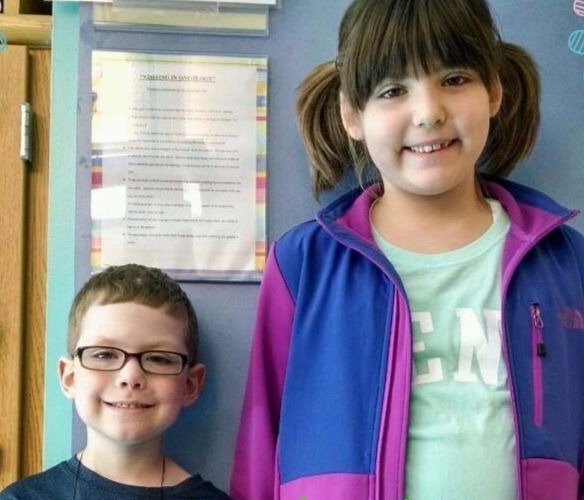 Austin stands with Emily Whitehead, the first cancer patient ever treated with CAR T cells. She remains cancer free.
For Austin, the side effects from his treatment with Kymriah are minimal compared to what many kids experience after intense chemotherapy and radiation treatments. But due to the immunotherapy treatment, Austin still doesn't produce certain immune cells called B cells, which are the white blood cells where his leukemia originated. Twice a month, Austin receives injections of an antibody that replaces his immune system and helps him fight infection.
Austin's lack of detectable B cells is proof that the T cell therapy is still working its magic, said Dr. Capitini.
"Drugs can't form memory, but living cells, specifically T cells, can," he explained. "And much like vaccines work, the therapy can have cells form memory and then any time a new cell pops up, it's there to quickly get rid of it – a therapeutic vaccination."
Kymriah is the embodiment of hope for kids like Austin. Hope starts with research and this research would not have been possible without the St. Baldrick's – Stand Up 2 Cancer Dream Team*.
Dream Team* member Dr. Capitini thinks this is just the start – that Kymriah is going to get better and that, eventually, there will be a lot more cancer-free kids like Austin, thanks to childhood cancer research.
"We're really just at the beginning of a paradigm shift in the field," he said. "It's just a real honor to be a part of it."
The story isn't over yet! In Part Three, we follow Honored Kid Ori as he participates in the Phase 2 clinical trial for Kymriah … with astonishing results.
Together we can take childhood back from cancer. Fund kids' cancer research today.
Donate
*Formerly known as the St. Baldrick's – Stand Up to Cancer Pediatric Cancer Dream Team, this team is now the St. Baldrick's EPICC Team (Empowering Pediatric Immunotherapies for Childhood Cancer).
Read more about the research we fund on the St. Baldrick's blog: