For kids with cancer, pain is a part of life. But what happens to that pain when you teach pediatric patients martial arts and meditation? With some help from an MRI machine, a group of karate kids, and a St. Baldrick's Supportive Care Research grant, researcher Dr. Hilary Marusak is going to find out.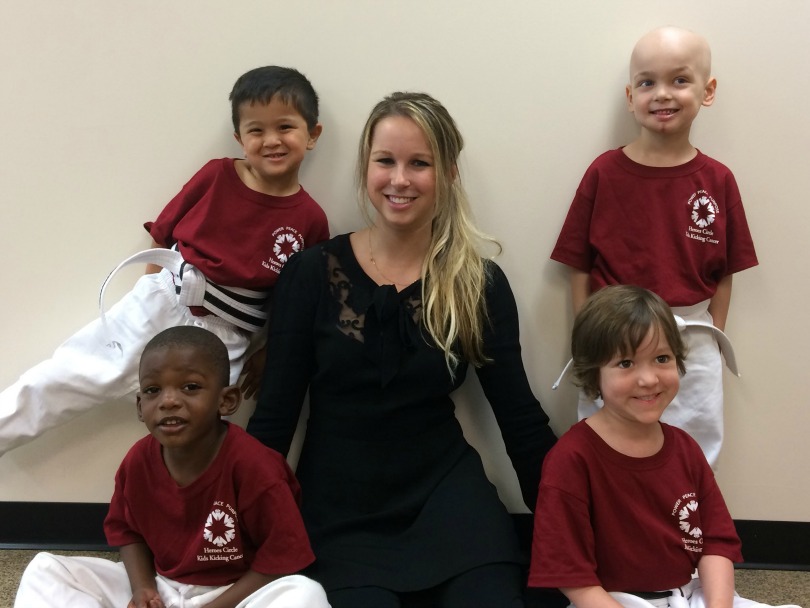 Dr. Hilary Marusak, a postdoctoral research fellow at Wayne State University, visits with a group of young martial artists during a session of the Kids Kicking Cancer program.
Neuroscientist Dr. Hilary Marusak may be new to the world of childhood cancer, but she's no stranger to what kids with cancer and their families experience every day – stress. Working for the past several years in high-crime parts of Detroit, Michigan, she saw how stresses, like violence and abuse, could harm a child for life.
"The brain, when it's developing, is really sensitive to these types of adverse experiences," she explained. "So, that's why I was really interested in understanding how that affects the brain and how we can intervene and get the brain onto a healthier trajectory for kids who are exposed to those types of experiences."
Adverse experiences include something that every kid with cancer is familiar with – pain. Needle pokes, the side effects of chemotherapy, lumbar punctures, surgery and its aftermath, all those experiences can cause pain and trauma. That stress can have long-term consequences.
"There have been some studies recently that have looked at long-term pain in adult survivors of pediatric cancer and it's actually pretty common," she said, adding that there are high rates of prescription drug use among survivors. "So, if we have a behavioral way to treat that, instead of prescribing opiates, we can reduce things like substance abuse disorders, addiction – which is extremely common. Pain is also tightly linked with other problems, like getting migraines, depression, anxiety, and it's a core component of quality of life. It affects folks in the long-term."
Here are 5 things you didn't know about childhood cancer survivors >
That's why Dr. Marusak was intrigued when she heard about a unique nonprofit called Kids Kicking Cancer. Embedded in children's hospitals across the country, the organization introduces kids with cancer and other illnesses to martial arts and meditation.
During classes, the kids do guided meditation, movements like kicks and punches tied with the breath and a special breathing exercise called a 'breath brake.'
"The script is breathing in the light and blowing out the darkness, so it's really a full-body breath that they teach the kids to use whenever they're feeling pain or distress," she said.
The techniques empower the pediatric patients, helping them feel in control of their pain and at peace.
"These kids have a new sense of purpose. They are powerful martial artists, they see themselves fighting this disease and they're overcoming it," Dr. Marusak said.
The instructors even walk the kids through scary scenarios they'd commonly face in the hospital, like having their port accessed and receiving chemotherapy. During a recent class that she visited, Dr. Marusak watched the students lie down, just like they would do when getting accessed. What would they do when they smelled the alcohol swab? They'd focus on their breathing instead of the procedure.
"With the younger kids, they used this really cute pinwheel so they could see the power of the breath and learn to control that pain and to focus more on breathing," Dr. Marusak said.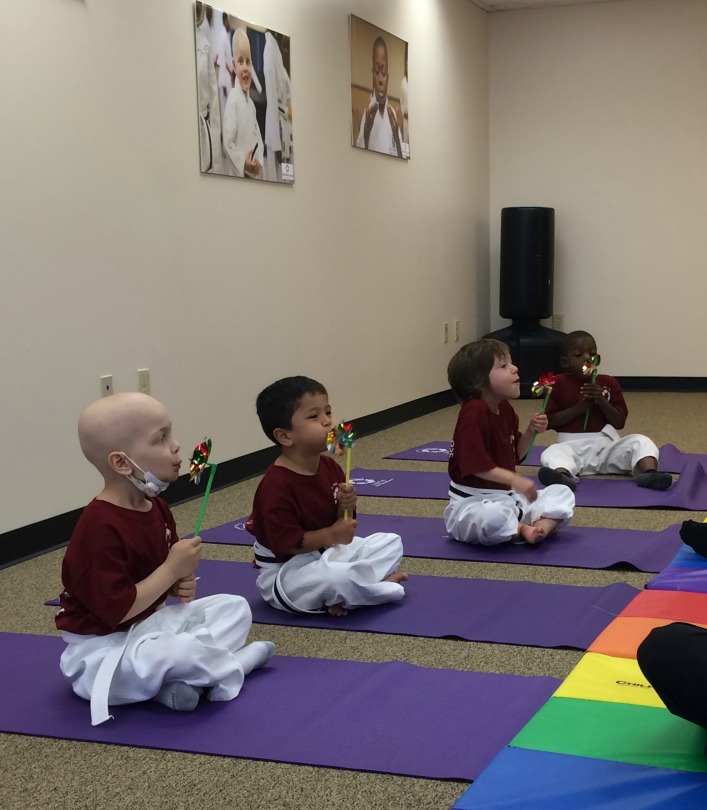 During a breathing exercise, kids with cancer use a pinwheel to see just how powerful their breath is.
In the very first study of its kind, Dr. Marusak is following a group of 14 kids with cancer as they participate in the classes. The kids see Dr. Marusak twice — once before they begin the martial arts classes and once a few weeks later. In addition to answering some questions, they will get an MRI brain scan.
(Dr. Marusak says sometimes they pretend the MRI machine is a rocket ship and the kids are astronauts. They seem to like that.)
This MRI scan can tell the researchers a lot about how the child experiences pain, while leaving the child both unscathed and entertained.
"We can have kids watch a Pixar movie where the character is experiencing pain," she said. "That allows us to look at the child's pain systems, because some of the same pain systems that are responsible for actually perceiving pain – like when you're getting a painful shot – those are the same ones that are responsive when you're imagining yourself or watching somebody else be in pain."
After participating in Kids Kicking Cancer four times a week over four to six weeks, the patient comes back for a visit to the 'rocket ship' and to answer more questions.
"When they come back to see us, we're going to look at the same systems and see how brain responses to pain have changed and if their pain levels have actually been modified by doing Kids Kicking Cancer," Dr. Marusak explained.
Their first patient was a little girl with leukemia, who they scanned a few weeks ago. Dr. Marusak couldn't be more excited to see the results – or more grateful to St. Baldrick's for giving her the resources to make this unique study happen.
"I can't thank St. Baldrick's enough for letting us do this," she said of the St. Baldrick's Supportive Care Research grant she received. "The kids really need this opportunity to show the world that what they're doing actually works and that it can help other kids."
YOU make unique kids' cancer research like this possible. Fund researchers like Dr. Marusak today.
Donate
Read more on the St. Baldrick's blog: