On February 10, 2013, I lost my favorite fishing guide, stand-up comedian, Target-trolling companion, and beagle babysitter when my younger brother passed away.
While he had grown to tower over both me and my sister, he was always our little brother, the one we doted on and picked on relentlessly from the day he was born into our young adulthood.
Kiel (it's the Irish spelling of Kyle, pronounced the same) had developed a strange bump on the left side of his neck by December 2012 and had been diagnosed with Stage IIB Hodgkin lymphoma just weeks before he passed away. His last few months on this plane of existence were not fun ones — he had been suffering severely from depression and anxiety, and his cancer diagnosis did nothing to alleviate that.
He was exhausted a lot as he underwent myriad tests and preparations for chemotherapy, and I think that was due not only to how sick he was, but to how scared he was, too. Ultimately, I think it wasn't the cancer itself but the fear of it that took him from us.
To know my brother was to love him. His wit was scarily quick and he keeps me laughing even now, albeit usually through some big, fat tears. His heart was as big as a room and he loved nothing more than to sit with World War II veterans and hear their stories, to care for animals that others had left behind at a shelter in his neighborhood, to give little cousins a good whoopin' in the family room, or to play video games with his special buddy, Ian.
He had friends from all walks of life, from our comfortable middle-class neighborhood outside of Syracuse, to the not-quite-so-comfortable streets of the West Side, to the fishermen and farmers around our summer home on Lake Ontario. He saw the best in everyone who came into his life and would do anything to get them to see the same in themselves. While his exterior was at times gruff and he, like all little brothers, was a huge pain when he decided to be, he had an incredibly beautiful and kind soul — the kind that you don't encounter often.
By the time Kiel was 20, he was going bald. Genetics were not in his favor in that area, so he kept his head shaved and even asked me to shave it for him once, resulting in what I can only imagine to be very painful razor burn. This winter, two weeks after what would have been his 23rd birthday and just a little more than two weeks before the first anniversary of his passing, I'm going for the same look.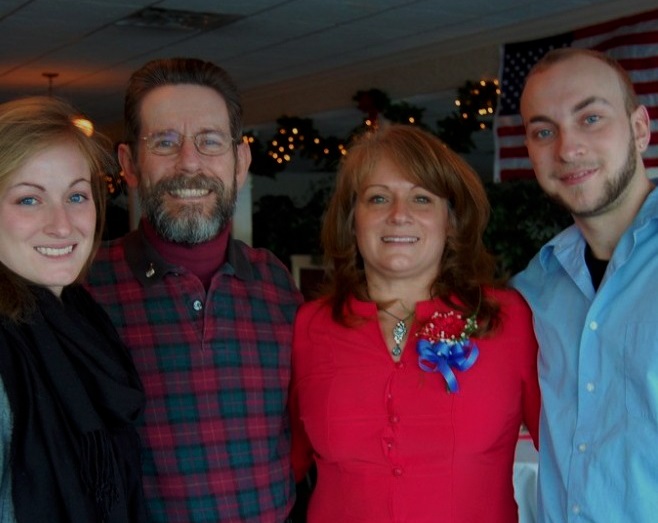 Amanda and Kiel with their mom and uncle.
I'm rocking the bald head in the hopes that whatever funds and awareness I can raise will keep someone else's deeply loved sibling, child, grandchild, nephew or niece, or friend from getting as sick and scared as my baby brother was, and will save his or her siblings, parents, grandparents, aunts, uncles, cousins, and friends from the indescribable hurt of losing someone so young and so dear.
If you're in a position to help me blow right past my fundraising goal and you choose to do so, thank you. If you're choosing to give $5 to these kids who are sick and scared out of their minds instead of spending it on a beer or a sandwich or a gallon of gas, thank you a million times over. Come to this event and I will hug you, tears and hair clippings and all.
Keep Kiel Stephen Dudley's spirit alive and be good to people who really need it.
Help kids with cancer. Donate to childhood cancer research.
Donate
Read more stories on the St. Baldrick's blog: