Josh, a St. Baldrick's Honored Kid from Weston, Florida, was diagnosed with leukemia in 2010. The 11-year-old has been off treatment for about seven months now and shaved his head for childhood cancer research at a St. Baldrick's event at Mickey Byrnes Pub in Hollywood, Florida last month. Help Josh reach his goal! Donate on his shavee℠ page.
Josh loves playing football and was able to return to the sport just a year after being diagnosed with acute lymphoblastic leukemia.
Almost four years ago, I was in second grade.  I loved playing football, but I was really tired.  I couldn't play as well as I normally could.
Then I got a fever.  It came and went for three weeks.  I was diagnosed with a virus, then a sinus infection.  Then, my doctor ordered some blood work.  When he got the results, he called my mom and told us to go to Joe DiMaggio Children's Hospital.  When we got there, I was stuck with too many needles to count, because no one could access my veins.  It was the worst pain of my life.

After a bunch of tests, Dr. Cauff diagnosed me with acute lymphoblastic leukemia.  I was scared, and thought that I was going to die.  Then I was afraid that I wouldn't be able to play football.  I was wrong both times.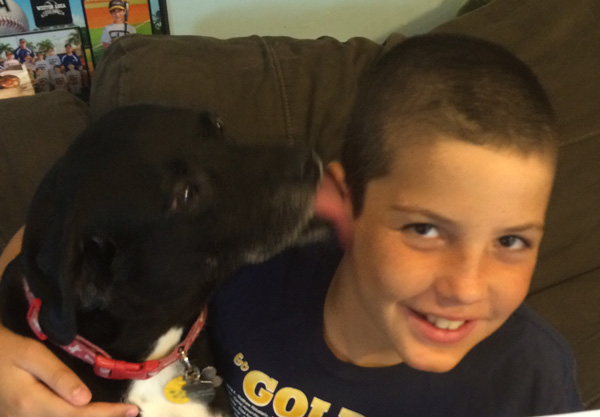 Josh with his beloved dog, Igor, a week after shaving for St. Baldrick's.
Thanks to the doctors, nurses and staff at Joe D's, I was able to return to school, sports and all activities one year after I was diagnosed.  Two and a half years later, I finished treatment.
Not all kids who are diagnosed with cancer are as lucky as I am.  I shaved my head in hopes of a cure for all kids.
Josh wants to raise $1,000 for childhood cancer research. Help him meet his goal! Donate now.
Donate
Read more stories from the St. Baldrick's blog: