What does a junior in high school have in common with a 6-year-old who has acute lymphoblastic leukemia? How about a love of Superman AND the exact same name! Read on to learn how a teen's decision to shave his head with St. Baldrick's led to this unique connection.
Jedidiah D. (left) and Jedidiah E. (right) both share a love of Superman.
Katy Eggering and her husband decided to name their youngest son Jedidiah, because they wanted him to be unique. They wanted him to be the only boy in his class with that name and the only kid on his sports team.
Little did they know, there was another Jedidiah who would come into their lives years later.
The other Jedidiah is 6 years old and was diagnosed with acute lymphoblastic leukemia just nine days before his second birthday.
Now a junior in high school, Jed Eggering would develop a unique connection with the boy with cancer when he decided to do something selfless — shave his head to raise funds for children's cancer research.
A Shavee is Born
Jed walked into the house with paperwork in his hand and declared that he was going to go through with it — he was going to participate in his high school's annual St. Baldrick's head-shaving event for the first time.
He's always been a fan of kids, so Jed wanting to do something to help kids with cancer wasn't much of a surprise to his mom. He's a natural teacher and worked at a grade school in the summer camp program.
"He's my kid who, at that age, says, 'I'm going to have eight kids,' He's a kid person," Katy said. "He's the youngest of three and he loves babies, he loves kids."
But willingly getting his head shaved? Not so much.
"I thought it was awesome, but it was just surprising because he combs his hair and it has to look a certain way," she said. "When they were little, the boys all had shaved heads. That was easy. They're young; they get the crew cuts or the shave. His oldest brother still wears it crazy short, but Jed was always like, 'Nope, nope. Mom save me from dad! He's got the clippers out.'"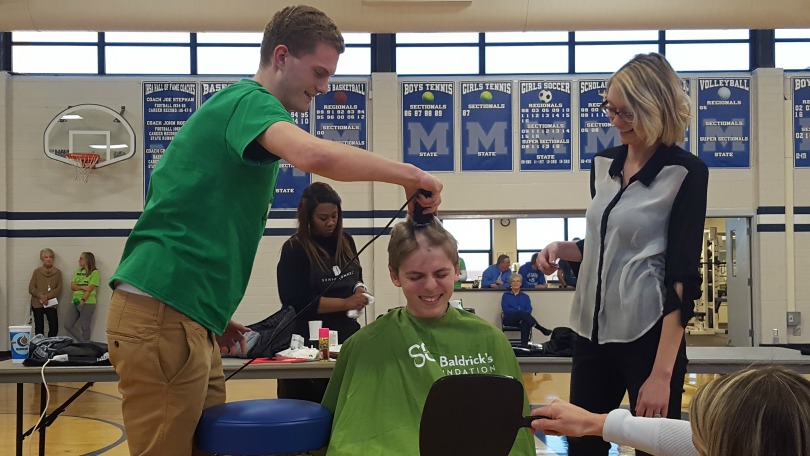 Jedidiah's best friend, Nick, takes the first swipe with the clippers.
Finding Jedidiah
Obviously, something had changed, and so Katy sat down at the computer with her son to sign him up as a shavee on the website. Then they spotted the place where he could honor a child.
"He knows someone who passed away from osteosarcoma and I said, 'Do you want to honor Kellsie? He also has a friend now who has neuroblastoma and so I asked, 'Do you want to honor Bryan?'" Katy recalled. "And he goes, 'Well, I don't know. Let's do somebody I don't know.'"
On a whim, Katy searched for kids named Jedidiah. And that's when they stumbled upon Honored Kid Jedidiah, age 6, dressed in a Superman shirt.
Katy's son is a huge Superman fan, with a massive collection of everything from t-shirts to socks.
The connection was immediate.
"He saw that picture of that bald little boy in the Superman shirt and he goes, 'That's my kid,'" Katy recalled.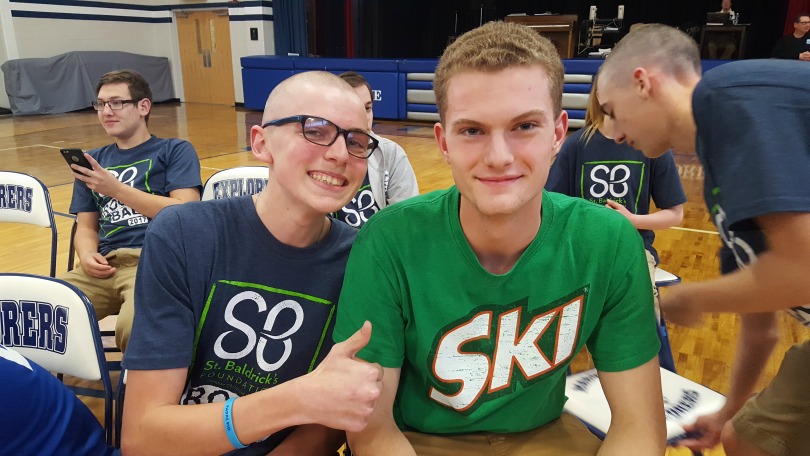 Jed rocks the bald alongside his best friend, Nick.
Going Bald for Jedidiah
It was February and the gym at Marquette Catholic High School in Alton, Illinois was packed for their fifth St. Baldrick's head-shaving event. Everyone was there, from the principal to members of the football team.
Jed's best friend, Nick, was the one who took the first swipe at Jed's well-groomed locks. Soon enough, big Jed was bald in honor of little Jed. Katy took lots of photos of the shave and sent them, along with a note, to little Jed's family.
You can still help big Jed honor little Jed! Give on big Jed's bald head here >
By the end of the event, the school had raised $12,800 — nearly $6,000 over their goal.
Katy was one proud mom. And if little Jed had been there, he probably would've been proud too.
"You want your kids to grow up and be selfless and it's one of those things where he's doing things for kids who are sick, kids he doesn't know," she said. "It's selfless."
You can rock the bald and honor a kid with cancer too! Join Jed and sign up to be a shavee today.
Find an Honored Child
Become a Shavee
Read more on the St. Baldrick's blog: