Shave your head for kids with cancer. Be a shavee℠.
Gaylene with her daughter, Hannah, at their first St. Baldrick's head-shaving event.
In July 2013, I called my husband, Nigel, and said, "We have to shave and raise money for research."
What started out as two shavees with a few friends, a hairdresser, and a donation table turned out to be one of the biggest philanthropic events our home of Grand Cayman has ever hosted, with the most money raised for charity in a single night.
We did it for kids with cancer. Kids like our Hannah.
One year prior, Hannah had been diagnosed with
anaplastic medulloblastoma
, a type of brain cancer in children. That was just the beginning of her epic battle to stay alive.
Hannah and I were based in Houston, Texas, for most of her treatment, far away from our home in the Cayman Islands. My husband's job kept him in Cayman for most of that time. Our family was split, the treatment was brutal, and we felt all alone.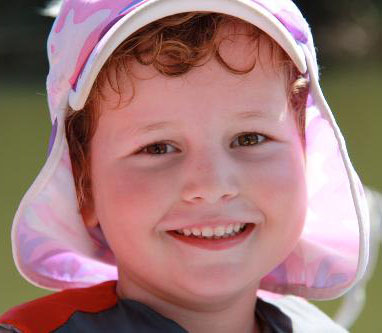 Hannah before she was diagnosed with brain cancer.
September 2012 was a blur, with Hannah undergoing daily sedations for proton radiation to her whole brain and spine. "She needs the maximum dose," they told us, "because her cancer is high risk and very aggressive."
We signed the consent forms teary eyed, knowing we had no choice but to do everything to save her precious life. We signed knowing she would suffer cognitive damage and hearing loss.
After six weeks of radiation and a short break at home to give her swollen brain time to heal, we went back to Houston for chemotherapy.
Vomiting, tube feeding, burns, nausea, pricks, pokes, sedations — Hannah endured it all with tenacity and courage beyond her years.
Then, just as Hannah reached the last month of treatment, the cancer progressed again.
That is when we found Facebook and other social media sites supporting childhood cancer awareness. I stumbled on the 46 Mommas and the St. Baldrick's Foundation, and I discovered that September is Childhood Cancer Awareness Month. We were parents of a child with cancer, and we hadn't known about September, despite spending the previous September in the biggest medical center in the world!
Hannah in the hospital when she was in treatment for brain cancer.
Before Hannah was diagnosed with cancer, I didn't know anything about kids getting cancer, and I certainly didn't know how underfunded it is. I didn't know that childhood cancer is not rare and that more kids die of cancer in the U.S. than all the other diseases combined.
I also didn't know that 46 kids are diagnosed every weekday in the U.S., and the survival rate for many childhood cancers is dismal. The U.S. government spends less than 4% of the National Cancer Institute budget on childhood cancer research, while some of the largest cancer organizations spend less than 1% of the money they raise on kids. And the giant pharmaceutical industry spends next to nothing.
Nigel and I knew we had to do something. So we started a head-shaving event called Heroes for Hannah, the first St. Baldrick's event in Grand Cayman.
That evening we raised $234,000 and achieved what we set out to do. We wanted to spread awareness about kids getting cancer and raise money for research, and we did both.
Gaylene and Nigel Meeson getting their heads shaved at their first St. Baldrick's event.
Everybody says that "somebody has to do something about the lack of awareness and funding for research." Well, we are all somebody and if we all did a little, what a difference it would make!
After completing nine cycles of three different chemo drugs, Hannah's scan in May showed that the tumors had disappeared. The disease was finally stable after 22 months of continuous treatment.
We continue to be vigilant, watching for signs that could indicate her cancer's return, while at the same time embracing every precious day we have to spend with Hannah.
The treatment has left Hannah with severe mobility issues. She can't even stand or walk without help. She has therapy every day, and with her determined spirit, she takes small steps towards independence every day. She is truly our hero.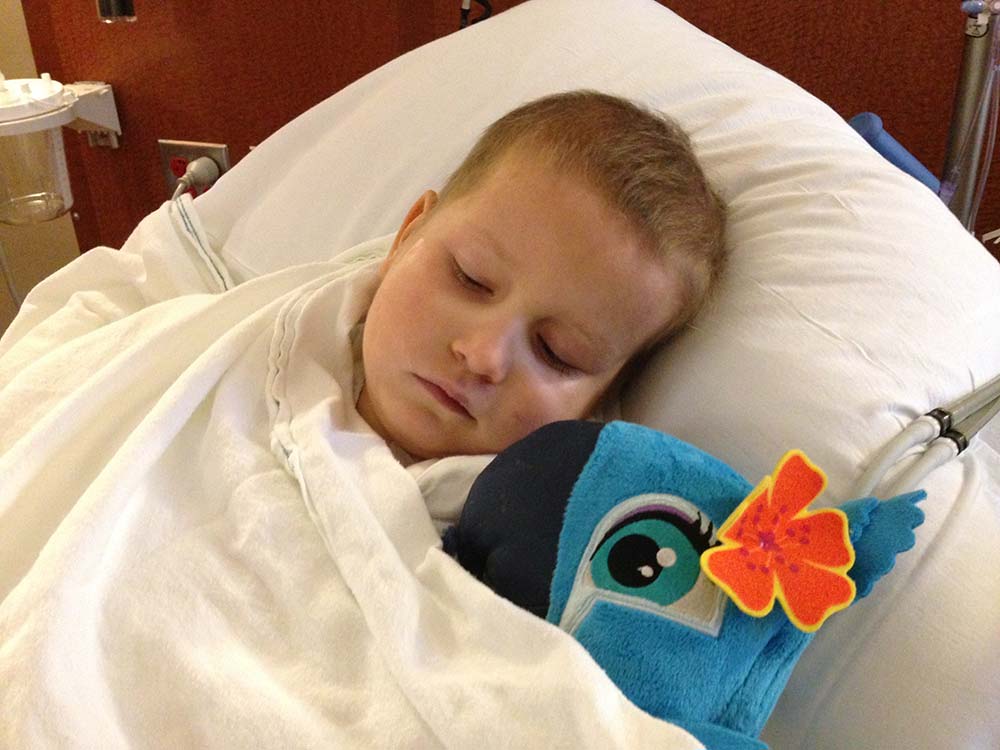 Hannah recovering after her latest MRI. She continues to show no evidence of disease.
Somebody asked me after my first shave if I had bought a whole load of pretty scarves and wigs. I replied, "I will display my bald head proudly for every brave warrior battling cancer."
I am shaving again, and I will keep shaving until Hannah and all kids with cancer have a better chance of survival. What is hair when so many kids are fighting just to live?
Gaylene is shaving today at the second annual Heroes for Hannah St. Baldrick's event. Cheer her on with a donation to help kids like Hannah.
Donate to Research
Read more on the St. Baldrick's blog: