Daphne was in fifth grade when she shaved with her mom, Liz, and sister. Years later, she was diagnosed with Hodgkin lymphoma. Read on for more about Daphne's cancer journey and her unique experience with St. Baldrick's.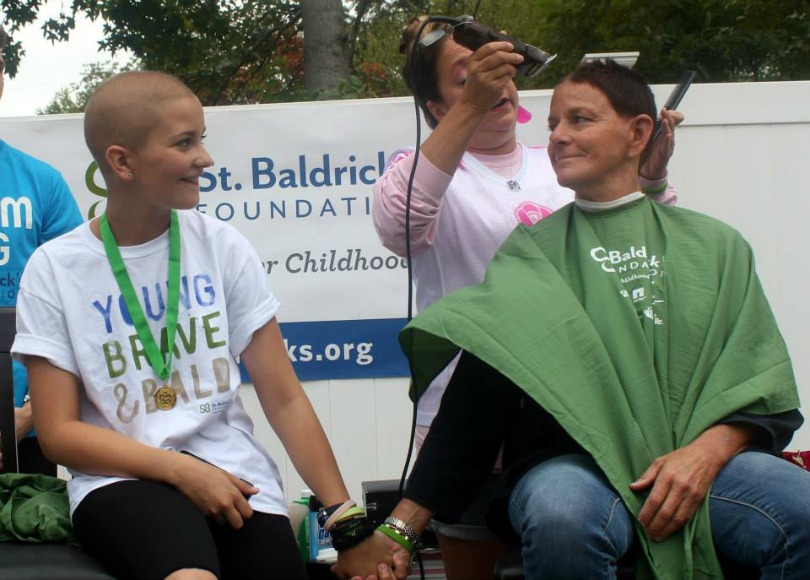 Daphne and her mom, Liz, hold hands as Liz braves the shave in honor of her daughter.
Liz was shuffling through a folder of paperwork when she came upon a piece of paper the size of a sticky note. There were just three words written on the slip, but it was like a bomb had gone off in her mind:
Lymphoma, atypical cells.
Suddenly, while sitting in her kitchen chair, she went back in time.
It was May and she was in a tiny room at the hospital. The doctor was writing down those three words, so Liz could remember the details of the news that no parent should hear.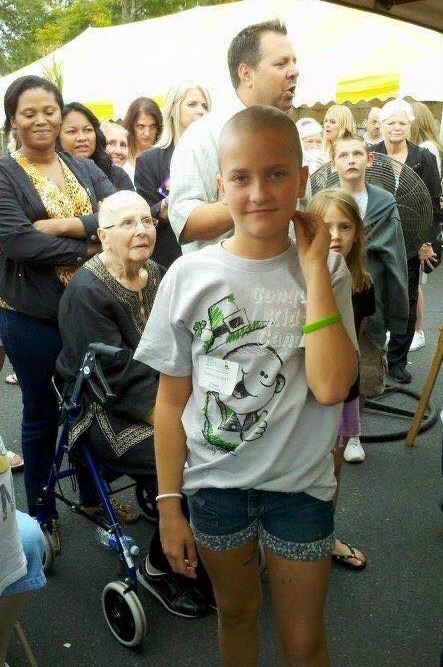 Daphne poses for a photo after her first shave with St. Baldrick's.
"All I could think of was the Pink Floyd song 'Comfortably Numb,'" Liz said, recalling a poignant line. "'Your lips move but I can't hear what you're saying.'"
Her daughter Daphne had childhood cancer, specifically Hodgkin lymphoma.
"It was kind of surreal."
That's because Daphne had shaved for St. Baldrick's with her mom a couple years before, when she was only in fifth grade.
They had decided to shave after Liz read an article in her local paper. The headline said: "Would You Go Bald for a Child With Cancer?"
"I said out loud, 'Oh, in a heartbeat. I never want to be that mom.'"
Now she was.
"This is my life, this is my daughter," Liz remembered thinking as she walked into the oncology floor at the Children's Hospital of Philadelphia.
It was two years after her shave, and Daphne's curly hair had just grown back to the length she wanted, right above her shoulders.
Now, instead of going bald by choice, she was going to go bald because of chemotherapy — because she had to. Daphne was devastated.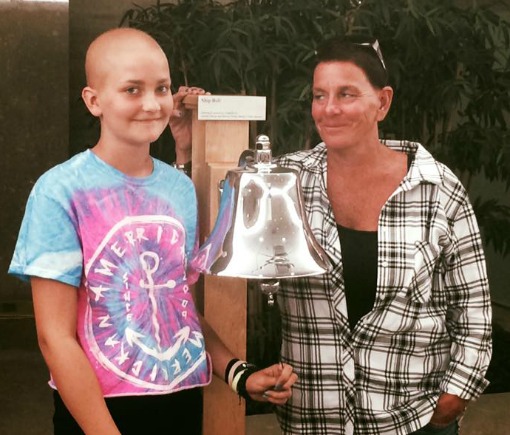 Daphne and her mom stand next to the bell that each patients rings to mark the end of treatment.
Daphne went through chemotherapy and radiation. She's also involved in multiple research studies.
"I said to her, 'Hon, this is what it's all about … if they want to take a little extra blood from you, we need to go for it, Daph.' Twenty years from now, you never know. It could matter," Liz said.
BLOG: Immunotherapy Clinical Trial Saves Lynsie's Life >
Daphne finished her treatment in September. Her family is anxiously awaiting her next scans in November, when they'll find out if Daphne has any cancer cells left in her body.
"A month away," Liz said. "I want it to come and I don't want it to come."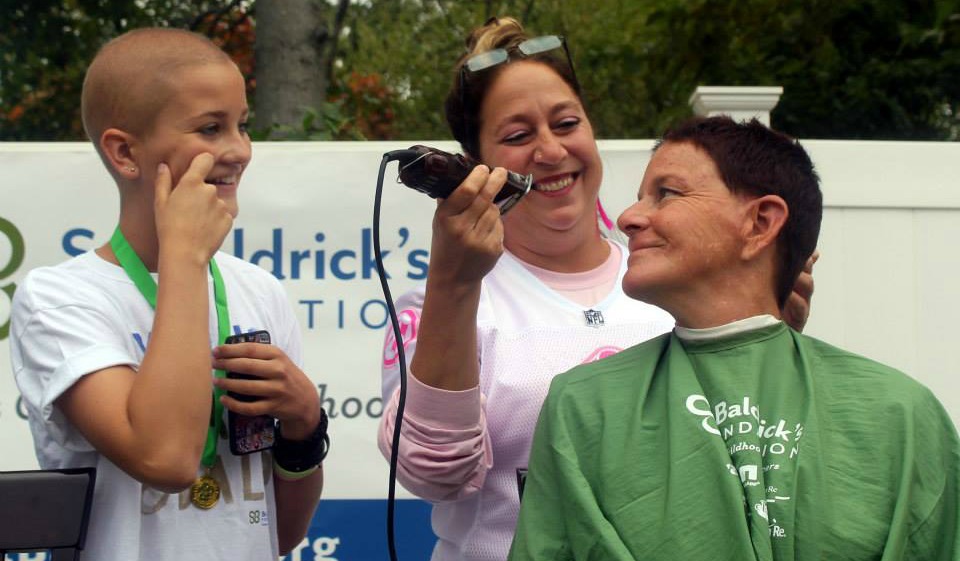 Daphne smiles after taking the first swipe at her mom's hair and then handing off the clippers to the barber.
Daphne is already back doing what she loves to do, which is surfing and going to concerts. Her hair is coming back too.
"It's still just to her scalp. It's peach fuzzy," her mom said. "She's a beautiful kid."
Last month, while Daphne was still in treatment, she and her mom were able to attend a St. Baldrick's head-shaving event held in Daphne's honor. The event was a rally full of familiar faces, with family, friends and community members shaving and raising money for research in support of the teenager.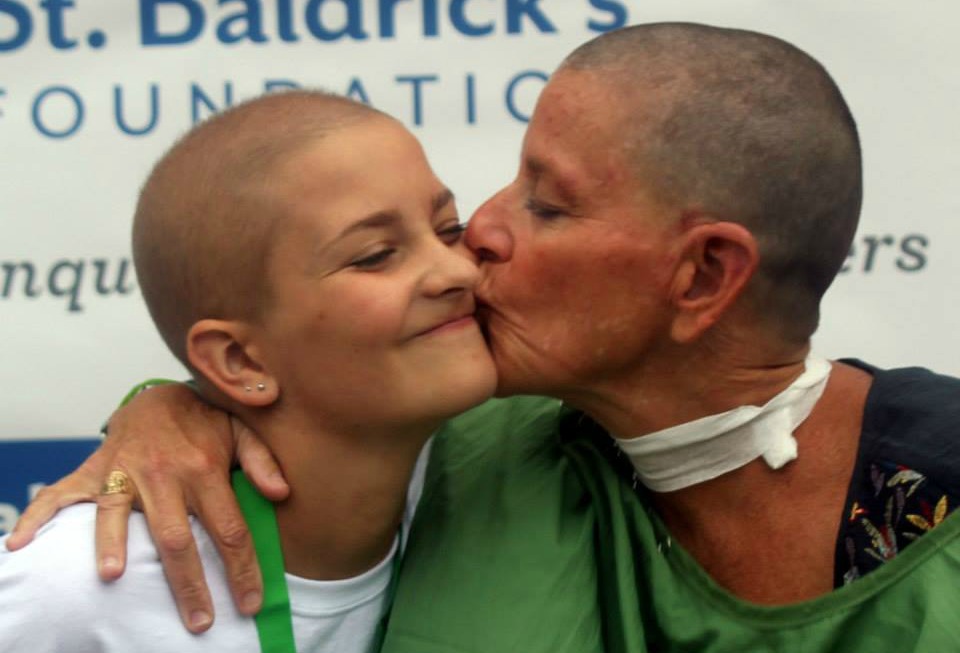 Liz kisses her daughter on the cheek after her shave with St. Baldrick's.
"Being involved with the whole thing, from that point to now, I feel like St. Baldrick's is a friend. It's something that's there that I'm connected with and Daphne's connected with," Liz said. "And now so many other people are connected with it, because a lot of people had never even heard of it that shaved their heads a couple weeks ago."
It was Liz's first time shaving since Daphne's diagnosis. When she sat down in the barber's chair — next to her daughter — she cried.
"To me it's very emotional. St. Baldrick's —" Liz paused. "It's come full circle. It's just crazy."
You can help kids like Daphne. Fund childhood cancer research today.
Give
Read more on the St. Baldrick's blog: