Investing in the next generation of childhood cancer researchers — like researcher and St. Baldrick's International Scholar Dr. Joseph Lubega — can change the lives of kids with cancer all over the world. Read on (and watch a video shot at the Uganda Cancer Institute) to learn more about the huge impact Dr. Lubega is making on kids with cancer in East Africa.
When Belinda heard, 'leukemia,' she was terrified.
She feared cancer. Belinda saw the impact it had on her family. In fact, she'd attended her cousin's funeral in the spring. But cancer striking her 5-year-old daughter, Christa? How could that happen?
All the general doctor could tell Belinda was that her daughter's white blood cell counts were high and she possibly had leukemia. There were so many questions. What did this mean? What should be done?
"It was scary. It was a situation of being frantic and a bit of tears, but I still stood strong," Belinda said.
For a kid with cancer, the speed and accuracy of diagnosis, plus appropriate treatment for that diagnosis, means the difference between life and death. But for a kid with cancer in East Africa, often just an accurate diagnosis never comes – never mind appropriate treatment and supportive care.
Thankfully, that doctor referred Belinda and her daughter, Christa, to the Uganda Cancer Institute in Kampala.
That's where they met St. Baldrick's International Scholar Dr. Joseph Lubega – the only pediatric hematologist-oncologist in Uganda and a recipient of St. Baldrick's funding since 2013.
Dr. Lubega meets with Christa and her mom, Belinda, at the Uganda Cancer Institute.
"Through our research that is integrated with clinical care – through the support of St. Baldrick's – we are able to do flow cytometry on all our patients that come through the door that need a leukemia diagnosis," Dr. Lubega said, referring to technology that tests for cancer cells. "Within about six hours, we were able to tell Christa's mom that she had a type of leukemia called B cell acute lymphocytic leukemia. So, we have a very accurate diagnosis and that's the first step."
Christa was admitted for treatment of her B cell ALL that same night, giving her the best chance at survival.
But unfortunately, Christa's experience is heartbreakingly rare for many kids with cancer in Africa.
Why? There are many challenges and they are "enormous," Dr. Lubega said.
There's the scarcity of specialized pediatric oncology doctors, the shortage and inadequacy of access to diagnostic equipment and proper facilities, the severe lack of finances in the case of both institutions and families, plus inadequate supportive care when a patient is going through intense treatment – all leading to grim survival statistics for these kids.
That is what Dr. Lubega is up against. It's a big challenge, but he is working toward big solutions, with help from St. Baldrick's.
Learn more about the international impact of your donations to St. Baldrick's >

In the lab, he is researching a type of childhood cancer called Burkitt lymphoma, which is common in Africa but rarely seen in the United States.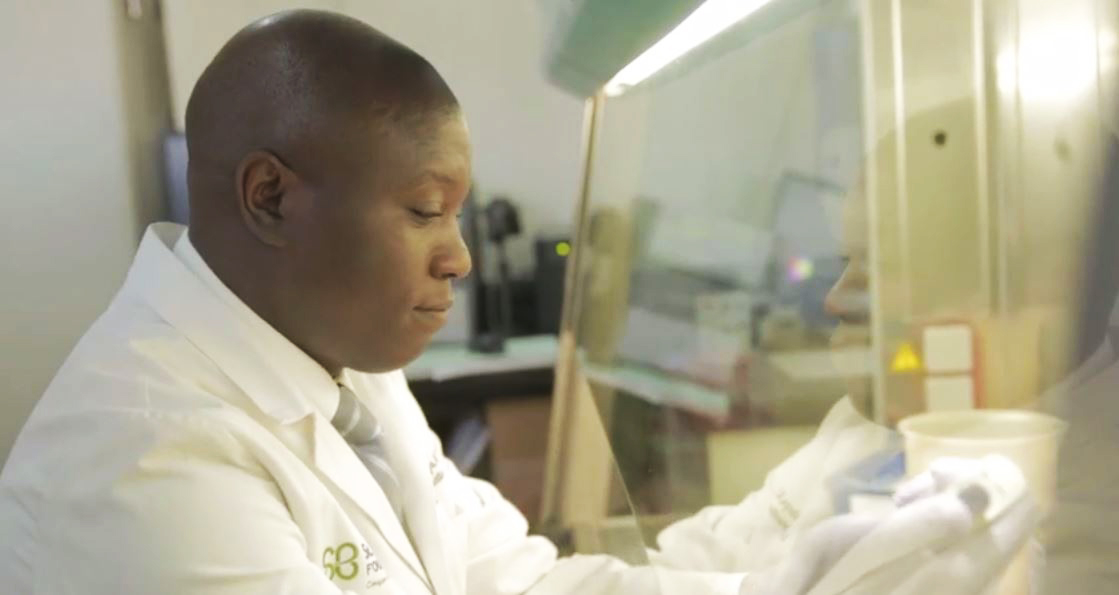 After studying in Uganda and in the United Kingdom, Dr. Lubega completed his postdoctoral fellowship at Baylor College of Medicine and Texas Children's Hospital. He is now an assistant professor of pediatric hematology-oncology at Baylor.
It appears that the cancer arises after the child fights infections, like malaria. Dr. Lubega is studying whether infection-fighting proteins in blood or saliva can be used as indicators of Burkitt's lymphoma. If they can, then tests can be created to easily diagnose and monitor kids for this cancer, leading to earlier detection and better chances of survival.
"St. Baldrick's Foundation has really been a godsend to pediatric oncology in developing countries," Dr. Lubega said. "Because if you look at available opportunities for research, which is really the bread and butter and mainstay of pediatric oncology . . . the opportunities to support pediatric oncology research in developing countries have been extremely minimal."
Read more about Dr. Lubega and his research into Burkitt lymphoma – one of the most common cancers striking kids in Africa >

But Dr. Lubega isn't stopping with his research in the lab. He's building on it.
He's taking the experience he's gained as a St. Baldrick's Scholar and paying it forward by training the next generation of pediatric hematologist-oncologists in East Africa – specialists who are desperately needed in the region that's home to a population of millions.
Last year, he kicked off the pioneering East African Fellowship Training Program. Now, thanks to Dr. Lubega's drive, his St. Baldrick's International Scholar Grant and a partnership between Baylor College of Medicine and Texas Children's Hospital, he will no longer be the only pediatric hematologist-oncologist in Uganda.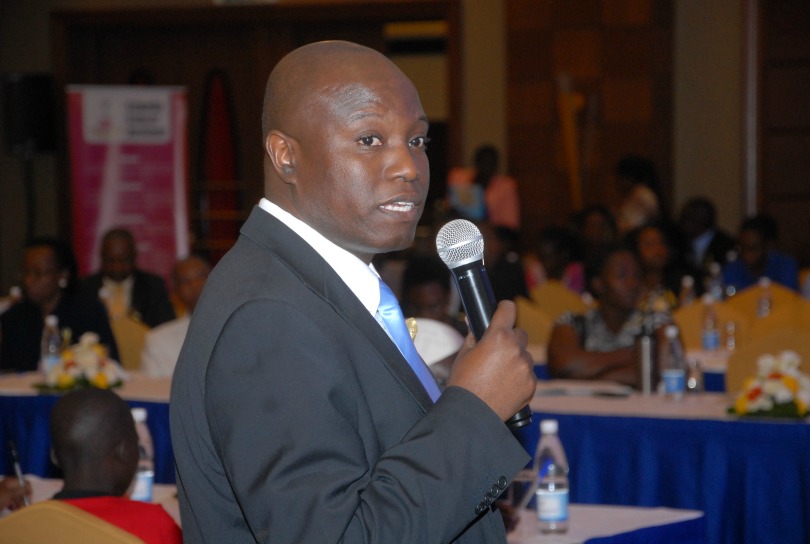 Dr. Lubega speaks at the launch of the fellowship program in Uganda last September.
The program's inaugural four fellows are all pediatric doctors from Uganda and they will graduate from the intense, year-long pediatric oncology training in August. Then, they will be recognized by the Ugandan Medical Council as specialists and will lend their expertise to institutions across the country.
Learn more about how this groundbreaking program will revolutionize care for kids with cancer in East Africa >
"When you talk to them, they will tell you they've learned a lot. Their skills have improved dramatically and I think that's reflected in the dramatic improvement in the outcomes of our patients," Dr. Lubega said.
Before the Fellowship program, only 30 percent of pediatric cancer patients survived one month after arriving at the Institute. Now, 55 percent kids are surviving a year, with many of them now in remission, Dr. Lubega explained.
Wide-eyed, energetic Christa is one of those kids.
"She's undergoing treatment and she's going to be for the next two years, but we are very positive that she will have a chance," he said. "And this is really our focus, to give every child the best chance that we can give them."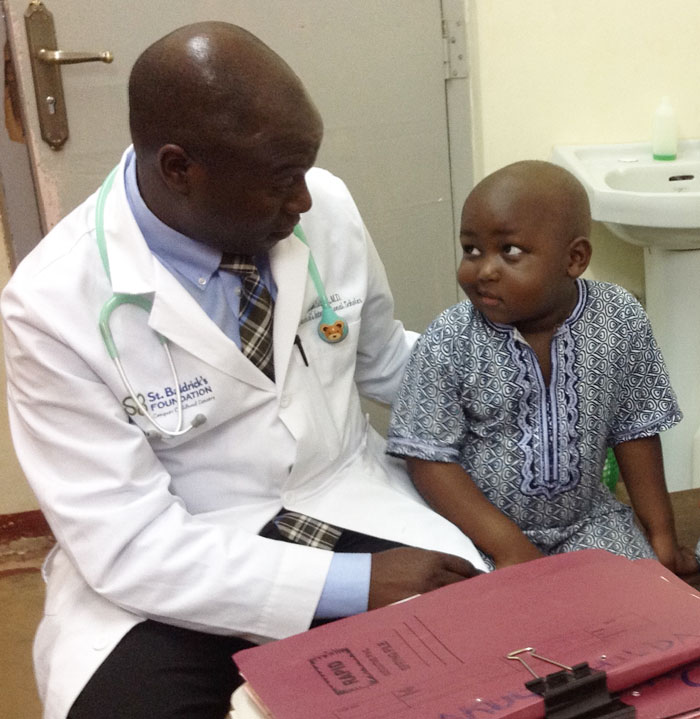 Dr. Joseph Lubega visited with Amaani, who is in remission from acute lymphoblastic leukemia.
For Christa and Belinda, life is full of appointments at the clinic for chemo and tests, while sadly bare of much else. The 5-year-old's immune system is too depleted to attempt socializing.
It's a long, dark road, with only three months of treatment behind them. But like Dr. Lubega, Belinda is optimistic.
"I believe in hope," Belinda said. "My intuition, my gut feeling is that she will get better. The way she's been doing and by God's grace, I believe she's going to get better."
There's a special celebration at the Uganda Cancer Institute when a patient finishes treatment and both mother and daughter are looking forward to it. Belinda is confident that Dr. Lubega and his pediatric cancer team will help Christa get there and to the days beyond.
Then the little girl can do everything she's been dreaming of – have fun, swim and go back to school.
"I believe that day is going to come for us," Belinda said. "And we can't wait."
It's Childhood Cancer Awareness Month and there's no better time to help researchers like Dr. Lubega save lives.
Donate
Read more on the St. Baldrick's blog: