We sat down virtually with St. Baldrick's researcher,  Stephan A. Grupp, MD, PhD, for a Q&A on immunotherapy. Dr. Grupp, located at Children's Hospital of Philadelphia, is a key member of the Stand Up to Cancer – St. Baldrick's Pediatric Dream Team*. He treated the first child with CAR T cell therapy, which was recently approved by the FDA for acute lymphoblastic leukemia (ALL). Check out our Twitter chat with Dr. Grupp and see what he thinks the future is for immunotherapy and childhood cancers.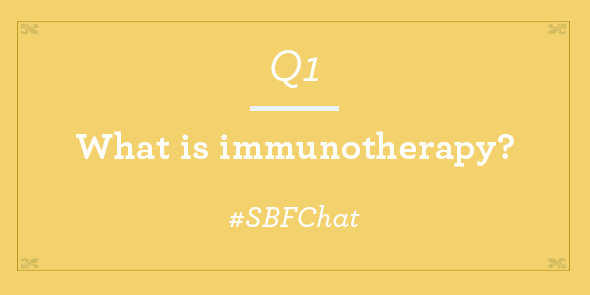 A1.
Immunotherapy uses the patient's own immune system to attack cancer. This new approach genetically reprograms the patient's own cells.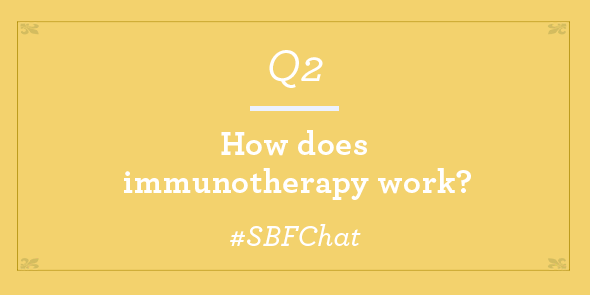 A2.
We take patient's T cells to reprogram in a special lab to find & kill cancer. When given back, they grow as needed to control disease.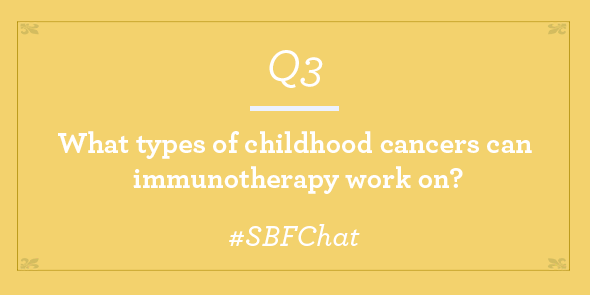 A3.
Right now, only leukemia, plus lymphoma in adults. Only the "B cell" type (not T cell), since that is the target we use.
A4
. It was just FDA approved 2 weeks ago! The first child with leukemia was treated in 2012. This treatment is brand new.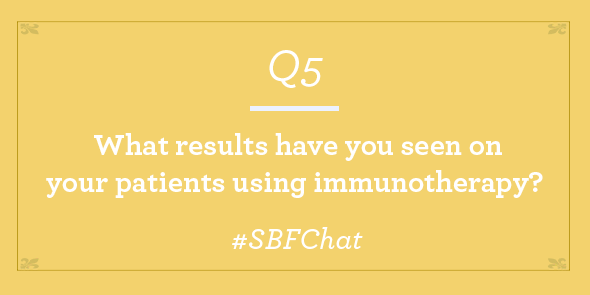 A5.
In our trials, we have seen 83-94% of patients go into remission, even with disease not responding to anything else.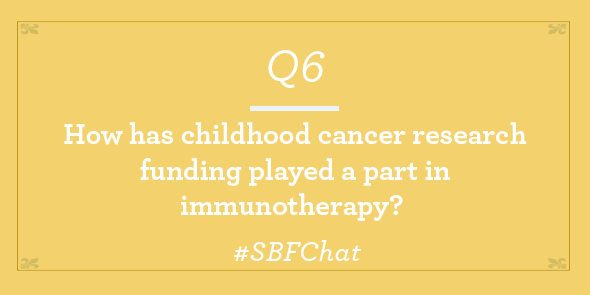 A6.
This funding has been super important to get these discoveries out of the lab & into kids who need it. Also, funding supports young scientists to launch careers studying immunotherapy. Finally, get centers to work together!
A7.
This is the first medicine based on reprogramming cells that has ever been approved for cancer in the US. That it is for pediatric and young adults with leukemia! It's really unusual for a new med to be available for kids first.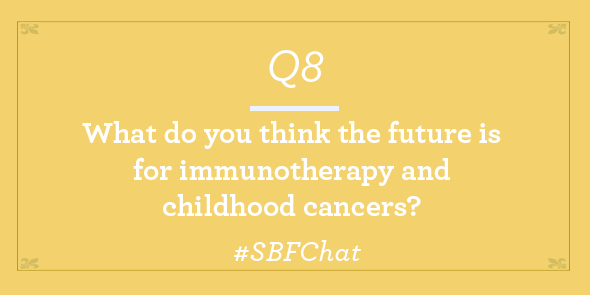 A8.
This is just the beginning, I think. We want to treat patients earlier, before they get as sick as some of our patients are. We also want to find new targets for other cancers to get immunotherapy for those cancers. That's what the
Pediatric Cancer Dream Team*
is doing. The Dream Team* brings together scientists in the fields of immunotherapeutics and genomics to come up with new, better ways to treat these cancers & hopefully revolutionize research forever.
You make research happen. Donate to childhood cancer research today.
Donate
*Formerly known as the St. Baldrick's – Stand Up to Cancer Pediatric Cancer Dream Team, this team is now the St. Baldrick's EPICC Team (Empowering Pediatric Immunotherapies for Childhood Cancer).
Read more on the St. Baldrick's blog: