Ambassador Chase was diagnosed with ATRT, a brain tumor, at the age of 2. Up against stacked odds, he made it through 14 months of brutal treatments with the scars to prove it. Now a local Congressman has honored his bravery with a signed Congressional Record. Chase's mom shares what it means to them.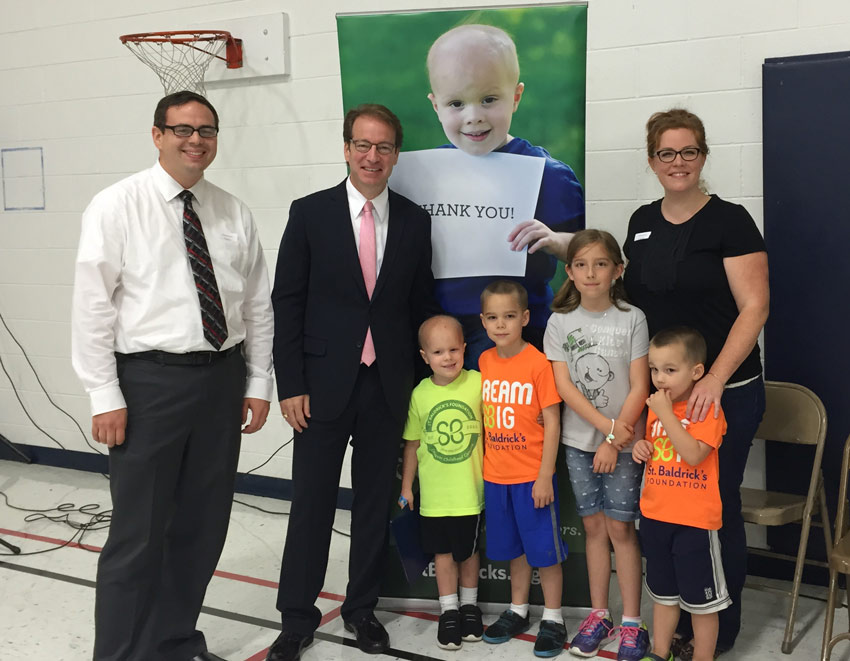 Congressman Peter Roskam, second from left, stands with Chase's family.
Over the years, there have been long days and trying times that I want to get up and shout, "This is so hard!" Times when I want to pull out the soapbox for what affects my family, and talk about the lack of funding for childhood cancer research.
Most days, I don't shout our struggle because we all have something to shout. We all struggle.
Which makes it all the more precious when someone else steps in to shout it for you.
One September morning, I sat in a school gym. The whole family sat in metal folding chairs forming a small arc against the front wall, while hundreds of children and teachers sat on the floor facing us.
The principal stood to welcome everyone in her beautiful red shoes. As she spoke, there was a murmur of activity in the hall outside the gym, and the crowd gathered at the doorway parted for a single, quiet man.
He stood still and calm until called forward. Against his dark, crisp suit, he held a navy folder in his hands, emblazoned with the seal of the United States House of Representatives.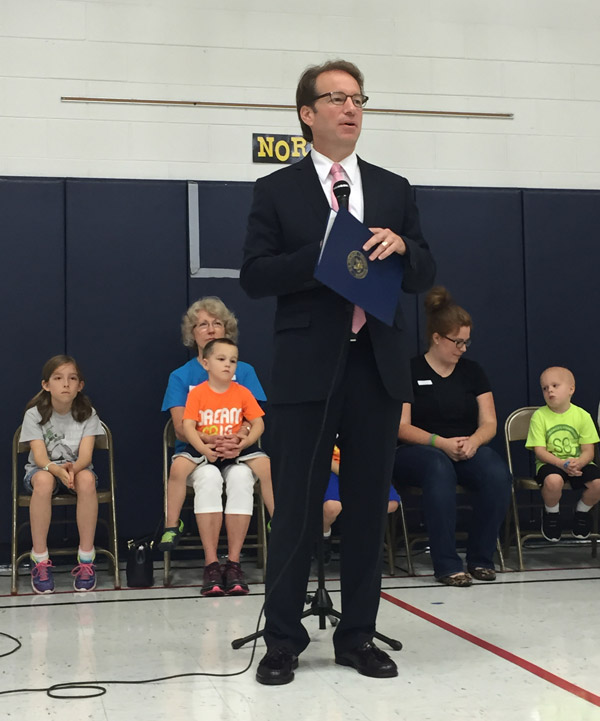 Chase and his family look on as Congressman Roskam prepares to address Chase's school.
The gym grew still as he stepped to the microphone. Opening the blue folder, he explained to all the small eyes and ears on the floor before him what it meant to put something on a permanent record. And then he read the words aloud — the same words he'd read before Congress on Friday, May 8, 2015.
Mr. Speaker, I am honored to rise today to recognize Chase Ewoldt, a brave, strong, and exceptional young man from the Sixth District of Illinois.
Chase was recently named one of the five Ambassadors nationwide for the St. Baldrick's Foundation.
In July 2012, at the age of 2, Chase was diagnosed with a rare, aggressive brain and spinal cancer. Experts believe this specific type of cancer is found in just 100 to 200 new patients every year in the United States, and Chase was only given a 20% chance of survival.
Over the next 14 months, his family and friends watched him undergo punishing cancer therapy every two to three weeks. Most of his time was spent in and out of hospitals.
Nevertheless, Chase beat the odds and survived. In August of 2013 there was no longer any sign of the disease in his body.
Chase is not completely out of the woods, and will most likely struggle with aspects of the disease for the rest of his life. But for now the family is celebrating his health and trying to raise awareness about pediatric cancer, a testament not only to Chase's strength and
resilience, but also the entire family's compassion and determination to help others.
Chase is an inspiration to all with cancer and I am sure he will continue to be a light for those in darkness.
As Chase told his mother, "I am a survivor." Let us celebrate the life of this survivor.
Mr. Speaker and Distinguished Colleagues, please join me in honoring and celebrating Chase Ewoldt's nomination as a nationwide Ambassador for the St. Baldrick's Foundation.
There it was. Our struggle had been spoken, and not just quietly, but to some of the highest authorities in our land. It was spoken to people who have the power to invoke change and good.
As often happens when an elected official comes out in support of someone or something, the almost-immediate response is, "Why this?" "Why now?" Or, "Why you?" And I have to believe that the man in the suit came up against those questions for shouting our struggle.
There is great pain in this world. And the horror of it all is that our babies dying of untreated, underfunded cancers is not the worst of what's heard in the hallowed halls of Washington. But the man in the suit, Congressman Peter Roskam, put his name to our fight all the same.
Even though it doesn't change how real it all felt before he spoke, there was a beauty to having someone stand with us and affirm that these things were not and are not easy, and are worthy of attention — and that Chase's story can and even should lead to change.
Be a part of change. Use this simple form to email your congressional representatives and urge them to support kids with cancer and the STAR Act.
Email your representatives

Read more on the St. Baldrick's blog: