Even though Ambassador Daisy's scans show no evidence of disease, the evidence of her brain tumor treatment is something she lives with every day. "I think the hardest thing for me to grasp is that it took her smile," her mom, Natalie, says.
Daisy finished treatment for medulloblastoma, a pediatric brain tumor, last year. Her facial muscles are partially paralyzed from the surgery to remove her tumor.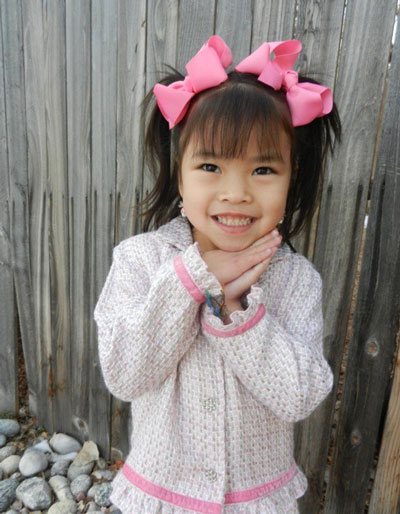 Daisy in kindergarten, before she was diagnosed with medulloblastoma.
I wonder what she would look like today if the cruel hand of childhood cancer hadn't gotten a hold of her.
I wonder if her smile would still be as dazzling and beautiful as it was then. I wonder if her eyes would still be as big and bright, shining with as much life as her laugh used to have.
I try to push these memories of our daughter to the deepest parts of my mind, but sometimes they sneak out.
It's just different now, that's all.
She is still beautiful and her beauty radiates through her from the very deepest parts of her being.
But it's hard sometimes.
I look at other kids with different cancers and sometimes wish that fate would have dealt a different kind of cancer, but there is no good kind of cancer.
They are all bad. They are all ugly. They all destroy one way or another.
Learn more about medulloblastoma, the type of childhood cancer Daisy had >
I think the hardest thing for me to grasp is that it took her smile.
People ask me all the time, "What's wrong with her?" "Why isn't she happy?"
I can tell you with 100% certainty, there is nothing wrong with our daughter. She is probably the happiest child you will ever meet.
She just cannot smile very well anymore.
Read more about what Daisy has overcome >
So, don't assume when you see someone walking down a busy street that someone is sad, mad or something is wrong. Maybe they just can't smile.
All you really need to do is smile back and maybe, just maybe, you might get a small half-turn of a smile. If you don't look carefully, you'll miss it.
Daisy is raising money for research so other kids won't have to live with the scars of their childhood cancer treatment. Donate to her St. Baldrick's team, Hope for Daisy.
Hope for Daisy
Read more about the challenges faced by childhood cancer survivors: