April lost her cousin, Kristy, to cancer 16 years ago. This year, April is celebrating Kristy's birthday in a special way: by being a shavee℠! See how April's been keeping her cousin's legacy alive through the years.
On November 29, 2000, I lost my 21-year-old cousin, Kristy Lyn Haley, to melanoma — also known as the "silent killer".
Kristy was diagnosed from a mole on her back in 1998 when she was 19 years old. She had the mole removed right away. Unfortunately, the cancer returned in August 2000 — but this time it was on her lungs.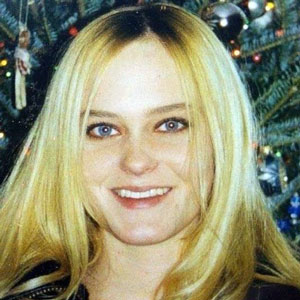 Kristy always had a smile on her face and stayed positive about life.
When Kristy found out, she had a new perspective on life. She noticed that there are so many people who take things for granted — health, family and, most importantly, life! She was determined not to let a single moment go to waste, and she encouraged everyone around her to do the same.
Sadly, the cancer spread to her brain. Within a few short months, Kristy passed away.
Kristy possessed great courage during her fight. She never let the disease get the best of her.
She kept her chin held high and always had a smile on her face. That's how I remember Kristy — always smiling. Kristy had a passion for kids and she also loved helping people.
Kristy's biggest fear was that she was going to be forgotten. I promised my family that I would never let that happen.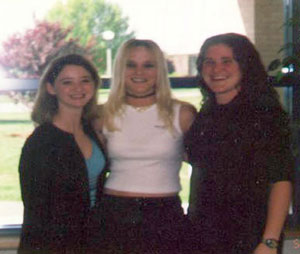 One of the last photos April (right) has with Kristy (middle) and April's sister, Jamie, from 1999.
And then St. Baldrick's came into my life. I came across a flyer for a head-shaving event in my hometown, and I knew I had to get involved.
In 2007, I was 24 years old and decided to become a shavee at a St. Baldrick's event. As excited as I was, I couldn't believe what I was doing. People told me I was crazy because "girls don't walk around with shaved heads."
Learn about the mission of St. Baldrick's >
Hearing that made me want to do it 100 times more.
My adrenaline was pumping. I couldn't turn back. The first chunks of hair taken off were my ponytails.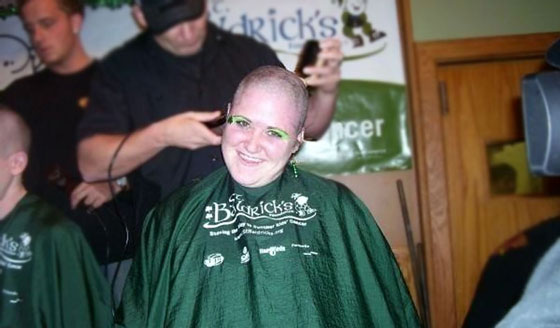 April's second shave was in 2008.
Then I heard it — the buzzer started. I think I actually gasped before the tears started rolling down my face.
I looked up and saw one picture on the wall, one face staring at me and I knew her — my cousin Kristy. She was now an angel — my angel.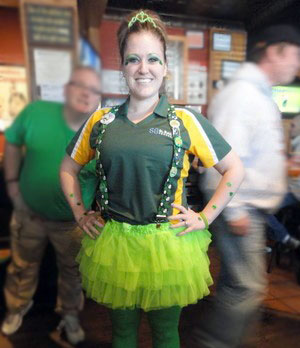 This year marks April's 10th year of participating with St. Baldrick's.
Before I knew it, I was bald and more beautiful than ever.
This was the start of something passionate — and something beautiful.
This year I will proudly celebrate my 10th anniversary with St. Baldrick's with my team, Kristy's Krew. I couldn't be more excited to not only have Kristy be the honoree, but also to celebrate her birthday with the Northport community. It's such a privilege to be able to keep her memory alive in this way.
If the roles were switched, I know Kristy would do all she could to make sure I wasn't forgotten. Kristy passed away as a young adult, so I want to help other kids have a chance at growing up — the chance that she never had.
I am so thankful for Kristy. I would not be the person I am today if it were not for her kind spirit and giving personality. I truly feel like I picked up where she left off — she loved to help people, especially kids, and I want to continue that with St. Baldrick's in honor of her.
Join our mission to help all kids grow up and live out their passions. Be a shavee.
Be a Shavee

Read more on the St. Baldrick's blog: