Honored Kid Joseph Burken is two years post-treatment for a brain tumor, and he's shaving his head with his family this weekend. Read on to learn about his childhood cancer journey and why funding research is so important to the Burkens.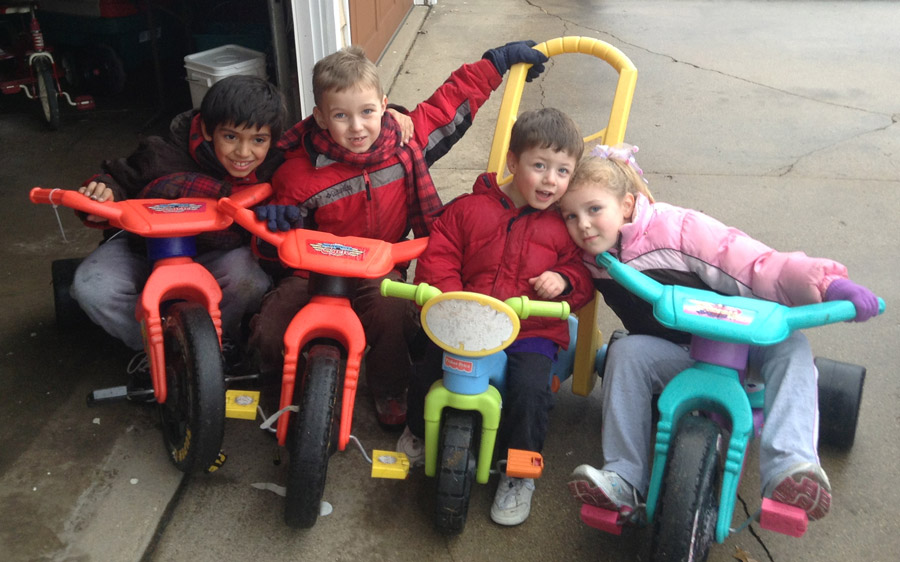 Joseph, second from left, riding bikes with his siblings.
If you were to watch Joseph in motion, you'd see a normal 8-year-old boy running, laughing, riding his bike, and building Legos with his siblings. You'd probably never guess there was a tumor lying dormant inside his head.
In fact, until he was diagnosed with an inoperable brain tumor nearly four years ago, his parents never would have guessed it either.
"He was just so healthy," Joseph's mom, Julie, said. "We have pictures three days before he was diagnosed where he was happy, healthy, dancing at my niece's wedding, and three days later he's lying in a hospital bed, almost non-responsive."
Learn more about astrocytomas in children >
When the doctors discovered the 2-centimeter mass in Joseph's brain, they started him on chemotherapy. He made it through eight and a half rounds over an 18-month period before they had to stop treatment because his body wasn't recovering.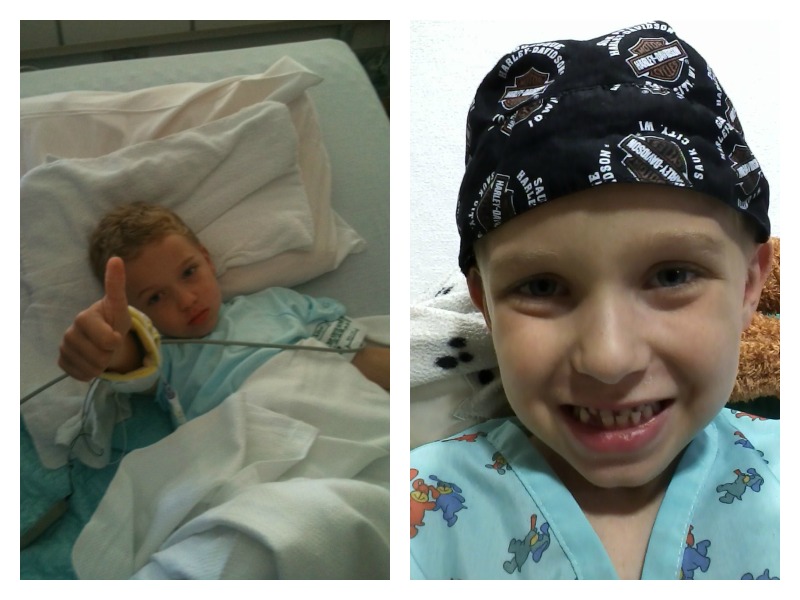 Joseph in the hospital. "He's a pretty smiley guy," Julie said. "If you can't get a smile, you know something is not right."
Fortunately, the chemotherapy worked for Joseph, and his tumor was stable. It has remained that way for the last two years.
Joseph has regular MRIs to make sure the tumor isn't growing again. His parents know there's a very real possibility that it will. Then, they'd have to start him on a much more aggressive treatment plan.
"I can't say I don't worry about it," Julie said. "I do think about it, but I don't dwell there. I guess I'm just thankful for what we have right now, and if something else comes our way, we will deal with it when it comes."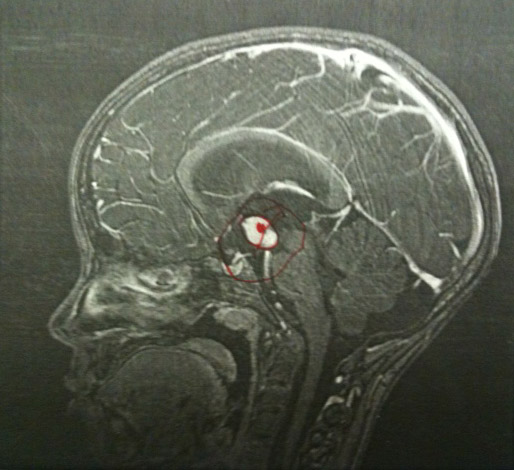 Joseph drew a circle with a slash over his tumor on an MRI image of his tumor.
It helps to know that if the tumor does start to grow again, they have a plan B in place — a new drug that wasn't available when Joseph was first going through treatment.
"That's why childhood cancer research is so important to us," Julie said.
That's also why Joseph, his dad, his brother and his sister are all shaving their heads tomorrow. Julie said she'll join them if her team can raise $4,000. She's nervous about it, but Joseph really wants to see his mom go bald. "He is all for it," Julie said, laughing.
Make Joseph's day! Help Julie's team raise $4,000 so Joseph can watch his mom go bald >
Julie and her husband, Wade, both know that by shaving their heads, they could be helping to fund the research that one day saves Joseph's life. In fact, Joseph's oncologist, Dr. Sue O'Dorisio, has received St. Baldrick's funding for her brain tumor research. Learning that "really hit home," Julie said.
But for Joseph, who never lost his hair during treatment, the head-shaving is about helping other kids with cancer. "He's just a helper," Julie explained. "He doesn't think about himself. He worries about other people and he just wants to take care of them."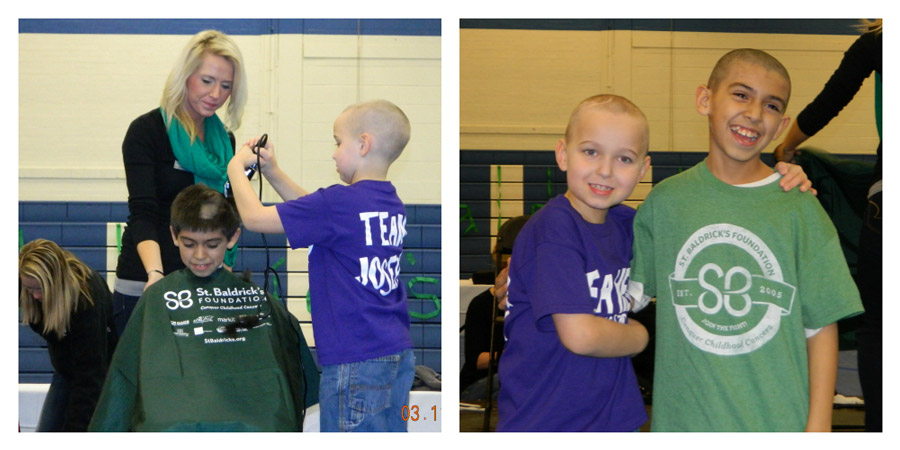 Left: Joseph shaving his brother Javier's head at a St. Baldrick's event last year. Right: Joseph and Javier with their freshly shaved heads.
That's not to say that he doesn't think about his own cancer. "Joseph has asked a couple times, 'Am I gonna die, Mom?'" Julie said. The first time he asked was not long after he was diagnosed. He asked again about a year and a half ago, which surprised Julie since he'd already been off treatment for a whole year.
But like his mom, Joseph doesn't dwell there. Julie saw proof of that after her coworker's grandson was diagnosed with childhood cancer two years ago and Joseph took it upon himself to help in his own way.
Julie remembers how they were sitting in the living room one day when Joseph announced, "I wrote a book for baby Mason." He left the room and returned with several pages of paper held together by three staples.
"What really struck me was that he said 'I had cancer,' not 'I have it.' And the last page of the book said, 'I played a lot.' That's how he ended it."
That, Julie said, was just like Joseph. "He doesn't really dwell on himself. He tries to help others. He tries to give back a lot. And that's just his heart."
Joseph wants to raise $2,000 to help other kids like him. Will you help?
Donate on Joseph's head
Read more on the St. Baldrick's blog: