Three cheers for the birthplace of St. Baldrick's, Jim Brady's Irish Pub! Read on to see how the Manhattan eatery won a special award — and why we're so excited about it.
This is where it all began.
Sixteen years ago, three men walked into their favorite Irish pub in Manhattan on St. Patrick's Day and turned their annual party into an event to raise money for kids with cancer. The rest, as they say, is history.
But let's rewind to a few months before that when the owner of Jim Brady's Irish Pub was approached by reinsurance executives John Bender, Enda McDonnell and Tim Kenny with a crazy idea: to shave their heads at the pub for this good cause.
Paul Quinn was amused and a bit skeptical. But he didn't want to lose three loyal customers, so he agreed.
On March 17, 2000, the first St. Baldrick's head-shaving event was held at Brady's, and 19 shavees℠ raised over $104,000 for childhood cancer research. With that, the unassuming New York pub would forever be known as the birthplace of the St. Baldrick's Foundation, the largest private funder of childhood cancer research.
Learn more about St. Baldrick's history >
Each year since then, Paul has continued the tradition, donating full use of his pub, staff and resources to support the event on their busiest day of the year. Its bartenders are encouraged to promote the fundraiser for weeks in advance. The event at Brady's consistently raises six figures every year and has cumulatively brought in over $4 million for the funding of childhood cancer research.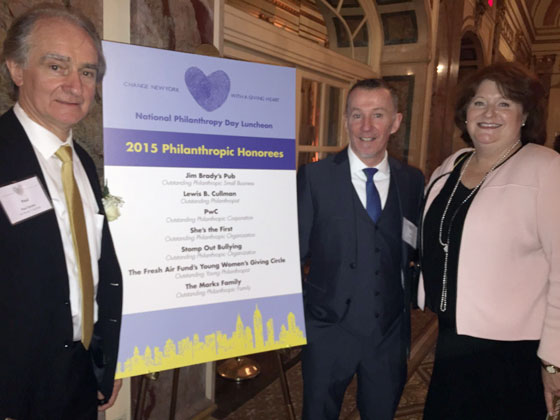 Paul (left) with St. Baldrick's CEO Kathleen Ruddy (right) and bartender Joe O'Dea, a 14-time shavee.
Today, pubs, restaurants, fire stations, businesses, schools and other community organizations around the world follow this generous example set in 2000 by the pioneer of all head-shaving events.
We could not think of a better way to recognize these accomplishments than by being named the 2015 Philanthropic Small Business of the Year by the Association of Fundraising Professionals!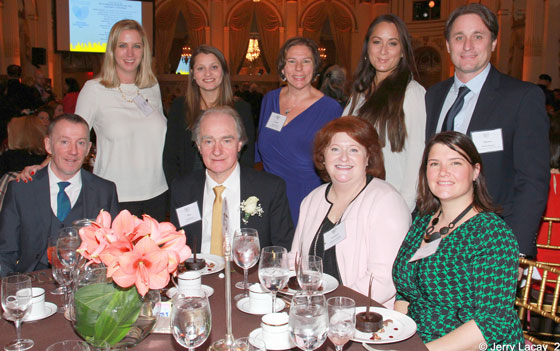 St. Baldrick's CEO Kathleen Ruddy poses with Joe, Paul and past and former VEOs Colleen Dunn Brien, Kara Owens and Kim DiFederico.
"There is no kinder business to celebrate," said St. Baldrick's CEO Kathleen Ruddy. "If Paul had not been willing to share the pub on the number one busiest day of the year, we might not have gotten the start we needed. Because of Jim Brady's, children with cancer have greater hope for a long and healthy future."
Sixteen years ago, Jim Brady's opened its heart and its doors to a quirky idea. And in doing so, it became a significant landmark in the quest to find better treatments and cures for kids fighting cancer.
This is where it all began, and we could not have done it without you, Jim Brady's. Congratulations!
Even the smallest step can make a big difference for children with cancer. Get involved today!
Get Involved
Read more on the St. Baldrick's blog: