The decision to enroll a child with cancer in a clinical trial isn't one that's made lightly. But it's something that many cancer parents, when faced with limited treatment options for their child, wrestle with. Kate, mom to 4-year-old Micah, shares how she and her husband decided Micah would take part in this critical arm of childhood cancer research.
Micah is no longer on the clinical trial, but you can read all about it — and how St. Baldrick's volunteers helped make it possible — here.
Three years ago my husband and I became cancer parents.
We had been busy, happy parents of a pre-schooler and an active, just-learning-to-walk toddler. And then our 15-month-old went to the hospital for overnight IV antibiotics to treat pneumonia and left with a neuroblastoma diagnosis.
That hospital stay and our change in status made us suddenly very happy that we tended to be list-oriented. Lists and notes were the only way to make sense of the tidal wave of information we needed to organize for our son's health and safety.
Now, as seasoned cancer parents, we still rely on lists, notes, and that logical thought process to stay afloat.
We were thankful that as Micah neared the end of his initial treatment, he was declared "no evidence of disease," or NED. He has twice relapsed, both times receiving treatment and again being declared NED. However, those NED periods bring challenges as well.
There is no standard of care to maintain remission in kids with aggressive neuroblastoma. We have had three options:
Stop treatment altogether and hope for the best,
Work with our oncologists to keep him on a custom-designed regimen of chemotherapy, or
Go onto a clinical trial.
We knew that not treating him wouldn't sit well with us. We also knew that giving him more chemo would make it harder to treat him in a relapse because the more times a body sees a type of chemo, the less effective it can be, and more chemo means that his body has to work harder to replace the good cells he loses.
Micah hugs his brother, Asher, after Asher shaved his head at a St. Baldrick's event.
One of the few things that we are sure of in this whole saga is that we have done everything we could to make the most informed, best possible choice for
our
child at each decision point. We may not like the options, but we will do everything in our power to understand them and make informed, reasoned decisions. Together with Micah's doctors, we determined that the best options to prolong Micah's remission would be a phase 1 clinical trial.
Learn more about the role of clinical trials in finding new treatments for kids with cancer >
Phase I trials have shown in-lab success that researchers believe will be replicated in kids. We know the main goal of every phase 1 trial involving a new drug is to determine a safe dose. Keeping a kid NED is a wonderful side benefit, but not the goal of a phase 1 study. Our goal is keeping our son clear, but without a proven path, we are happy to help advance research while potentially helping our son.
Micah is ready to head home from the hospital.
Still, it wasn't an easy decision to make. We spent a lot of time talking through the pros and cons with Micah's medical team. Some of the questions we asked were:
How confident are you that the treatment will work for children?
What are the predicted side effects and risks, and how likely are they?
How will the trial affect Micah's quality of life?
How do we know which is the best trial for Micah?
We were fortunate to have a supportive team that encouraged second opinions and informed choices. It was both beneficial and empowering to Jeff and me, and it made it easier for us to be comfortable with our decision.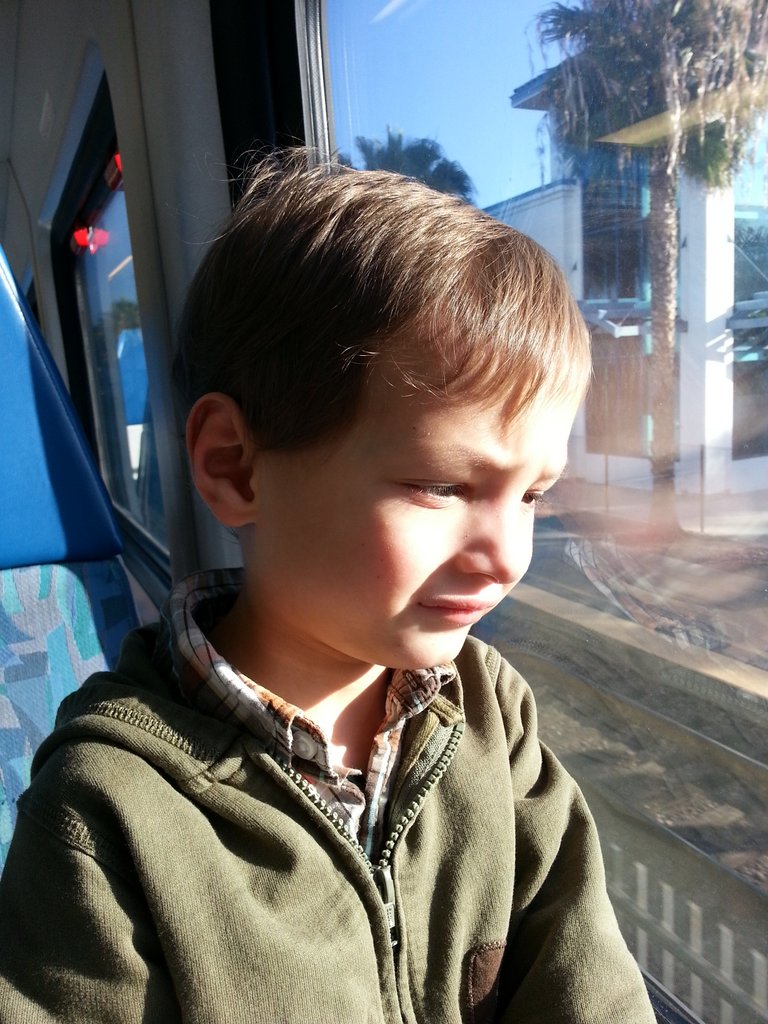 Micah stares out the window on the train ride home.
It's a serious time and energy commitment to understand abstracts of studies and sift through mounds of clinical literature, and it's not something every cancer family can do. By asking questions, Micah's care team was better able to understand where we were in the thought process, and any challenges we were having in understanding our options. That helped them to provide us with the information we needed to make our decision.
Every family has a different matrix in their heads that they use for each major decision. We are doing what we think best balances our desire for our child to live as long as he can with the best possible quality of life in that time.
Although Micah recently needed to come off of the trial because of a rare reaction, we believe that we made the right choice in participating. We know that even if he should show relapse in his next set of scans, he has helped other neuroblastoma kids to have better treatments, and that makes us feel like any discomfort, any stress, has been put forth for the best possible cause.
Help us fund more research to give better treatments options to kids like Micah. Give today.
Give
Read more on the St. Baldrick's blog: