Ellie was diagnosed with childhood cancer when she was 2. She's now 8 and cancer free, but her childhood cancer journey is far from over. "There is a price to be paid for surviving," her mom, Jessica, writes.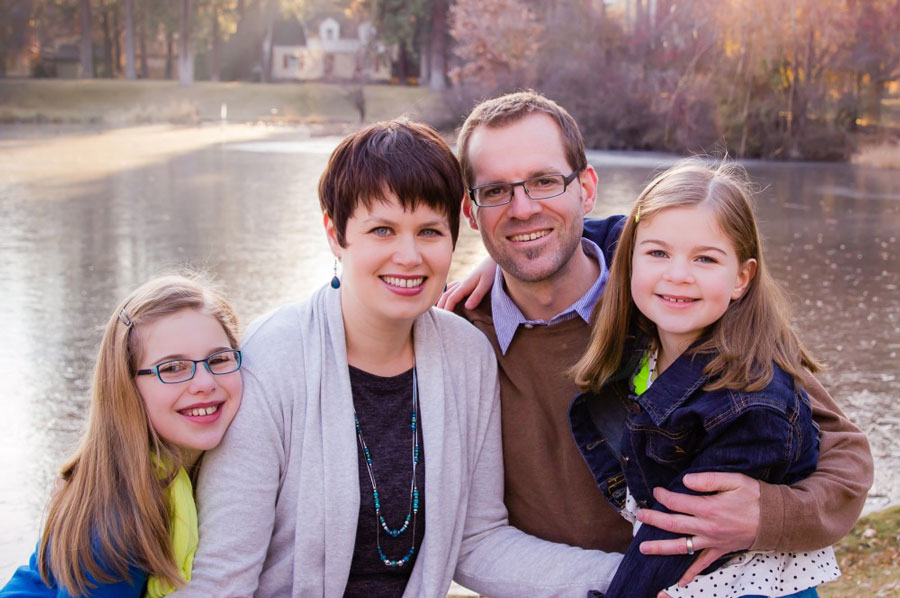 Ellie, right, with her family last year. Ellie is now three years post-treatment for acute lymphoblastic leukemia (ALL).
Six and a half years ago, standing in the pediatric intensive care unit with our 2-year-old daughter, Ellie, a pediatric oncologist informed us that she had high-risk B cell acute lymphoblastic leukemia.
"This is the kind we get better from," he said. We were just two days into this world of childhood cancer, and those words sounded pretty good to us.
Upwards of 90% of children with ALL survive at least five years, and the survival rate is slightly higher for girls. This was good news, they told us. We nodded numbly and felt thankful.
Learn more about different types of childhood cancer >
As time went by we met more and more families who were also battling cancer, and we started to understand what the doctors and nurses meant. We met family after family who didn't have the odds we did. Some faced cancers with no developed treatment protocol at all.
As much as we hated the fact that our baby girl was fighting for her life, we also felt a measure of guilt that she was quite likely to survive this while others had no such chance.
Jessica and Ellie in the hospital while Ellie was in treatment for ALL.
After 28 months of treatment, Ellie crossed the finish line. Life as a survivor began. Her body was weak and fragile from such a long, hard battle. It took much time and therapy to rebuild her body.
This was a time of welcome, but difficult, transition. It was then that the phrases "long term effects" and "secondary cancer" really started to take on meaning for us. Current treatments for ALL are long, and highly toxic to the body. There is a price to be paid for surviving.
Often, when I would voice my concerns, friends and family would brush them away. After all, I had my daughter, alive, didn't I? Shouldn't I just be thankful?
While we are so very thankful that our daughter had ALL instead of a more deadly form of cancer, we can't simply brush off the consequences of the treatments that saved her. They are the foe that lurks around every corner.
Childhood cancer survivors are monitored very closely throughout their life to watch for these issues. Even seemingly normal childhood occurrences, such as a cough that lasts a little long, or a wrist broken in a fall, are examined closely and mean extra testing and anxiety. Many children live with decreased immune function, cognitive defects, nerve damage, and a variety of other life-altering issues. There isn't any part of their bodies that is immune from the effects of toxic treatments.
Even if the cancer never comes back, its effects are felt forever.

Ellie is now 8 years old and cancer free.
We have been blessed to see our daughter thrive post-cancer. We have also watched many friends struggle to deal with the long-term effects of treatment, and yet more say goodbye to their children. We feel grateful for Ellie's survival, but we remain watchful for the effects her treatment has had on her body.
As the parent of a survivor, I feel a constant mix of emotions — fear, grief, relief, guilt, and thankfulness. It compels me to fight for something better.
There is so much promise in the research that is happening today. All kids deserve a bright future, and St. Baldrick's is fighting to give them that chance.
Join us as we fight to give all kids a chance at a future. Get involved today.
Get Involved
Read more on the St. Baldrick's blog: