Dave was diagnosed with childhood cancer when he was 13. Six years later, he's shaving to help find a cure for all kids' cancers. Join Dave — be a shavee℠!
After surviving childhood cancer, Dave got involved in breakdancing. "With each activity I pursued, I reveled in feeling less like a cancer patient and more like an average kid," he said.
For me, the most difficult part of my bout with childhood cancer was not on my road to becoming a cancer survivor, but rather in becoming comfortable calling myself a cancer survivor.
My three and a half years of treatment for acute lymphoblastic leukemia (ALL) during my early teens went about as smoothly as cancer treatments go. I was fortunate enough to avoid radiation therapy as well as any recurrences of my cancer. Certainly, the chemo treatments and the isolated lifestyle were unpleasant, but I knew that I was one of the luckier patients.
When I entered high school, I got involved in martial arts, swim team, theatre, and even breakdancing. I wanted to prove to myself that I wouldn't be held back by my health restrictions anymore, and ironically got myself in the hospital a number of times with injuries. With each activity I pursued, I reveled in feeling less like a cancer patient and more like an average kid.
By the time I got into college, I resolved to put my cancer history behind me. I was going to be a normal student, earn my diploma and explore life. This plan was derailed before classes even began.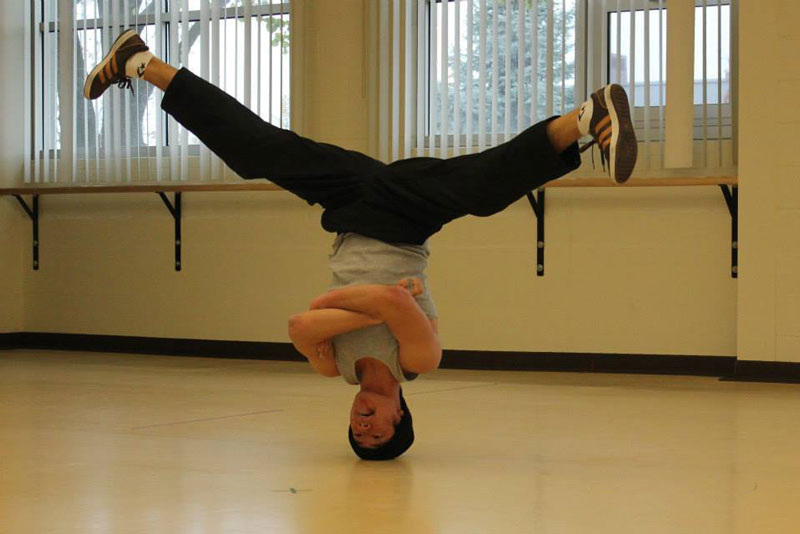 Dave breakdancing in a dance studio.
During an ice breaker activity for a pre-orientation program at my university, I noticed that the person standing across from me had a surgical scar just below her clavicle. I recognized this as a Port-A-Cath scar, for
a device most cancer patients have
to more easily access their veins.
I ran over to the girl, who introduced herself as Mary-Elizabeth (or Meb for short). It turned out that Meb had also had ALL around the same time I did, was treated at the same hospital, and even had the same primary caregiver as I did. I excitedly offered her a high-five while proclaiming us "cancer buddies," which resulted in the most awkward high-five of my entire life.
Despite this inelegant exchange, Meb and I became friends, bonding over our similar histories. Having very different majors, we only occasionally crossed paths once classes started, but I was strangely comforted in the knowledge that there was another cancer survivor on campus.
I was therefore shocked the next year when I learned from a mutual friend that Meb had relapsed. I was still reeling from the news hours later when I joined some friends in visiting Meb at the hospital. Meb smiled when we arrived, but I could see that she was tired, worn out from the stress of that day.
Even as we joked and reminisced about our least favorite parts of treatment, I couldn't help but feel overwhelming guilt. I felt guilty that even though we had both survived the same cancer, I was healthy while she would have to go through months of rigorous treatment. It seemed like I had absorbed all of the healthy energy of the world, not leaving enough for her. And above all, I felt guilt that even as I consoled Meb about her unfortunate situation, deep down I was afraid that the same would happen to me.
I didn't feel like I deserved to call myself a cancer survivor when there were so many like Meb whose fights against cancer were far more rigorous than mine.
This guilt lingered and grew over the next year. After I nearly failed one of my courses for missing so many classes due to my episodes of depression, I sought the help of a therapist. My therapist turned out to be a cancer survivor herself, and she coached me on how to deal with my survivor's guilt. She told me not to blame myself for what happened to Meb, and taught me the importance of opening up to others and reaching out for help when it becomes necessary.
Once I took her advice and sought out the help of my community, the people around me provided me with incredible support and inspiration. I soon realized that sitting around bemoaning the challenges of others wouldn't make anything better, for me or for them. I became determined to join the fight against childhood cancer in whatever way I could.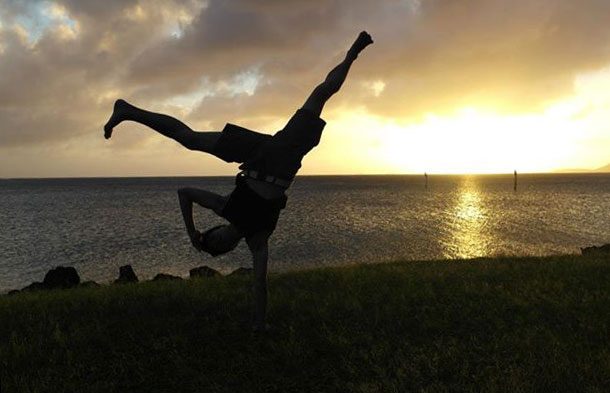 Dave breakdancing on a beach in Hawaii.
This past summer, I graduated from college with a bachelor's degree in biochemistry. Since graduating, I have been getting ready to apply to medical schools, and working as a medical scribe at the very hospital I visited Meb in 3 years ago. Meb has completed her treatment and returned to school cancer free, thanks to the
incredible progress that childhood cancer research has yielded
in just the past decade.
In honor of the amazing fight that Meb and so many other patients have fought, I will be shaving my head this weekend for childhood cancer research. Treatment of childhood cancers has already made unbelievable strides in the past several years, and together, we can help make even greater advances in the field. Let's kick cancer's butt, one shaved head at a time!
Help Dave reach his fundraising goal! Donate on his shavee page.
Donate to Research
Read more from childhood cancer survivors: