Want to start your own fundraiser for children's cancer research? It's easy! Just Do What You Want.
Jessica Hawk-Ippolito is using her signature pose to help kids with cancer.
It started as an impromptu pose for photographs. Then it morphed into a social experiment. Now, it's a fundraiser for
childhood cancer research
.
High school English teacher Jessica Hawk-Ippolito has been putting her hands up for the camera since she was a kid because, in her words, "it's silly and fun and goofy."
It always made her laugh, she said, along with whoever else was there to witness it. So she started to wonder, why not try to spread the cheer beyond her immediate circle of friends and family?
Jessica set a goal one day in July 2011 to collect photos of people putting their hands up for the camera in all 50 U.S. states and all seven continents by Labor Day. Pretty soon, she was getting submissions from strangers all across the country and around the globe.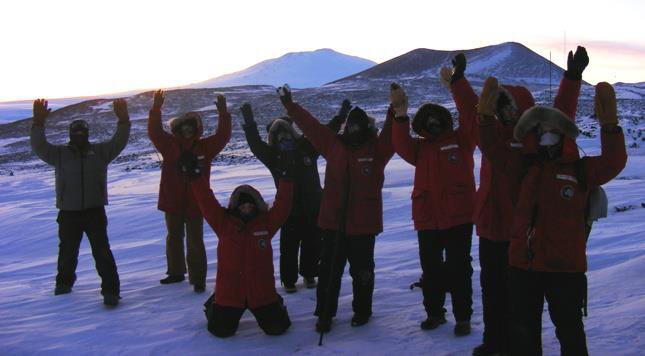 Researchers in Antarctica participating in Jessica's social experiment.
The last photo she needed — from a traveler at a North Dakota airport — came in at 11:30 the night before the deadline.
By that time, Jessica knew she was on to something. She decided to keep the momentum going by turning "Hands Up the Pose" into a charity liaison. "As a charity liaison, I connect donors to charities and then the public earns the donations by taking and submitting 'hands up' pictures," she explained. "It's crazy, but it works!"
Her motto is "raising hands to raise awareness," and this summer, she's raising awareness and funds for childhood cancer research with the St. Baldrick's Foundation.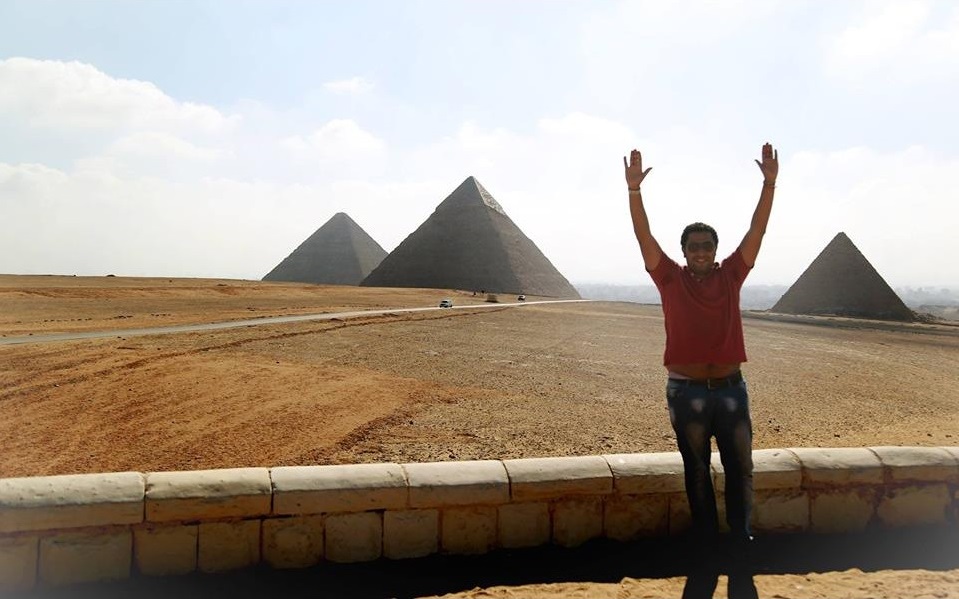 A "Hands Up the Pose" photo submission at the Pyramids of Giza.
Like most people, Jessica has been touched by cancer, but childhood cancer is something she thinks deserves more attention.
"All four of my grandparents passed away from cancer, but there is something very different about someone in their 80s resigning themselves to the fact that they have cancer and a child fighting for his life," Jessica said. "I can't imagine the agony of parents thinking about all of the things they want their child to experience, but not knowing if they will."
After learning about St. Baldrick's through social media, Jessica did her own research and decided it was a cause she wanted to get behind. "As I read more of the information about St. Baldrick's, I knew that the work they were doing needed even more attention and funds," she said.
So Jessica assembled a 50-item scavenger hunt list of scenarios for "hands up" photos to bring in donations for St. Baldrick's this summer.
Each photo earns $50 from the scavenger hunt's sponsor, New Jersey-based general contractor C & H Industrial Services. Several individuals have also pledged to "boost" photos with an extra donation to St. Baldrick's.

See more of the photos submitted for the scavenger hunt on Jessica's fundraiser page.
Some of the photos came in within a few days, like "in front of a haunted house," "wearing a sombrero," and even "in front of a giant cowboy statue."
Others, like "at the base of Mount Everest," are proving a bit more challenging, but you can help!
The "hands up" photos Jessica still needs are:
Under the Northern Lights
Mongolia
Easter Island
Tasmania
Cabazon Dinosaurs, Cabazon, CA
Ayers Rock, Alice Springs, Australia
Geographic center of the United States, Lebanon, Kansas
At the base of Mount Everest
Area 51, Nevada
Robin Roberts or Ginger Zee of Good Morning America
If anyone you know will be traveling to one of those places before the scavenger hunt ends on September 1, tell them they have a unique opportunity to help kids with cancer — and remind them to bring their camera and their will to be silly.
You can pledge to boost photos by emailing Jessica or donating directly through her fundraiser page. Email your "hands up" photos to contact@handsupthepose.com.
Do you have an out-of-the-box idea to help kids with cancer? Register your Do What You Want and start raising money for childhood cancer research.
Do What You Want
Get more fundraiser ideas on the St. Baldrick's blog: