Scott was diagnosed with acute lymphoblastic leukemia at the age of 3. After three and a half years of treatment, he took to the Hill in September to get the Childhood Cancer STAR Act on the minds of Congress. Now he's back to remind everyone of how much work there is left to be done. Read his moving speech below and see how you can make an impact for kids like Scott everywhere.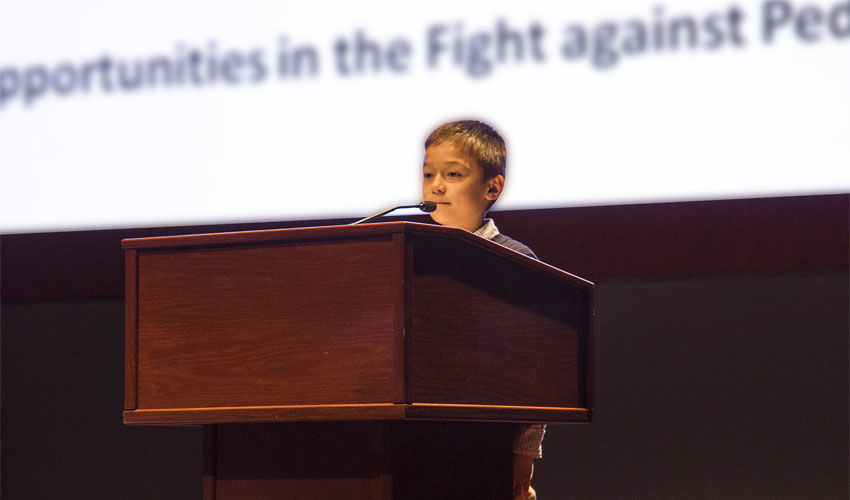 Scott delivering his speech at the Childhood Cancer Summit in Washington, D.C.
Good morning! My name is Scott Lenfestey and I am 7 years old. I live in the Raleigh, North Carolina area and just completed three and a half years of treatment for
acute lymphoblastic leukemia
.
Going through chemo wasn't always easy. I lost my hair three months into treatment and often felt tired, itchy, and weak. I also missed out on a lot of things that other kids get to do, like going to school, birthday parties and family get-togethers.
BLOG: Scott's Childhood Cancer Story >
But I know that I'm one of the lucky ones who have made it to this point, because I've lost a lot of friends along the way to childhood cancer. I'm very thankful to be here with you today in Washington, D.C.
My first visit to D.C. was in June, when my mom and I joined the Alliance for Childhood Cancer in asking Congress to increase NIH funding and to introduce the Childhood Cancer STAR Act. I was SO happy to find out that they actually listened to me! They voted to increase NIH funding and many members of Congress signed up to support the STAR Act!
I couldn't believe that we made a difference. The news has spread that it's time to make childhood cancer research a national priority because the kids deserve more government-funded cancer research. How awesome is it that our army of supporters is growing?
Well, it has been three months since the last time I was here. When I heard about your meeting today, I figured that it was time for me to come back. Why? Because my job isn't finished yet — there are still many kids with cancer who don't have a cure, and that's why we're here today.
With that, I'd like to thank Congressmen McCaul and Van Hollen for leading a Congressional Caucus that raises awareness of pediatric cancer and welcome all of you to the 6th Annual Childhood Cancer Summit. I think that together, we can make our voices heard on the Hill!
Kids like Scott need YOU. Use this simple form to email your congressional representatives and urge them to support the STAR Act.
Email your representatives

Read more on the St. Baldrick's blog: