"Your child has cancer." These four words are heartbreaking for the thousands of families who are affected by childhood cancer every year. For most families, to receive a cancer diagnosis for not one child, but two, is unimaginable.
This is the story of a family who faced the unthinkable and how they have stayed together through it all to embrace a family motto, "Have Faith, Be Strong."
Jennifer Thayer tells her family's story.
Breanna was always strong. Strong and positive. Here was my beautiful girl — my girl who loved to dance, who couldn't wait to start kindergarten, who loved to be the boss of her three brothers — stuck in this icky place. She didn't know how sick she was, and she didn't act sick. "Mommy, don't cry," she said.
Breanna was diagnosed with medulloblastoma, a type of brain tumor in children, at 3 years old.
It started with a little tremor. When
Breanna
was 2 years old, I noticed that the last three fingers on her right hand were twitching every two minutes, even in her sleep. My husband, Lance, and I took her to the pediatrician, who referred us to a neurologist.
They thought she had a rare form of epilepsy and prescribed an anti-seizing medicine. But I wanted to be sure. For five hours, I pressed the doctor and his staff to give Breanna an MRI. Finally, they gave in, and she got the MRI.
The test results came back. Breanna had a tumor in her brain the size of a tennis ball. She was diagnosed with medulloblastoma — a malignant brain tumor, a type of childhood cancer. She had just turned 3 years old.
Over the next two months, Breanna went through one procedure after another: brain surgery, intense chemotherapy, and radiation for her whole head and spine. They had her on this yellow feeding tube that wouldn't stay in no matter how many times her dad and I tried to place it just the right way.
She had her blood drawn almost every day. At first, she was scared and would cry. But after a while, she got used to being poked every day. When it was time to draw blood, she would just hold out her arm like it was no big deal.
Sometimes we were surprised by Breanna's strength. In the times when she was home with us, we would have family dinners, with all six of us gathered around the table: me, Lance, Jalen, Bailey, and baby Sammy, with Breanna and her IV bag.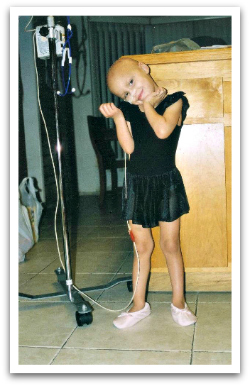 Breanna at home with her IV pole while in treatment for childhood cancer.
One evening, Breanna was resting after a difficult day, so we went ahead and let her sleep while we started dinner without her. A few minutes later, all of us watched as this determined little girl carefully walked to the table with her IV pole scooting along beside her. She didn't want to be left out. She wanted to be with us.
And thankfully, it was looking like she would be able to stay with us. The next brain scan was hopeful. "Hot off the press — there's nothing there!" the doctor said.
Those were the words we had been waiting to hear! But a few months later, the tumor grew back, and this time they said that Breanna had a less than 20% chance of survival.
"There are no good answers here," the doctor said. The surgery that could save Breanna's life could leave her paralyzed, but it was our best hope for a cure.
We went ahead with the operation, and we were relieved when the doctor told us he was able to remove the tumor. Breanna was now 4 years old, and she was strong enough to start two mini stem cell transplants.
She got through the first transplant and came home with us. The second one also went well. Her numbers were looking good, and we were talking about starting her on physical therapy.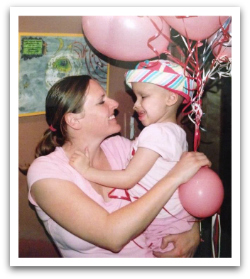 Mom with Breanna in the hospital, celebrating Breanna's fourth birthday.
One June day, I noticed that Breanna's breathing was off. We brought her back to the hospital. "She's breathing funny," I told the medical staff. They put her on a nasal cannula to give her oxygen, but it was becoming harder and harder for her to breathe.
By July 4, Breanna was in the ICU and could no longer breathe on her own, possibly a side effect of chemotherapy, the doctors said.
They told us to say goodbye to her that day, but she held on. She was selfless, courageous, and stayed with us day after day in that dark place. Her daddy begged her to hold on, and we held on for her, hoping for a miracle.
I got to hear her say "Mama" again. That's one reason I still believe in miracles.
Breanna died on July 25, 2005, just 4 years and 4 months old. She never got to go to kindergarten. She didn't get to make friends.
Breanna's absence was deeply felt by all five of us. Jalen, our oldest son, had an especially close connection to Breanna. Every night during his bedtime prayers, you could hear him talking to his sister.
I got to hear her say "Mama" again. That's one reason I still believe in miracles.
Years passed. The boys grew and did just about every sport you can think of: football, basketball, cross country, lacrosse, track and field.
Our two older boys, Jalen and Bailey, wore pink ribbons on their sports uniforms in honor of their little sister. Jalen went to nationals for track and field four years in a row, always wearing that pink ribbon, always doing his best for his sister.
It was a warm summer night in 2009 when Jalen got out of bed, complaining that he couldn't sleep. "My head hurts. It feels like it's racing," he said. He had been having headaches for the past week and a half. We took him to the doctor, who examined him and said he had a virus. But when Jalen started throwing up, we rushed him to the emergency room.
Oldest brother, Jalen, had an especially close tie to Breanna. Here he holds a picture of Breanna at their favorite vacation spot.
Jalen's blood tests came back normal. Everything looked fine on paper, but he did not look well to me.
"So are you ready to go home, Jalen?" the doctor asked.
"No," I answered for him. "You're not going to send him home. There's something wrong."
"Well, what do you want me to do?" said the doctor.
"Some type of scan. He's been having headaches, and I don't know why."
The doctor agreed to do a CAT scan. I didn't know what was wrong with Jalen, and I didn't have a bad feeling about it. I just wanted some answers. I didn't know that we would be finding out the worst thing in the world.
The doctor came back with the scan results. "You have something large in your brain," he said, "either a brain tumor or a brain infection."
Jalen looked at his dad and me. "You guys don't deserve to go through this again," he said.
Jalen looked at his dad and me. "You guys don't deserve to go through this again," he said. We all just hugged and cried together there in the doctor's office.
Jalen didn't get to go home that day. He was diagnosed with glioblastoma multiforme. Brain cancer, a different kind than Breanna's.
There we were, back in the hospital. Same floor, same nurses, same doctors, different child, five years later.
We looked at treatment options, and together we decided that Jalen would participate in a pediatric oncology study at St. Jude's in Memphis, Tennessee. We were there with him for three months as he was given high doses of radiation to his head and took an oral chemotherapy drug.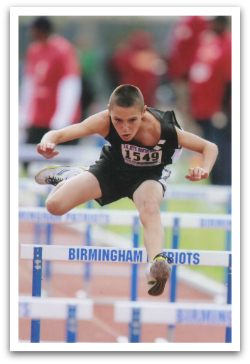 Jalen excelled in track and field and went to nationals four years in a row. He and his brother, Bailey, wore pink ribbons on their uniforms in honor of their sister, Breanna.
We got to go back to our home in California, and Jalen continued his chemotherapy treatment. For six months, we went on this way, and Jalen's monthly scans were looking good.
Jalen's next scan was scheduled on Breanna's birthday: March 8. It was on this day in 2010 that we got the news. The tumor was growing in Jalen's brain, and he would have to stop participating in the study. The doctors said there was nothing else they could do.
Back home, we saw more pediatric oncologists, who started Jalen on two different chemotherapy drugs in hopes of attempting a risky and life-threatening stem cell transplant. Jalen powered through, and he went forward with the transplant.
Jalen was strong during the procedure, and he was recovering well. But then he started having trouble thinking straight. His memory was suffering, and he was becoming weaker.
The treatment wasn't working, and we again got to the point where the doctors said, "There is nothing more we can do."
When Jalen was first diagnosed, he made up this motto:
Have Faith, Be Strong.
Jalen never thought his cancer journey was about him. He was always looking out for our whole family and his circle of friends, constantly reminding us that if we kept the faith and had a positive attitude, everything would be all right.
He kept that positive spirit until the very end. Jalen died on April 6, 2011, almost six years after Breanna left us. He was 15 years old.
It's been two years since Jalen went to be with his sister. Words can't express how we miss them. There are times when even a little reminder will make my heart ache. Something as simple as going out to eat and hearing the question, "How many people in your party?" always stings. It stings because the answer used to be six. Then it was five. Now it is four.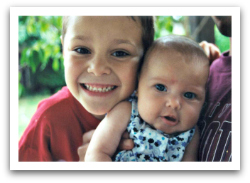 Big brother Jalen, 5 years old, with baby sister, Breanna.
That said, our family of four — Lance, Jennifer, Bailey, and Sammy — we are such a strong family. We believe that we carry on the strength that Breanna and Jalen showed every day. We breathe for them. We keep positive for them. We honor them daily, all day long.
Our mission now is to help families get through their own cancer struggles. We know all too well the heartache a family faces as their child undergoes treatment. Upholding Jalen's motto, "Have Faith, Be Strong," we give support to other families so they can create precious memories together.
Yes, we cry. We have sad days. But we try our best to make Jalen and Breanna proud. We know they are shining down on us and want us to do our best to live a happy life, to be as happy as we can be without the two of them physically here with us.
Breanna and Jalen are still with us, still making a difference, still strong.
You can make a difference for kids with cancer. Get involved and help raise money for lifesaving childhood cancer research.
Make a Difference
The Thayer Family (left to right):  Lance, Jalen, Bailey, Sammy, Breanna, and Jennifer