It's National Volunteer Week and at St. Baldrick's we have a lot of reasons to celebrate — like nearly 45,000 reasons! (Yep, that's how many people volunteered for St. Baldrick's this year and we love them ALL!) From team captains to barbers to shavees to VEOs and beyond— St. Baldrick's is volunteer-powered and proud. Why do our incredible volunteers do what they do? Find out from three of our heroes!
April Prussak, Cancer survivor and barber at the DTLA Shaves for the Brave event
Why did you volunteer as a barber for St. Baldrick's?
September was my very first time volunteering. I wanted to do something special and be on the other end this time. My whole 13 years hair experience and it's what mattered the most to me, giving back to those little ones in need.
What moments impacted you most as a St. Baldrick's barber?
I am a cancer survivor. I went through rough treatment and rare side effects. I often had hard emotional days. When I volunteered and heard these little ones' stories, I cried inside. These children have their whole lives ahead of them. Here I am crying about me, but these children have no clue what is going on and no clue why, but here they are — worry free and having the time of their life, smiling and dancing, so carefree at the moment!
It was then I realized these children impacted me the most. They were my heroes!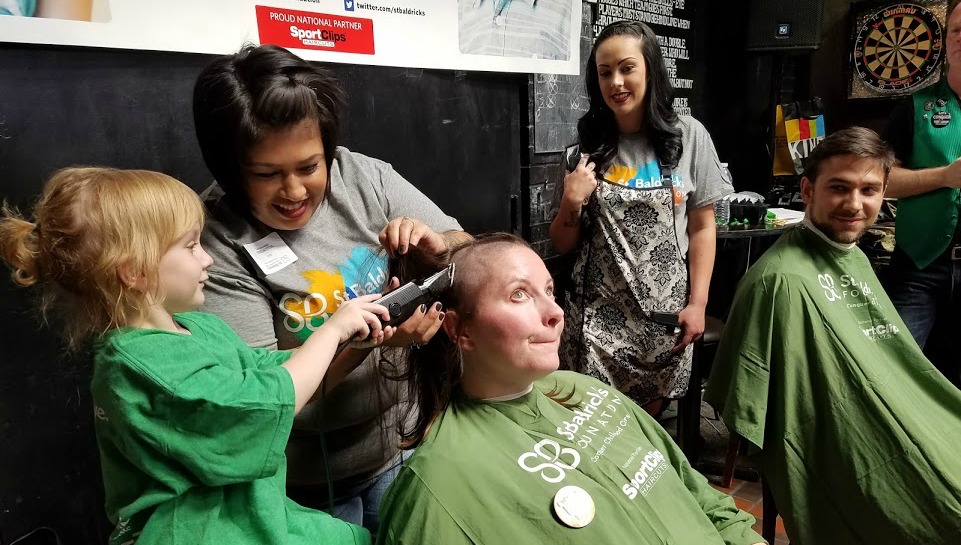 April helps an Honored Kid with the clippers.
I even hugged one mom and told her I admired her strength! Another moment I loved was how brave the women were when shaving their heads.
I work in a salon and deal with women who [think] cutting an inch off was a lot. But here women are shaving their heads! It was amazing! These woman did not care what they looked like. Another form of bravery for the cause!
Emma Yockey, 17-year-old seven-time shavee and Knight of the Bald Table
Photo by Jenni Murphy
Why do you volunteer for St. Baldrick's as a shavee?
It actually all started as a joke. My hair was extremely long and thick and as a 12-year-old, I couldn't get a hairbrush through it. I would sit with my mom and my grandma working a giant knot out of the back of my head. One of those days, my dad said that I could just shave it all off and I laughed in his face. About three days later, I came home from school and told my mom I wanted to shave my head. That's how it all started.
A few years into shaving my head I found out that a little girl in my 4-H club had leukemia when she was little. Ever since then I have shaved my head for her.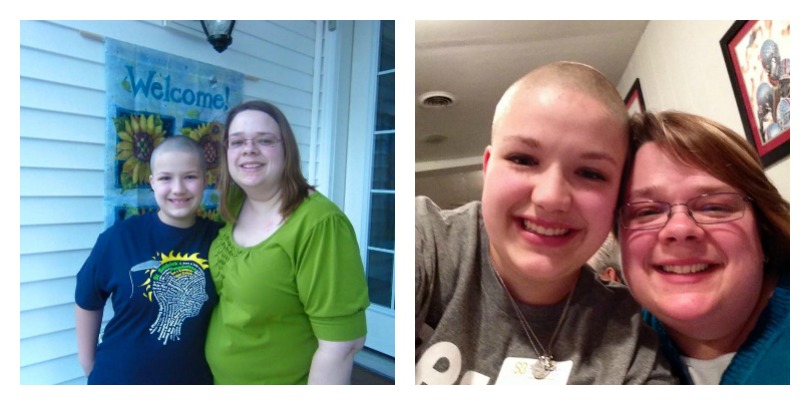 Emma with her mom after her first shaving experience at 12 years old (left) and after her seventh shave last year.
What do you love about being a St. Baldrick's volunteer?
When I was younger, people would make fun of me and call me names for shaving my head. Now that I've grown up, I've grown a thicker skin from the things people said to me when I was younger. My friends and my family don't even recognize me with long hair in pictures and frankly, I don't either. I love that St. Baldrick's has made me who I am and changed me for the better.
What is your future as a shavee?
I don't see a future where I'm not shaving my head. I don't know who I would be without St. Baldrick's.
Phil Ralston, Team Captain of Bald By Design and 10-time shavee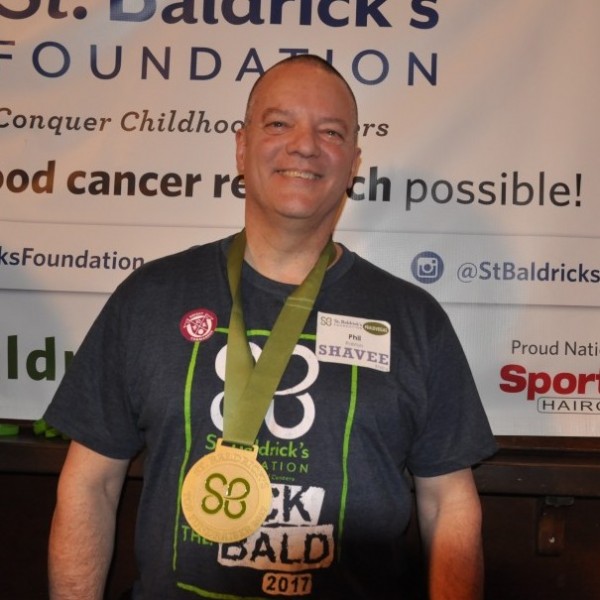 Phil smiles after one of his many shaves.
Why do you volunteer for St. Baldrick's?
My good friend, Windom Kimsey, has a daughter who was diagnosed with leukemia at 10-1/2 years old. The year they found out, he shaved. The year after that, I shaved with him to honor their family and his daughter, Claire.
Claire is now 21 and in college. I believe that our efforts help kids like Claire, through the grants that St. Baldrick's is able to fund and the sheer volume of grants over time.
What are a few of your favorite memories over the years?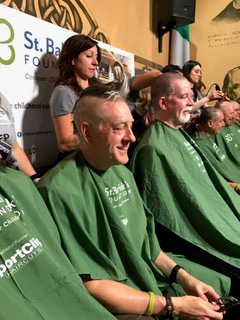 Phil's good friend and Bald By Design teammate Windom Kimsey shaves in honor of his daughter, Claire.
In one of the first years that I shaved, I was walking around the event and hadn't shaved yet. I ran into a young lady with waist-length hair. She had a sign on a string around her neck that said, "If I raise $1,000 I will shave my head."
I asked how much she had raised. She said she was at $800. Well, I pulled out $200 and said, "Come with me." We shaved together that year and it was very exciting, because she had never been bald before. The next year she found me and thanked me for shaving with her.
Your team, Bald By Design, has raised about $650,000 for kids' cancer research over the years and you personally have raised more than $250,000 as a shavee. How does it feel to know that those funds are making an impact on kids with cancer?
It blows my mind that all of that came from the simple act of shaving my head. I always am hopeful that the small part that our team plays helps to move the needle in this fight against childhood cancer.
Feeling inspired? However you want to help conquer kids' cancers, you have a place with St. Baldrick's. Get involved today.
Get Involved
Read more inspirational stories on the St. Baldrick's blog: