It's Mario time! Today is March 10, otherwise known as Mar10 — Mario Day! (Get it??) We are celebrating the famous pixelated plumber with Ambassador Benny, an avid gamer and Mario's number one fan. Ready to read on? Let's-a go!
Benny displays his expansive collection of Wii U games. He loves games where he can battle one of his friends or where he gets to be Mario, which is called a role playing game.
Benny was just 5 years old when he first encountered Mario, the mustachioed, pot-bellied hero in the monogrammed red hat who rescues princesses and destroys evil-doers in the wildly popular Nintendo game series Super Mario Brothers.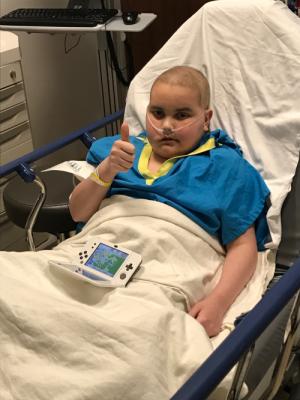 Benny gives a thumbs up at the hospital with his Nintendo DS in his lap.
The game was New Super Mario Bros., played at his neighbor's house on the kid's Wii.
From the first electronic jingle, the kindergartener was hooked.
And, he wasn't half bad either.
"Even at 5, I was already pretty good," Benny recalled.
Fast forward seven years and Benny owns approximately 60 games for just his handheld Nintendo DS — not to mention the games he has for his Wii U, his phone and laptop — and many of Benny's games feature Mario.
How often does he play?
"Really, really often," he said.
Sometimes, he plays as Mario, but more often, Benny likes playing as Toad, one of Mario's friends who happens to be a toadstool, also know as a mushroom.
(Benny likes Toad because, "He's a fun guy," he quipped. Toad the mushroom is a fungi — get it?)
For Benny's 11th birthday, he and his mom crafted a three-tiered Super Mario Bros. cake. Here he is starting to sculpt a tiny Mario made of a thick paste of sugar and water called fondant.
Through the years, Benny's destroyed tons of bad guys, squashed a lot of Goombas, and beaten level after level.
But what's even more impressive? Benny plays his games with one hand.
After Benny was diagnosed with a brain tumor last March, he soldiered through a seven-hour brain surgery, plus chemotherapy and radiation. The intense surgery left him unable to walk, talk, or swallow — the result of a side effect called posterior fossa syndrome. He also gradually lost the use of his left hand.
Childhood should be fun and worry free. Donate now and help us take childhood back from cancer >
Benny shows off his artistic skills while crafting this Mario cake topper. The 11-year-old nails the iconic character, down to the yellow buttons on his suspenders and his tiny mustache.
"That's one of his favorite pastimes lately, because there's not a whole lot of things he can do right now," Michelle, his mom, said of his gaming. "He has very limited mobility and even with the gaming, it's a struggle for him, because he has no use of his left hand. So even with the DS, which is very much a two-handed system, he's got to play it with one hand. And he still plays it, all the time."
Benny has persevered. Benny has adapted. And playing Super Mario has been a big part of that healing.
"It's made me happier," Benny said. "It's really good occupational therapy and it takes my mind off stuff."
Benny stands proudly next to the Super Mario Bros. cake he and his mom made from scratch, which features Mario, Princess Peach, Bowser and a host of other characters. It took them three days of baking and was, according to them, very delicious.
Like Mario, Benny is used to facing challenges.
He gets knocked down and then gets back up again. Benny pulls himself up level after level — from being unable to walk, to improving enough to use a walker, then to finally attending school. He's battling a big, tough enemy, while always thinking of others.
In fact, you could say there's a lot of Mario in Benny.
When Mario is big, he runs and jumps and fights. When Mario is small, he does the same. When Mario is called to save the Mushroom Kingdom, he doesn't back down — even when he has to battle the big, bad Bowser.
Mario just says, "Here we go!"
Help kids get a 1up on cancer. Give to childhood cancer research today.
Let's-a Give!
Read more on the St. Baldrick's blog: