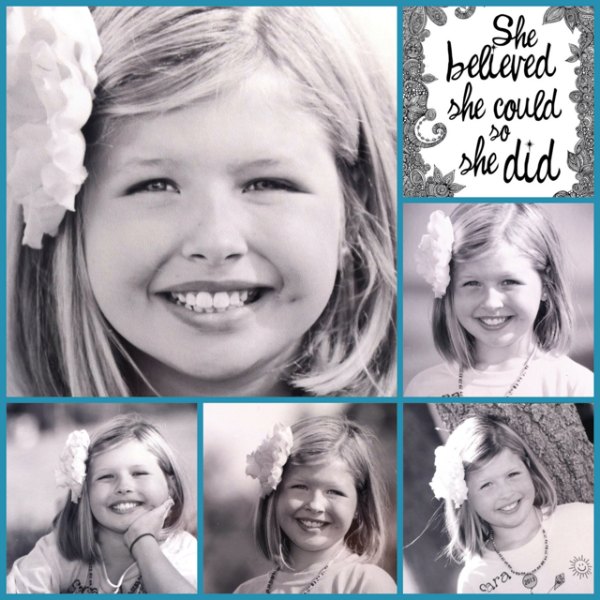 Sara was diagnosed with stage 4 Wilms tumor in November 2008. Today she is celebrating her 9th birthday! Photos by Flashes of Hope.
She gives second chances.

She loves crispy bacon.

She doesn't shy away from an audience.

She has a kind heart.

She likes glitz & sparkle.

She falls asleep at night in five seconds.

She likes the hustle & bustle of the airport and flying.

She wants a tattoo.

She talks about riding on the back of her future boyfriend's motorcycle.

She enjoys playing soccer and tries hard.

She asked her choir director for a solo at the second practice.

She is not a morning person.

She is a very logical thinker.

She is scared by storms.

She is patient with her younger sister.

She is in awe of her older sister.

She is the first one to cuddle with her dad on the couch.

She is comforted by holding her mom's hand.

She randomly giggles.

She is sometimes sassy.

She is always confident.

She is Sara Beth Martorano.

TODAY IS HER 9th BIRTHDAY!
To Our St. Baldrick's Friends,
Thank you for the opportunity to celebrate our daughter's 9th birthday today. Your devotion to St. Baldrick's funded childhood cancer research.
Protocols were developed — strong enough to kill the cancer, but save the child. Your gift saved our Sara's life. Today, we celebrate with you!
TOGETHER, we are stronger than cancer.
Much appreciation,
Joe and Erin Martorano
Sara's family started a Hero Fund called "Just Do It…and be done with it." You can raise money to support this Hero Fund and help find cures for kids with cancer. Just email us at funds@stbaldricks.org or by phone at 888-899-2253 to start your event.
Go To Sara's Hero Fund