Ambassador Alyssa celebrates two birthdays every year — one for herself, and one for her leg. Today, the anniversary of Alyssa's first big surgery for childhood cancer, her mom remembers that day and shares how far Alyssa has come.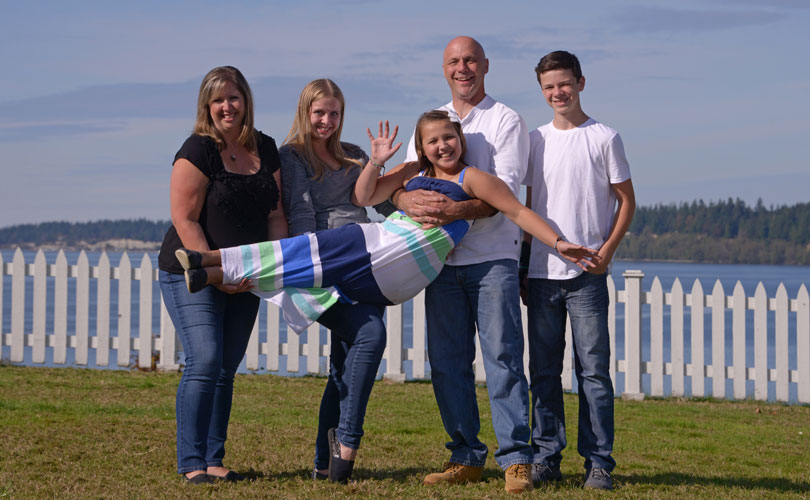 A joyful Alyssa is cradled by (left to right) her mom Michella, sister Kalie, dad Harold, and brother Jacob.
Someone recently asked me why December 16 is hugely significant to us as a family.
It's the day my 11-year-old daughter Alyssa had a major surgery that changed her life forever.
It's the day my sweet girl got a new leg.
On August 26, 2013, my youngest child was diagnosed with a type of bone cancer called Ewing sarcoma. Alyssa endured almost three months of inpatient chemotherapy to try to kill as much of the cancer as possible, and then a tough surgery to remove the tumor in her left femur. Then there was another six months of the same chemotherapy schedule to make sure every little spot of this aggressive cancer had been killed.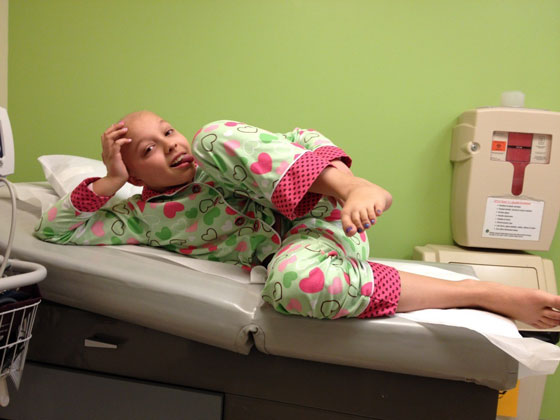 Alyssa in the hospital before her surgery.
It wasn't easy and it was just the beginning of a long, life-changing journey for Alyssa and for us.
On December 16, 2013, our baby girl walked into the hospital on her own two legs. It was the last time she would ever freely walk without a noticeable difference again.
I'll never forget how I felt walking back with her into the operating room for her surgery. I held her hand while they put her to sleep. The look of fear on her face will haunt my dreams forever.
I remember walking out of the room knowing she was in good hands, but more afraid than I had ever been in all my life. I prayed to God to please let her come through the surgery well and let me see my sweet girl again. That day seemed to drag on forever.
BLOG: Finding Happiness, No Matter the Journey: Lilly's Story >
The surgeons removed three-quarters of her femur and her hip ball, then attached a metal joint and rod by inserting a spike into the center of her remaining bone. They removed all her muscles and tendons, then reattached them to the metal rod by placing a mesh material over the implant so the muscles had something to attach to when they started healing.
A part of Alyssa's leg implant and an x-ray of Alyssa's leg after her surgery.
We had no idea what to expect after the surgery, since the doctors couldn't attach things exactly as they were before. We knew she would eventually be able to walk and enjoy life again. But we also knew there would be things she would never be able to do again.
This is a trade-off you are willing to make to save your child's life.
When we finally saw Alyssa, she had her usual big smile on her face. She said, "It wasn't as bad as I thought it would be." I wanted to both laugh and cry hearing those words. She had really been terrified, but never let us know that.
Alyssa after her leg surgery.
This year marks three years since that surgery and the difficult, painful months of recovery that followed. Alyssa was the one who dubbed December 16 as her leg's birthday — a day to celebrate how far she has come.
BLOG: 'One Step Closer': Emily Survives Cancer and Shaves for a Cure >
After years of physical therapy, more surgeries, and constant use of crutches, I'm happy to say Alyssa is doing well. In fact, she just did something we thought she'd never get to do again.
She went roller skating.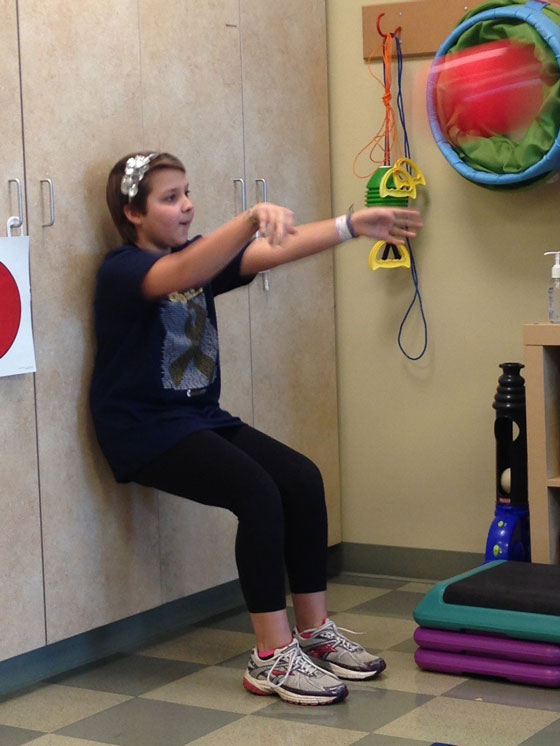 Alyssa working hard in physical therapy a year after her surgery.
It was tough, she was very sore, and I was nervous, but she did it. She is fierce, full of determination and sass. I know that is what has gotten us to where we are today. Now I just remind myself, sometimes on a daily basis, what a blessing it is that she gets to be a teenager.
Happy, happy birthday, Alyssa's leg.
Help find better, safer treatments for kids like Alyssa. Give to childhood cancer research today.
Give
Read more on the St. Baldrick's blog: