For some kids with cancer, getting a bone marrow transplant can be a blessing, but for others it can be a curse. That's because of a complication called Graft-Versus-Host Disease or GVHD, which not only causes immense suffering — it can also be fatal. Enter Dr. Melissa Mavers, a St. Baldrick's Fellow who aims to stop GVHD in its tracks and help kids with cancer live long, healthy lives after transplant.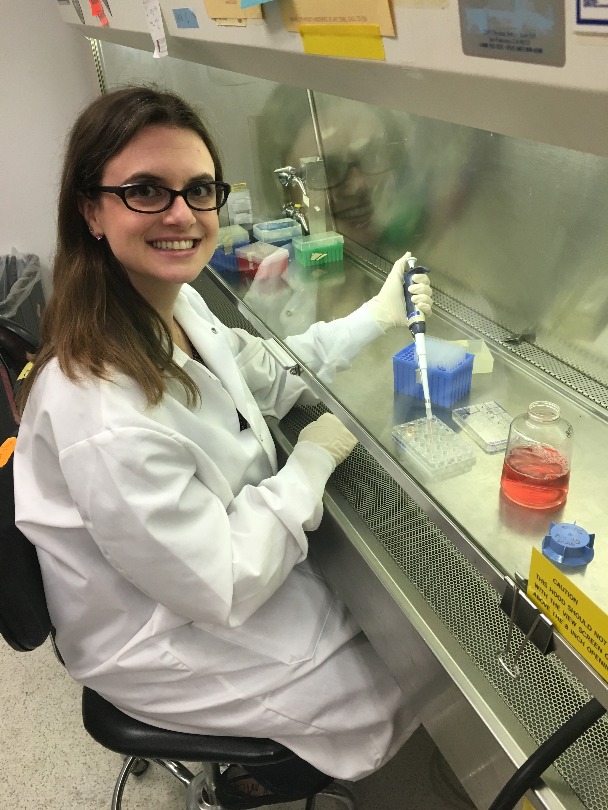 Dr. Melissa Mavers works in the lab at Stanford University Hospital. A St. Baldrick's Fellow, Dr. Mavers is an instructor of pediatrics in the Division of Stem Cell Transplantation and Regenerative Medicine at Stanford University.
For a kid with cancer and their family, a bone marrow transplant can mean a clean slate and a new beginning. But it's not easy. The procedure involves intense, high-dose chemotherapy and sometimes radiation, which wipes out the kid's bone marrow cells and immune system. This forces them to remain in isolation at the hospital, so they don't get sick.
"The destroyed cells are then replaced with cells from a donor to not only help rebuild their defense systems and their ability to make blood but also to fight any last cancer cells that remain," explained Dr. Mavers.
In the best-case scenario, everything works as it should and the child bounces back. Their bone marrow and immune system rebuild, thanks to the clean donor cells, and they leave the hospital with no evidence of cancer and a clean bill of health.
But sometimes the newly cancer-free kid faces a new enemy – harmful cells present in donor tissue, explained Dr. Mavers. These cells cause what is called Graft-Versus-Host Disease or GVHD.
Diagnosed with Philadelphia chromosome positive ALL, 2017 Ambassador Abby contracted GVHD after having a bone marrow transplant. The damage to her organs was so severe that her family brought her home on hospice, but Abby persevered. More than a year later, she is thriving and even went on a trip to Italy with her family.
In GVHD, these bad cells recognize the recipient's body as foreign and then attack the child's tissues. These cells can damage their intestines, their skin, and other parts of their body. On top of that, current treatments for GVHD can be ineffective or even dangerous, because they depress the patient's immune system.
"In my clinical experience, I have seen a patient develop severe diarrhea and not be able to eat anything, and the treatment we had to give lowered his defense system so much he developed a life-threatening infection," Dr. Mavers recalled. "I have seen another patient that had such severe skin disease that he was blistered from head-to-toe. His skin was just falling off. It can be really awful."
Dr. Mavers is dedicated to relieving that suffering. She's doing that by studying how to increase the good types of cells in donor marrow, so they can suppress the bad types of cells and stop them from attacking the transplant recipient's body. Eventually, she wants to bring this therapy to clinical trials and then to the kids who need it.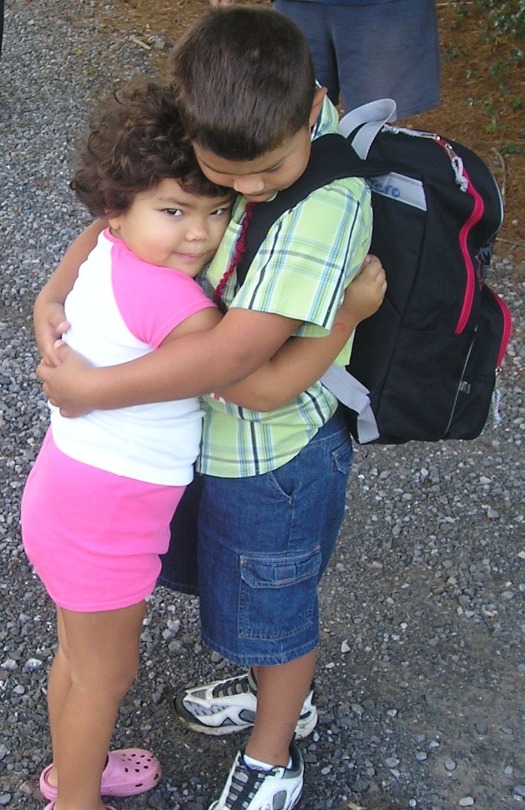 Honored Kid Rayanna hugs her brother, Geordan. Her family established the St. Baldrick's Rays of Hope Hero Fund in her honor, after she passed away due to complications from GVHD.
"If we can prevent GVHD or reduce its severity using this cellular therapy, then we can eliminate the need for long-term medications that impair the body's defense system and cause so many other bad side effects," she said. "The ultimate goal of my research is to make stem cell transplantation a safer way to cure cancer."
She's doing this with the help of a St. Baldrick's Fellow grant supported by the St. Baldrick's Rays of Hope Hero Fund, established in memory of Honored Kid Rayanna. Diagnosed with acute lymphoblastic leukemia when she was 3 years old, the little girl developed GVHD after a bone marrow transplant that was meant to save her life. After contracting a fungal infection due to her suppressed immune system, Rayanna passed away at 8 years old.
"Their generosity in the face of such suffering is incredible," Dr. Mavers said of Rayanna's family. "I do what I do to try and reduce the suffering of kids like Rayanna."
Learn how Rayanna's brother honors her memory every year >
Dr. Mavers said that she would not have made such incredible progress in her research without the help of St. Baldrick's and the generous donors and shavees who make funding these grants possible.
"I was actually a shavee back in 2006, so I know personally the courage that it takes to sign up as a shavee, but that you do it because you want to make a difference in these kids' lives and you know that it's nowhere near the bravery shown by them," she said. "Thank you so much for helping me be a part of making that difference through my research."
Give childhood cancer survivors the chance to live long, healthy lives — fund the most promising research today.
Donate >
Read more on the St. Baldrick's blog: