St. Baldrick's CEO Kathleen Ruddy has seen it all. From the years before the Foundation was officially established to today, she has watched St. Baldrick's grow from a few passionate volunteers to become the largest private funder of childhood cancer research grants in the country. Now take a trip down memory lane with Kathleen, to where it all began.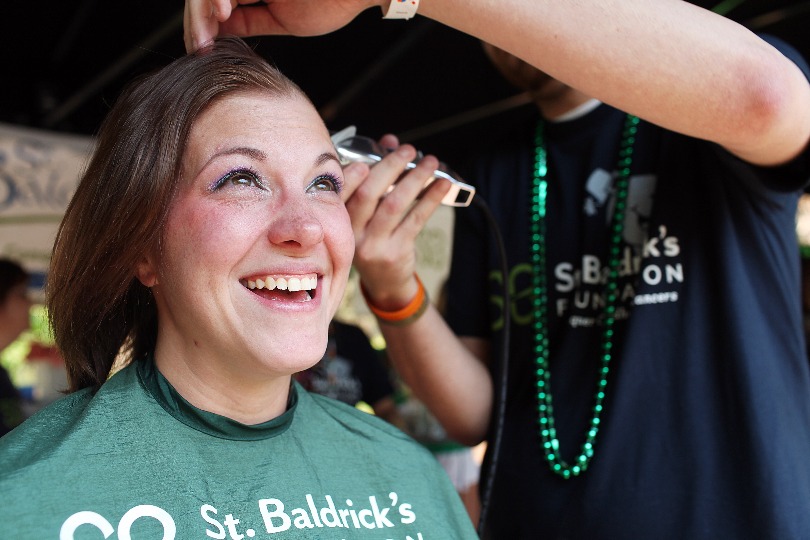 A shavee is all smiles at the St. Baldrick's Space Coast Conquers head-shaving event in Viera, Florida, which is one of thousands of events across the country and beyond.
18 years ago, St. Baldrick's was a tiny group of passionate volunteers that aimed to do a big thing – conquer childhood cancers. The first event, established by the reinsurance industry in 2000, intended to raise $17,000 and raised $104,000 instead. Shavees scratched those newly shorn domes and said, 'Maybe we should do this again!'
In 2001, these intrepid volunteers set forth to grow St. Baldrick's throughout the U.S. for the following St. Patrick's Day.
Tragically, a significant percentage of the reinsurance industry's brokers perished in the World Trade Center on September 11, 2001. A handful of staff who had begun working on the national challenge assumed these companies would focus their efforts on the victims of that horrible day. I was fortunate to be one of those staff members, and I'll never forget the phone call I received from one of the founders, John Bender, when he explained to me, "We're going to take care of our own, and we're going to make d— sure the terrorists don't succeed in deterring us from conquering kids' cancer. We're going to beat them and cancer, because kids are fighting epic battles too."
Learn more about St. Baldrick's history >
With that rallying cry, our reach grew more than 2000% by the next March, with 37 events organized, including one in Bermuda. Volunteers celebrated that St. Baldrick's was now "international" and some people predicted it couldn't grow much more, because events were in nearly every state.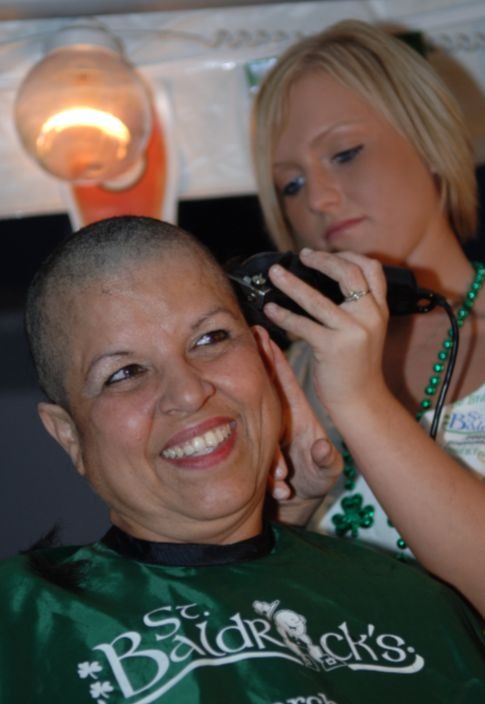 A shavee rocks the bald at one of St. Baldrick's first independent events in 2005.
Though we were still a small operation, the obstacles were large and naysayers were many, we couldn't just sit back – St. Baldrick's potential was too powerful and too important. We knew it could reach a scale to meet strategic research needs that weren't being met elsewhere.
Our Founders set forth to establish St. Baldrick's as an official, autonomous charity, with the first events of the new, independent St. Baldrick's Foundation held in 2005. That year, we had five staff working from their homes to ensure the new Foundation was more successful than ever. But it was our volunteers who truly made it possible, helping in unprecedented ways with accounting, human resources and legal help to ensure that we were properly organized and that this initiative was nurtured.
Over time, not only did support for our events grow from new industries, professions and schools, but the Foundation likewise grew, adding more ways to serve the mission. We added a Family Relations function to help families affected by childhood cancer constructively channel their passion, voice, experience and – all too often – their grief into helping other children.
Next, we decided to embrace our growing voice in the childhood cancer community and directed it to Capitol Hill by adding a federal advocacy program. Since we stepped into this advocacy leadership role, federal funding for childhood cancer research has increased 33%.
Another area of growth was the establishment of dozens of partnerships with other charitable organizations and St. Baldrick's Hero Funds. These funds allow families of children with cancer to establish a "foundation within the Foundation," sparing work and expense, and maximizing fundraising and awareness efforts. Finally, we're now aligned behind a new strategic plan that allows us to bring new funders to the aid of children with cancer.
Today, we fund every possible form of research to overcome more than 100 types of childhood cancers. We continue to drive innovation, while improving the capacity of each institution to participate in research. By supporting the training and development of the next generation of researchers, we've curtailed a predicted shortage of pediatric oncologists. New therapies have been developed because of St. Baldrick's-supported research and advocacy efforts, and we're been part of virtually every advancement in the field since the Foundation was created.
When you give to St. Baldrick's, you give to more than 373 institutions treating kids with cancer across the globe >
While we've changed a lot over these 18 years, the core of the St. Baldrick's Foundation is unchanged. That persistence, that belief in the mission and the passion of our people – our researchers, donors, families, hardworking volunteers and staff – have remained at the heart of the Foundation throughout our years.
And no matter how many more years go by, no matter how we evolve, that mission will remain unchanged until the end of our journey. Until the day, thanks to all of you, that we take childhood back from cancer.
Together we can take childhood back from cancer. Donate today.
Fund Research
Read more on the St. Baldrick's blog: