A foundation unlike any other needs a one-of-a-kind leader — and Kathleen Ruddy, the CEO of the St. Baldrick's Foundation, certainly fits that bill. But you don't have to take our word for it — read on to get to know our CEO!
Kathleen has been with St. Baldrick's since the foundation wasn't much more than a new kind of event to raise money for childhood cancer research. Needless to say, it's come a long way – and so has Kathleen.
We think it's time you all got to know our fearless leader a little bit better, so we asked her a few questions about how she got started, her goals for St. Baldrick's, and her hopes for the future.
What were some of your goals when you first got started with your career?
Strangely, I didn't have career goals beyond succeeding at "helping people" and to do well. I was very idealistic, but didn't yet see how I'd devote myself to a better future. It took me a while to find my niche, and I remember being professionally unhappy much of the time.
I also remember my parents being concerned that I wasn't building a stable career because I moved around a lot early on. That's the norm in the non-profit sector because young people are eager to grow and most non-profits are small with limited opportunity. For a time my grandfather was worried I'd never be able to support myself – he had an idea that if you worked for a charity, you'd always struggle, so I guess I had a personal goal to prove him wrong. He did a lot for a number of charities, some things we only learned of when he passed away which was nearly 30 years ago. Because of his leadership, I know he would be proud that I'm following his example, working with good people for a just cause. Oh, and as he was 100% Irish-American, he would really love the St. Baldrick's story!
Kathleen poses for a picture with characters from Frozen during a St. Baldrick's event
How did you find your passion?
I went into fundraising because I wanted to help people. And I knew that throughout my life, I'd tended to create followings, but I didn't have a long-term plan beyond having kids. Most of my youth, I wanted to be a doctor, but when I encountered high school chemistry I realized my strength wasn't in science, and I needed to find another way to help kids.
Learn more about why we exist >
How did you find success in your field?
I worked hard, listened a lot, spoke up, and volunteered for jobs others didn't want. Even today, I still try to pitch in and I make it a rule not to ask others to do things I'm not willing to do. It's not only about setting an example, it keeps me connected to what it's like to perform other jobs now.
I found good mentors and humbled myself to listen to them. One thing I had to really work on was ignoring the people who said it couldn't be done or that I wasn't the person to do it. There are plenty of people willing to undermine you, and they'll succeed if you let them. The secret is to think and act with honor. This is what lets you sleep at night, knowing you've done your best in imperfect situations.
What were your goals for St. Baldrick's when you were just getting started?
When we established the St. Baldrick's Foundation, our goals were to grow the Foundation into the largest non-government funder of childhood cancer research grants in the world and to positively impact every child with cancer.
We've done those things and more, but we need a lot more. Many children still won't survive, and most survivors will have life-threatening illnesses throughout their lives caused by their cancer "cures."
BLOG: The Fight's Never Over: The Two Biggest Threats Facing Childhood Cancer Survivors >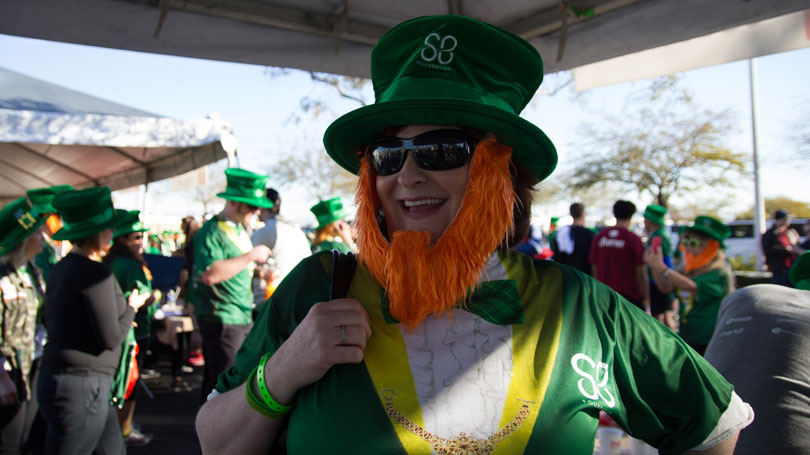 Kathleen shows her St. Baldrick's spirit at Lepre-con in Las Vegas
What's your main focus now?
My focus now is to promote St. Baldrick's unique value proposition to the world. No single hospital has a monopoly on talent, good ideas or innovation, these assets exist in hundreds of research centers. Most of us aren't scientists however, and we'll never be able to judge the best science, and yet we all want to support the work that has the greatest potential to help children.
The beauty of the St. Baldrick's model is that supporters don't have to try to pick the winners — the scientists apply their expertise and recommend which grants to support, and this ensures donations support the strongest research projects — wherever they are, thus ensuring more kids benefit from the research.
This approach is the surest path to a true and lasting cure for every child.
Why did you decide to shave your head, not once but twice?
The first time I shaved, we were transitioning St. Baldrick's from a program under the umbrella of another organization to operating as a charity in our own right. While I wasn't particularly excited about being bald, I did, and do believe that to lead credibly, I needed to do what I was asking others to. That year, I dedicated my shave to two young cancer patients whose journeys I was very moved by. Soon after, we tragically lost Dominic, but Francesca is a gorgeous, thriving college student today. Also in that year, many people close to me discouraged me from shaving, saying, "You do enough for the cause." One of these people was herself a cancer survivor, so I had the opportunity to demonstrate my gratitude for research that had saved others I loved. This helped me muster the courage to shave to help a vulnerable population that deserves the same chance at life.
Kathleen in the midst of her second shave in 2014
When I shaved the second time, I did so for my friend Justin, who finished his seventh and final battle with cancer at the age of 10, in Heaven. I was so angry that he didn't get the outcome we wanted for him, but I was so privileged to have known him. His soul is so beautiful, and the way he lived his life was such an example to me, that it compelled me to shave again, and help other kids realize his dearest wish — to just be a cancer-free boy.
Read more about Kathleen's second shave >
What are some of the best lessons you've learned in your career?
When I was young, I often sat in judgment of people above me. I thought I knew what was most important and how leaders should invest their time. As time went on, I began to understand issues and opportunities more deeply and in a broader context. I realized my prior view was limited by my more limited experience. I've had some patient and generous mentors who saw greater potential and invested in me. They helped me learn, sometimes painfully, that by seeking first to understand, everyone wins.
Today, many of my mentors are younger than me. Wisdom is rooted in different experiences, it's not bestowed based upon raw talent, intellect or years on the earth alone.
Kathleen proves that bald is beautiful after her second shave
What would you say to your younger self?
Root yourself in humility – there's always more to learn than is apparent. Ours is a service profession, and it's rarely glamourous, but few lives offer greater rewards than the privilege of serving.
What advice would you give someone just starting out in the workforce?
Work hard, say yes to opportunities that come your way, and keep trying new things until you find something you're passionate about. Life is not a dress rehearsal, you only get one chance to live well, so invest it doing what makes you happy, because happiness is success.
Help continue the vision that was started 17 years ago. Donate now to fund lifesaving research and help give kids with cancer the childhoods they deserve.

Donate
Read more on the St. Baldrick's blog: