The siblings of kids with cancer are heroes in their own right. Superstar fundraiser Max Magilnick is the 14-year-old brother of St. Baldrick's Ambassador Emily. "When I started, all I thought that I was going to raise was $1,000 at the most extremely most," he said. But while sharing his story, shaving and raising vital funds, he discovered just how powerful he could be.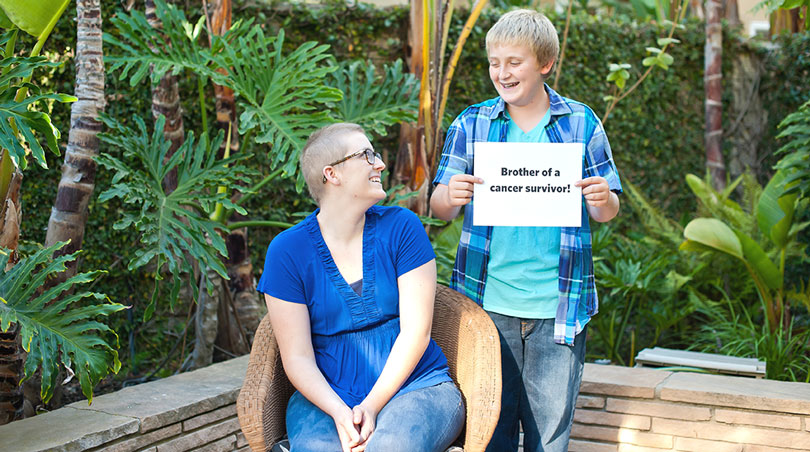 Emily and Max while she was being treated for osteosarcoma.
It was the winter of 2011 and Max felt helpless. His beloved sister, Emily, had just been diagnosed with osteosarcoma, a cancer of the bone.
What could a little brother do to help?
Turns out Max could do a lot — during four years of shaving and fundraising with St. Baldrick's he's blown past his goal of $50,000 and raised about $63,000 for childhood cancer research.
"I felt like I was more in control of my emotions, because otherwise I felt like I wasn't able to do anything," Max said.
His mom, June, had heard about St. Baldrick's from Emily's doctor, Noah Federman, who is a St. Baldrick's scholar. When June told her son about the organization, he ran with it.
While Emily was fighting her cancer in the hospital, Max had found his own way to fight the disease.
"He was going door-to-door the next day and before we knew it, the money was just pouring in," June said.
Max described his relationship with his sister in one word: strong. When Emily was diagnosed, she was the one who sat him down to tell him the news. He said at first he was fine, but minutes later he realized just how long she would be in treatment.
"No emotional connection would be there for nine months when she wasn't at home — that's when the heartbreak hit me," he said.
Max visited her in the hospital and brought games. They played a lot of Monopoly; his mom said he was quite the hotelier. (Max wouldn't disclose who usually won.)
"Back then he was her personal brother clown," June said. "He made her smile when she was feeling absolutely yucky. He could really be there for her."

Max braves the shave this year with his sister, Emily, holding the clippers.
Now in remission for two and a half years, Emily held the clippers at Max's shave last month.
Max looked forward to shaving because, as he said, "most of the people in the world don't get to do what I get to do — raising awareness while also looking great."
He also brought in more than $17,000 for childhood cancer research, with the event raising a whopping $112,000.
So what is Max's plan for the future? Eventually, he wants to get to $100,000 raised for St. Baldrick's.
"That's a cause for a large celebration," he said.
Make your impact and fund a cure. Shave or donate to childhood cancer research.
Read more on the St. Baldrick's blog: