After his fourth shave for St. Baldrick's, Aaron found out he had childhood cancer. The end of March marked one year of remission for Aaron. He shares his thoughts after his sixth St. Baldrick's event. (Find an event near you!)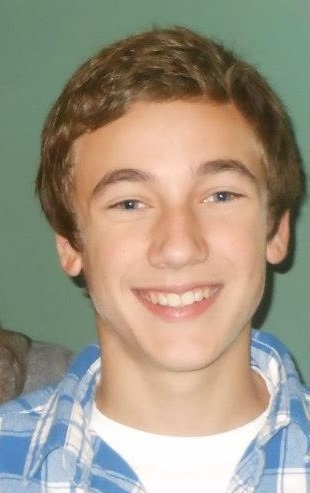 Aaron in 2012 before he was diagnosed with pediatric cancer.
I was 11 the first time I participated in a St. Baldrick's event. It was 2009 and I was at a swim meet when my coach mentioned there would be a
head-shaving event
to benefit childhood cancer research right in my home town of Lawrenceville, New Jersey.
At that time, I thought the idea of shaving my head would be cool and kind of fun. I was one of the only kids in my town to participate. After a few more years of being a shavee, I learned more about the St. Baldrick's Foundation and the importance of raising money and shaving your head to support children's cancer research.
I created my own team, the Bald Buddies, and encouraged some friends from school to raise money and shave their heads with me. As the years went on, my team, as well as the event, grew larger and larger.
Around Thanksgiving of 2012, I noticed a grape-sized bump on the side of my neck. My mom thought it was a swollen gland but since I didn't have any other symptoms, we waited to see if it changed or went away.

Aaron shaved his head for St. Baldrick's four years in a row before he was diagnosed with pediatric cancer.
A few weeks went by and the lump grew larger, so I went to the doctor to get it checked out. After a series of tests — an ultrasound, a CAT scan, and a biopsy — we learned it was something much more serious than a swollen gland.
Preliminary results showed that I had a type of pediatric cancer called Burkitt lymphoma. Of course the news was very shocking to me and my family — I was an active and seemingly healthy 15-year-old.
On December 26, 2012, I was admitted to the Children's Hospital of Philadelphia. The next day, the diagnosis was confirmed and I began a three-week stay of intense chemotherapy.
Aaron while he was in treatment for non-Hodgkin lymphoma.
After I came home, I got used to going to clinic for check-ups every Friday and being readmitted to the hospital every few weeks for one to two weeks of chemo. I had to squeeze in schoolwork whenever I could. The hospital stays were tough, but the amount of support I received from friends, family, and even people I didn't even know helped to keep my spirits up.
I had been in treatment for about three months when our St. Baldrick's event came around again, and I knew it would mean so much more that year than any other. I sent out my usual email asking for donations, and the response I received was crazy! I ended up raising $2,995 for childhood cancer research — nearly 10 times what I'd raised the year before — and the entire Lawrenceville event raised over $140,000.
The amount of support I got from everyone at the event was overwhelming. It was quite an experience to see how a community can have fun and rally around a cause to accomplish such great things.
St. Baldrick's has become a very important part of my life, and my experience with childhood cancer has made me realize how vital it really is. Even though I volunteered instead of shaving at this year's event, I can't wait to shave my head next year and become a Knight of the Bald Table.
Help kids like Aaron fight childhood cancer. Get involved.
Get Involved
Read more kids' cancer stories: