Whether on the mat or under the clippers, Honored Kid Juliana lives with passion — and a brain tumor will never take that away from her. Learn more about Juliana, her diagnosis and its impact, and why she shaved her head for kids like her.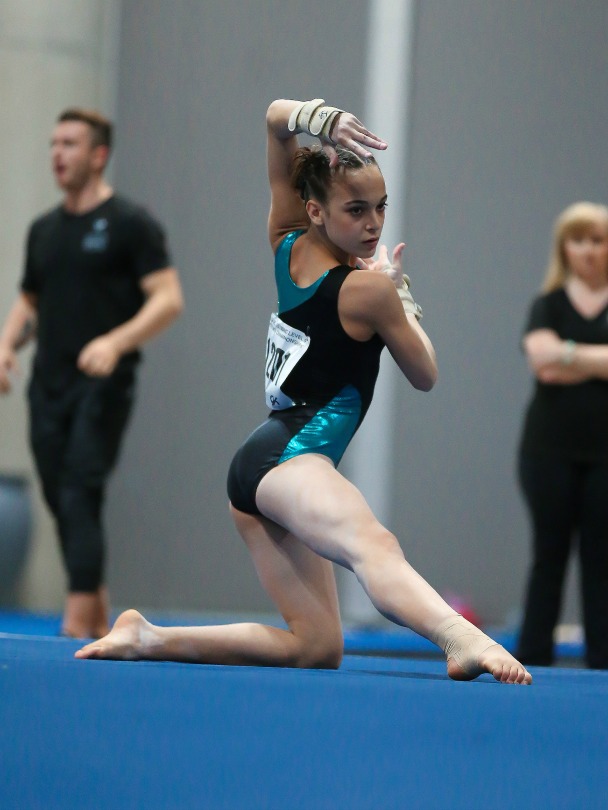 Juliana competes at a gymnastics championship before her diagnosis.
Growing up, I was active and always full of energy. To fuel my need for excitement, my parents enrolled me in gymnastics. I soon discovered that gymnastics was my calling. After winning many state titles and high-level regional and national titles, I was on my way to becoming a USA Gymnastics Elite gymnast.
In May of 2015, I started having difficulties with my vision and balance.
My mother and I decided that making a trip to some doctors' appointments was needed. I was having a routine eye exam when the doctor suggested that I be taken to the emergency room immediately. He had diagnosed me with papilledema, which is swelling of the optical nerve. He pushed that it can be much more serious than it sounds and advised that I have more tests done.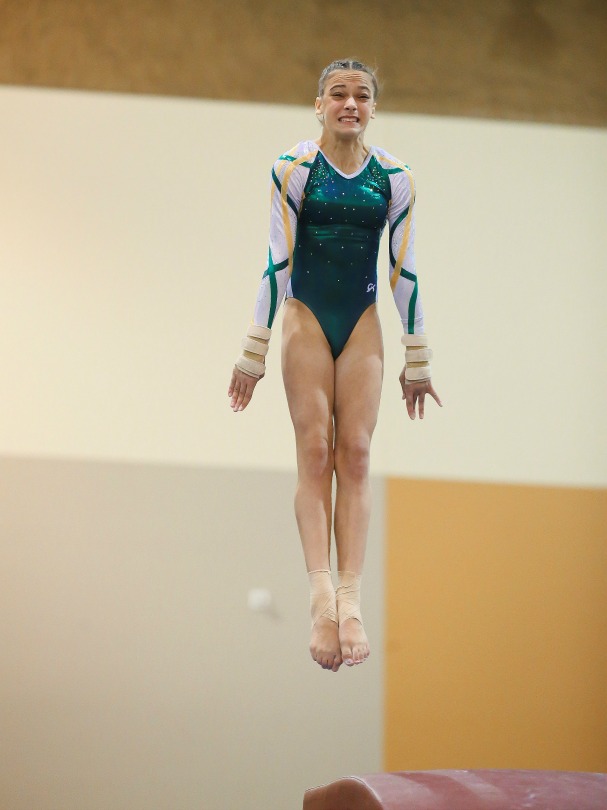 Juliana concentrates on the competition during a gymnastics championship in Arizona that took place two months before her first brain surgery.
Immediately my mother took me to our local hospital. After 12 hours waiting for an MRI, the ER doctor came back with the news. At 2:30 a.m. on Tuesday, June 15, 2015 I was diagnosed with a brain tumor. Without delay, I was transported to Rady Children's Hospital in San Diego.
Three days later I underwent a nearly eight-hour surgery to remove my tumor. The tumor is called an atypical central neurocytoma; I am the only pediatric case to ever have this brain tumor. Luckily it was benign, but I lost the ability to move the left side of my body post-surgery. This would last for nearly six weeks. Thankfully, in July I was able to return home with a cane and a brace on my left leg. After weeks of therapy at home, I returned to gymnastics.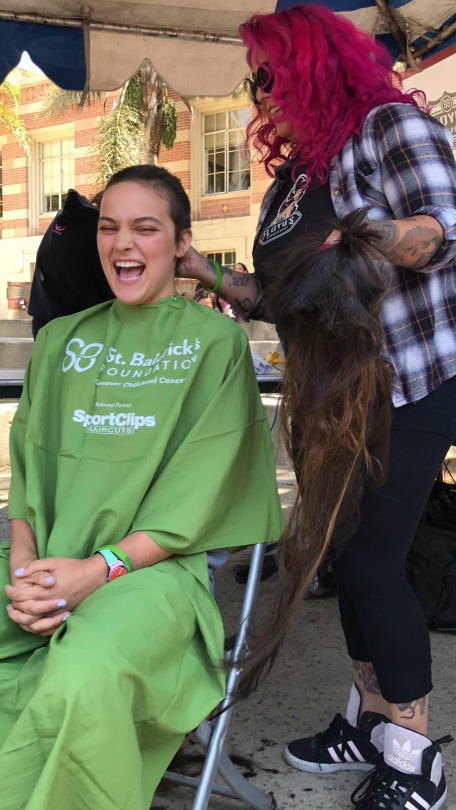 Juliana shaves at the UCLA St. Baldrick's event in May.
In January 2016, my MRI scans and symptoms started to tell a much different story. With a heavy heart, I had to take a break from gymnastics again and await my fate. The scans showed that not only was the same brain tumor back, but it started to grow back in two different areas.
After much thought and consideration by my doctors, Drs. Levy and Crawford, my parents and myself, I underwent another surgery to remove the brain tumor. Unfortunately, there were parts of the tumor that weren't safe for the surgeons to remove and the decision had to be made to stop the surgery. We were still thankful that they were able to get as much of it as they could.
While radiation wasn't even in my future a year before, now I was facing a much different treatment plan. With the help, love and guidance of Drs. Crawford and Chang, my family and I decided that proton radiation therapy was the right choice. I successfully completed seven weeks of proton therapy in late November of 2016.
While undergoing proton therapy, I discovered the St. Baldrick's Foundation through my new family of nurses. I was instantly interested in participating and finding ways to help others like me. I began my fundraising page and within the first 48 hours I reached $2,500!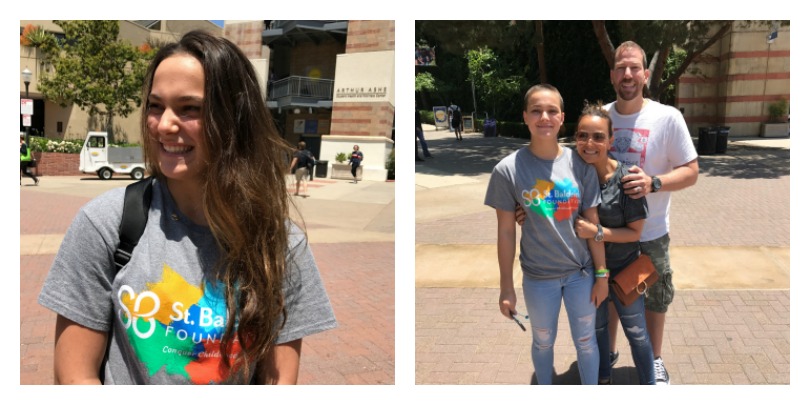 Juliana before (left) and after (right) her shave with her mom and dad.
By the time the shave date came, I raised over $11,000 for St. Baldrick's.
I am so thankful, as someone who has this disease, for foundations like St. Baldrick's. St. Baldrick's is funding research to find cures and is bringing together amazing people, researchers, doctors and, most importantly, kids like me who have an amazing journey to share.
Thank you, St Baldrick's, for being a part of my journey.
Cheer Juliana on and fund lifesaving research at the same time. Give on Juliana's bald head today.
Give
Read more on the St. Baldrick's blog: